This Kylie & Kendall Shirt Is Major Sister Goals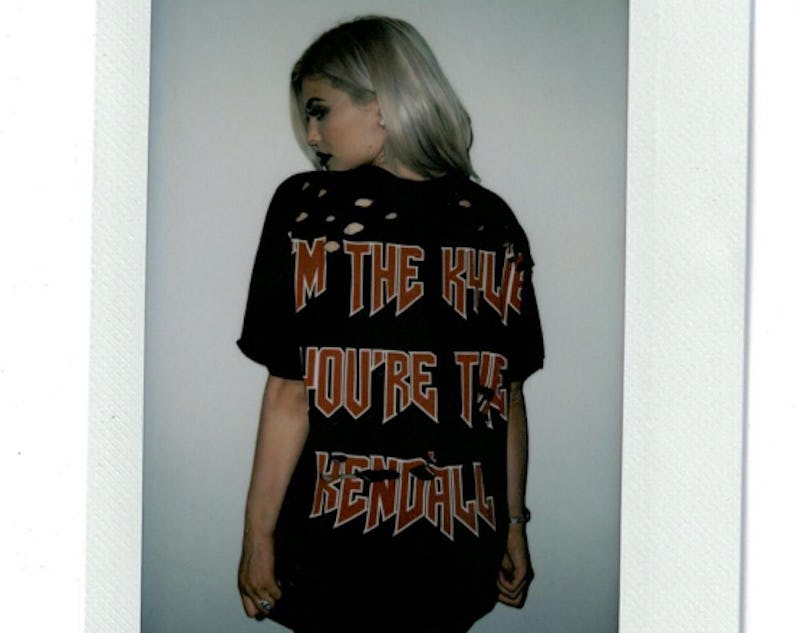 It's no secret that the Kardashian-Jenners are trendsetters. They're constantly showing off what they're wearing, but this time is more personal than ever. Kylie Jenner wore a Kendall and Kylie shirt that combines all the best trends into one outfit. Where can you buy Jenner's Instagram shirt, you ask? The answer isn't for sure yet, but there are a few clues as to where you'll be able to shop.
Remember those best friend bracelets you used to make in middle school? Well, this is the update version of that. On The Kylie Shop's Instagram page, Jenner wore a shirt that says, "I'm the Kylie, you're the Kendall." On top of being absolutely adorable, the oversized, black ripped tee is super trendy too. This would be the perfect gift for you BFF who happens to be as Jenner-obsessed as you are.
The link in Instagram page's bio takes you to an online site that has a countdown. That has me guessing that the items might be sold on The Kylie Shop website. Of course, nothing has been confirmed yet. Not even that there will for sure be an online site. Fingers crossed that it is though, because it would be the easiest way to shop. There's also a possibility that these could be a part of her Kylie Pop-up Shop, which launches on Dec. 9 — the same date that The Kylie Shop website's countdown is set for.
How stinkin' cute is that! This isn't the first clothing item that's been featured on the Instagram page either. It started with photos of Jenner wearing lingerie. Slowly they started to show more clothing and each one is all about the Lip Kit Queen.
My personal favorite is the one that says, "like, realizing stuff." It refers to a quote that Jenner said earlier in 2016 about how this would be the year of realizations. I love how personal she got with all of these shirts. I can't wait to see what else she comes up with.
According to the countdown on the site's home page, The Kylie Shop officially launches on Dec. 9. So if you're looking to get your hands on this tee, I'd check back then.
Images: thekylieshop/Instagram (1)