'Emerald City' Is A Modern Take On 'Wizard Of Oz'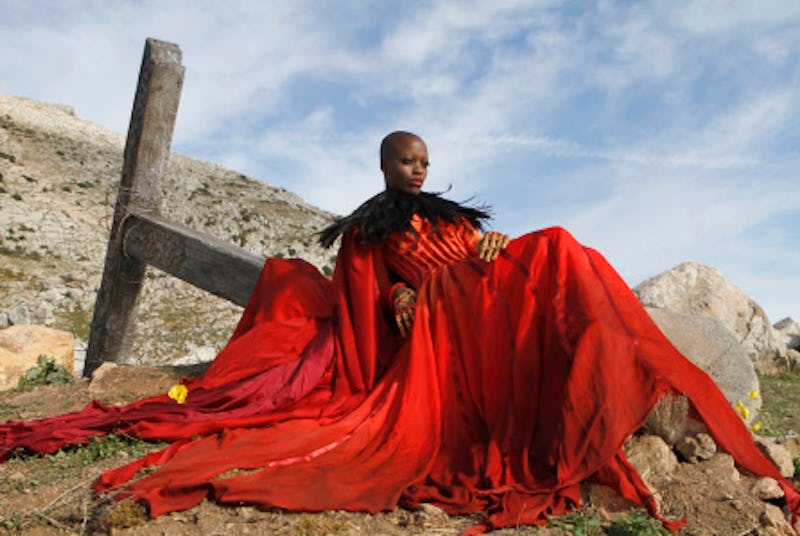 After watching the trailer for the new Wizard Of Oz -inspired series Emerald City, it's beyond clear that Dorothy is definitely not in Kansa anymore. Instead, she's entered the world of Tarsem Singh — the Indian-American director behind visual stunners like the 2000 Jennifer Lopez film, The Cell, and the Brothers Grimm-inspired Snow White re-telling with Lily Collins, Mirror Mirror. Now, he's looking to put his own spin on Dorothy's journey through the Land of Oz. He hasn't totally thrown away the source material, but he certainly isn't letting it keep him from making any changes. The first trailer for the NBC show, premiering Jan. 6, makes that very clear.
This new Dorothy Gale is still from Kansas, but she's no longer the little kid with her little dog, too. She's a 20-year-old, who is trying to get herself together before she gets swept up in a tornado alongside a K9 police dog. The first thing you can hear her say in the trailer is, "You want to know what I wish? I wish I was more." It seems she's going to get a chance to make her own wish come true. This is the story of a woman looking for redemption and direction. This woman holds the fate of a kingdom in her hands. You know, no big deal.
But this is just one of the changes Singh has made to make Emerald City feel a bit more modern. Here's a full list of the apparent updates.
1. Dorothy Is Not A Girl, Not Yet A Woman
Aging her up a little allows this story to be a bit more female-empowering. This is a girl on the verge of trying to figure herself out. It's something she would have had to do with those witches or without, but with them seems much more interesting.
2. Bye, Bye, Munchkins
Gone are the Munchkins. Instead, Dorothy's arrival has helped empower the native people of Oz. This feels like a switch that speaks to something more serious and adds a bit more depth to the story. Has Oz been taken away from these people? Have they been pushed out by the Wizard himself? You'll have to wait and see.
3. Oz Is Looking A Bit Like Game Of Thrones
Specifically, this seaside nation looks a lot like Braavos where Arya went to learn the magic of the Faceless Men at the House of Black and White. Maybe hide your eyes, Dorothy.
4. There's No More Magic In Oz
This is what you hear the Wizard, played by Vincent D'Onofrio, say before the image above pops up. The Land of Oz is going to get a backstory and it seems the magic that the Wizard was pretending to use in the original movie was once very, very real, which is very, very intriguing.
5. The Wizard Is Looking For Dorothy
Dorothy may be heading to Oz to speak with the Wizard about getting home, but he's also looking for her. This is a twist that adds some mystery to this tale. It seems Dorothy has more power than she knows.
6. Are You A Good Witch Or A Bad Witch?
From the looks of this trailer, it may be something in-between. While the original made it easy to tell the difference between the good witch and the bad one by their names, you're going to have to watch and see with these sisters. Who knows, maybe Singh decided to take more of a Wicked approach to his version of the witches.
7. The Scarecrow's Story Is Not So Brainless
Singh isn't going so literal with his version of the Scarecrow. Instead, the man we meet who is covered in straw is also being crucified in the sweltering sun. When Dorothy does help him down, he can't remember a thing. "Why?" is now the question that needs answering.
8. The Emerald City Has Been Normalized
Watching the trailer, you can't help but notice that these witchy sisters do not look much alike. Singh was not looking to keep the all-white cast of the original, but has given new ways to see these timeless characters. The Witch of The East is now played by German actor Florence Kasumba, who is of Nigerian descent. Dorothy is played by Adria Arjona, who was born in Puerto Rico and lives in Mexico City. The characters may be in Oz, but it looks more like the real world around us.
9. Love Is In The Air
It seems Dorothy and the Scarecrow have a bit of a romance, which is a big change from the original. This may not make people happy, considering this is a story of a woman trying to find herself. A romance may take away from that, but for now, I'lll keep an open mind that this love story will not take away from Dorothy's journey of self-discovery.
10. There Will Be Blood
War is definitely a part of this story. It seems magic and science are at odds. From the looks of this scene, this battle is going to be rather epic.
11. The Lion Is Questionable
Above is what the Lion looks like. Is he a real lion? A machine? A person wearing a lion costume? These are all things I'd definitely like to know and I'm assuming I'm not alone on this one.
Of course, there's a lot of other questions this trailer brings up, particularly, Is Dorothy just a girl from Kansas or is she more? All will be revealed next year when a very different kind of Wizard Of Oz hits the small screen.
Image: NBC, Emerald City/Facebook (10)