'Emerald City's Dorothy Is A Major Step Forward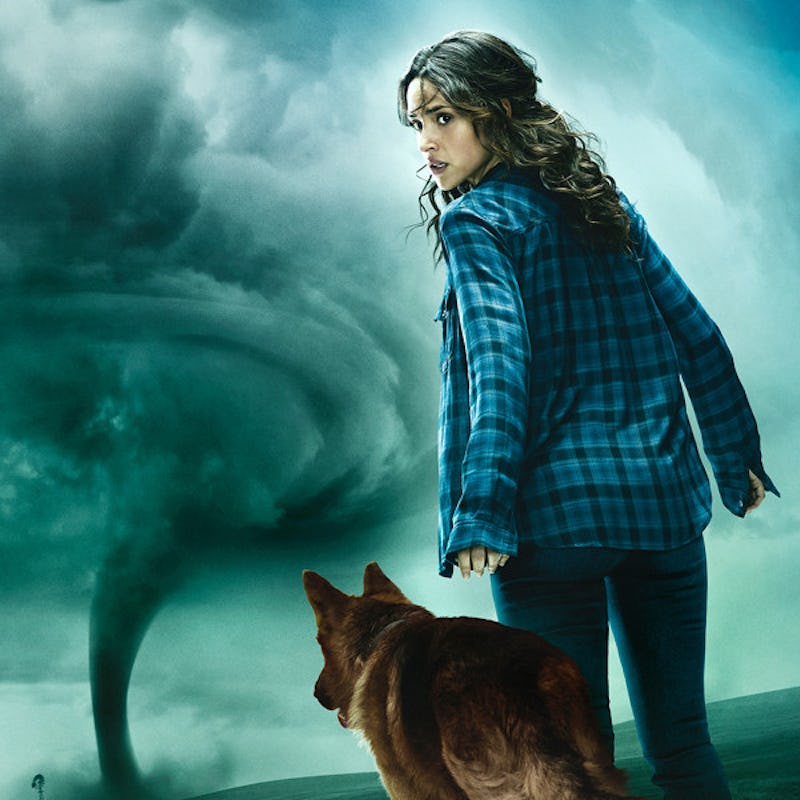 The role of Dorothy Gale has been adapted dozens of times for film and television. By the time Judy Garland played Dorothy in the 1939 hit The Wizard of Oz, she was the sixth woman to take on the role, but her portrayal became cemented in the minds of audiences as who Dorothy should be, and what she should look like: Naive, lost, confused, a little helpless, and... white. That image almost made Adria Arjona not try out for the part in NBC's Emerald City . Fortunately, she did eventually audition, and at the series' New York Comic-Con panel, the cast and crew explained how she landed the role that is bringing a Hispanic Dorothy to television.
"There was no ethnicity prescribed for any role ... they were just the best actors," executive producer Shaun Cassidy told the audience of how the cast was chosen. Those actors include people from all over the world, resulting in a diverse cast that fills major roles like Arjona's Dorothy and Florence Kasumba's Wicked Witch of the East. A quick glance at the show's IMDB page shows that the cast spans several races and nations and The Los Angeles Times also reports that the show will feature transgender characters.
At the NYCC panel, production designer David Schulner praised the casting directors because "they made sure all doors were open" allowing for people who may not have previously been considered for these roles to get a fair shot. That's so important because, as Arjona noted, the lack of representation in previous adaptations of The Wizard of Oz almost kept her from even showing up to the audition. "I remember thinking to myself, 'I'm Hispanic, I'm never really going to get this,'" she said. In the end, she decided, "You know what? I am Hispanic. I'm just gonna do it, and I'm going to do it 100 percent."
If this were another adaptation, maybe Arjona wouldn't have made the cut for that arbitrary, unfair reason, but Emerald City isn't your traditional, restrictive take on The Wizard of Oz. The director, Tarsem Singh, said at the panel that he wanted to "mix it up" when approaching the iconic tale. "Just by definition of having ... an Indian guy telling an iconic white story, it will inherently be mixed up," he said.
His response got a laugh from the crowd, but what he said is a really important point, because having a non-white director helped to ensure that the cast represented other backgrounds too. But that doesn't mean Arjona was purposely cast just to make the series more diverse or represent a specific group. She just happened to be the right person for the story Singh wanted to tell, and the show made sure to keep the casting doors wide open. The series broke tradition in another way, too. Singh directed all 10 episodes — almost unheard of in television, especially for a minority director.
It's telling that Singh helped compile such a diverse cast, because the result is an example of one reason why the issue of representation behind the scenes of films and TV shows has become so prominent — it can improve racial diversity in multiple aspects of the industry. The 2015 Hollywood Diversity report released by UCLA, noted that minority actors in scripted broadcast lead roles were outnumbered six to one in the 2012-2013 television season. This disparity is seen behind the scenes too, with Variety reporting that the Directors Guild of America found in the 2015-2016 television season, only 19 percent of TV episodes were directed by minority directors.
Emerald City updates The Wizard of Oz in many other ways too; Toto is a German Shepherd, Dorothy is far from helpless, and there aren't any magical ruby slippers (though there is a ruby something... viewers will have to tune in to find out what). But, undoubtedly, the most significant update Emerald City has made to the classic story is making sure that the characters on-screen reflect what our society actually looks like, which will only make the series more compelling to watch when it premieres Jan. 6, 2017.
Images: NBC, Brad Barket/NBC