Hot Topic's Harry Potter Clothes Are Magical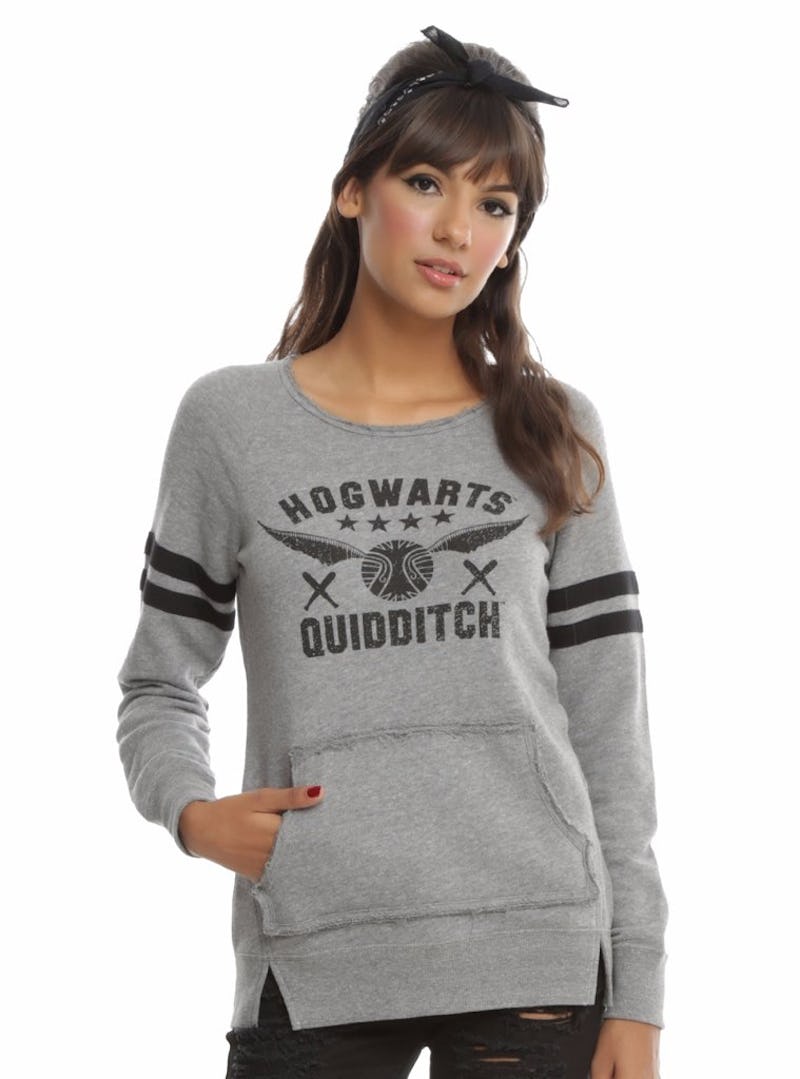 Even though the first Harry Potter book came out almost 20 years ago (wow, I'm getting old), 2016 is a good time to be a Potterhead. Between the release of Harry Potter and the Cursed Child and all of the amazing new Potter-themed makeup, we've been able to get our fix in a pretty major way. Now, thanks to Hot Topic, we can have Harry Potter clothes, too.
Hot Topic's line isn't exactly new (it's been around for a few years), but there's a whole slew of new merch available for purchase this season. We're talking scarves, sweaters, jackets, sweatshirts — basically everything you would ever need to look like a real life Quidditch player. You can channel your internal Hermione Granger with a "Marauder's Map" dress, or show off your house pride with a cardigan (I always wanted to be a Gryffindor, but know deep down I'm really a Hufflepuff).
With prices ranging from $3 to $88, the whole line is super affordable, and most of the pieces are available in plus sized options. Plus, on Black Friday, all of the t-shirts on Hot Topic's site are only $10, which means you may as well treat yourself to a little HP swag as a holiday treat. Here are five of the best new items from the collection.
1. Hufflepuff Cardigan
Harry Potter Hufflepuff Girl's Cardigan, $33.37, HotTopic.com
"Where they are just and loyal, those patient Hufflepuffs are true, and unafraid of toil," said the sorting hat. Proud to be a Hufflepuff!
2. Marauder's Map Dress
Harry Potter Marauder's Map Dress Plus Size, $59.92, HotTopic.com
I solemnly swear I am up to no good.
3. Varsity Hoodie
Harry Potter Varsity Hoodie, $37.12, HotTopic.com
If quidditch was an IRL high school sport, this would be what the hot players' girlfriends stole and wore to class.
4. Symbols Hoodie
Symbols Girls Hooded Flyaway Cardigan, $41.17, HotTopic.com
Want to show off your HP love in a more understated way? This hoodie isn't so obviously Potter merch, but is covered in wands, broom sticks and lightning bolts as a subtle nod to some of the major symbols in the series. Plus, it basically feels like a bathrobe but is socially acceptable to wear in public, which is a win.
5. Hogwarts Scarf
Hogwarts Varsity Crest Knit Scarf, $20.17, Hottopic.com
This scarf is giving major Cedric Diggory vibes (RIP), and wearing it will make it easier to pretend you're watching a quidditch match on Saturday afternoons instead of a college football game.
Images: Courtesy of HotTopic