The Kylie Cosmetics Brush Set Is Small But Focused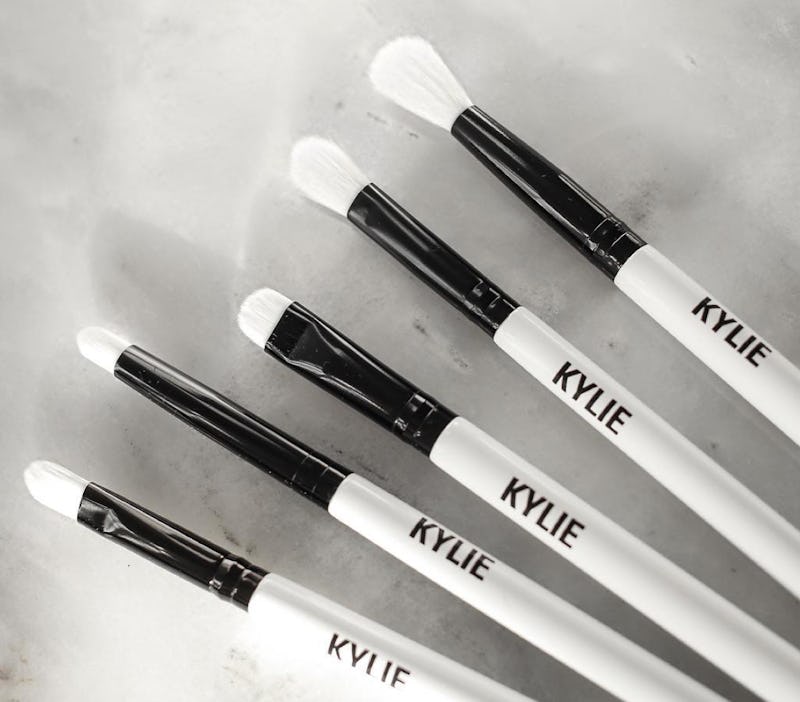 Kylie Cosmetics fans are no doubt anxious for Cyber Monday, which is Nov. 28, to arrive. That's when the Kylie Cosmetics 2016 Holiday Edition makeup brushes go on sale for the first time. Go ahead, take a second to shake, cry, and scream with anticipation. We good? OK. Here's the deal. The limited edition brush set is the brand's first-ever foray into tools. These makeup magic wands have white handles, which are stamped with "Kylie" in black. The bristles are white and appear densely packed. There are five brushes in the Kylie Cosmetics set, which costs $35. That shakes out to about $7 per brush. Does the brush set include face tools? Which features are the focus?
Well, if you are a creative makeupista, you can use any makeup brush for any purpose you wish. I often use concealer brushes to apply cream eyeshadows and massive bronzer brushes for powder foundation. Whatever works for you, you should do!
But judging from the looks of the Kylie Cosmetics Holiday Edition brushes, they are mainly designed for eyes. But a few can certainly be used for the face. There isn't a big, fluffy powder brush. There are, however, smaller brushes that can be used to apply concealer. Or for packing powder shadow closer to the lashline. Or for dabbing and then blending a liquid highlighter. Or for smudging shadow to smoke out your lids.
The set is indeed versatile. Any of the first three brush from left could be used for powder shadow, cream shadow, gel liner, or for foundation, concealer, or contouring products. The two brushes from the right are best served for the lid and crease. So three blushes look perfect for face and eyes. Two look perfect for eyes only.
But truthfully and ultimately, you can use these wands however you wish. That's why makeup is an art form. You can always use a tool or an actual product in a way other than for which it was intended, depending on your level of experimentation, comfort, and creativity.
The Kylie Cosmetics 2016 Holiday Edition Collection restocks on Friday, Nov. 25, which is Black Friday. The brushes drop on Cyber Monday. #Bye Money.
Images: Kylie Cosmetics/Instagram (2); Kylie Jenner/Snapchat (1)