The 'Gilmore Girls' Revival Has A Quirky Musical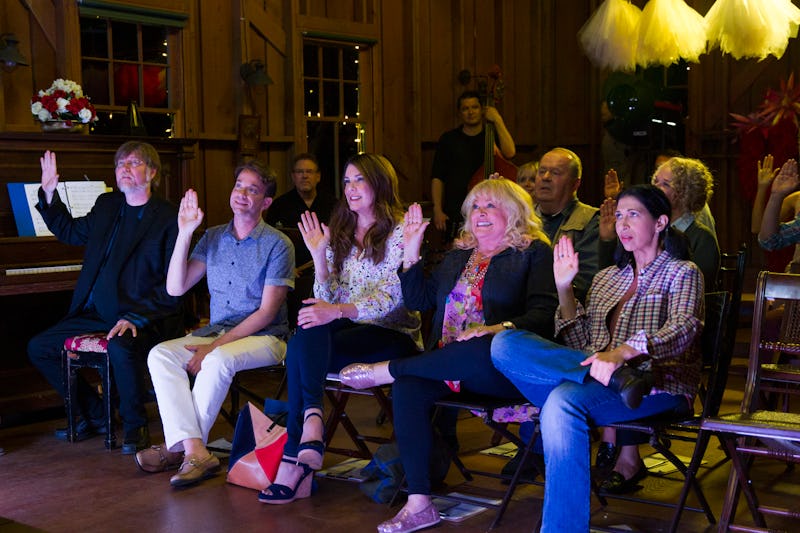 Gilmore Girls Netflix SPOILERS ahead. Hamilton has revived the American musical, and for better or for worse, that means a musical is coming to Stars Hollow in the Gilmore Girls revival. To combat the lackluster tourist season in town, Taylor Doose himself has come up with a great plan — a Broadway-esque show to drive people in. It's called Stars Hollow: The Musical, and, uh, it's not so great. But its over-the-top nature is what makes is so awesome.
Stars Hollow: The Musical stars real-life Broadway stars Christian Borle (Legally Blonde) and Sutton Foster (The Thoroughly Modern Millie, Sweet Charity) as two Stars Hollow inhabitants that we get to watch sing and dance from the Mayflower years of Stars Hollow (they both look good in Pilgrim garb) to modern times. Oh, and they hit the Revolutionary War and the Industrial Revolution along the way, too. Written and directed and cast in Stars Hollow, Stars Hollow: The Musical is a love letter to the town. It has great intentions, but boy, is it terrible. And Lorelai is the only one who notices the awful lyrics, weird choreography, and pandering nature of the show (they have a rapper in the middle of it who references Hamilton, because it's only a matter of time before every musical in the next 10 years has a rapper in it). Why does Foster's character have sex with 26 men over the course of the history of Stars Hollow? Why is spam, the email a bad thing, but not the food? Who knows.
It's funny in its awfulness, but I would agree that the whole musical is like six minutes too long (in Gilmore Girls: A Year In The Life. I can't imagine how long the real musical is). I could have done without probably two of the scenes, but Foster and Borle are comic geniuses. Stars Hollow: The Musical definitely doesn't have the staying power of say, Hamilton, (or Kinky Boots, which Foster's character starred in, much to the delight of Taylor, Babette, and everyone else on the advisory committee), but it's just quirky enough for Stars Hollow.
Images: Saeed Adyani/Netflix (2)