The 'Gilmore Girls' Revival Is Spoiler-Free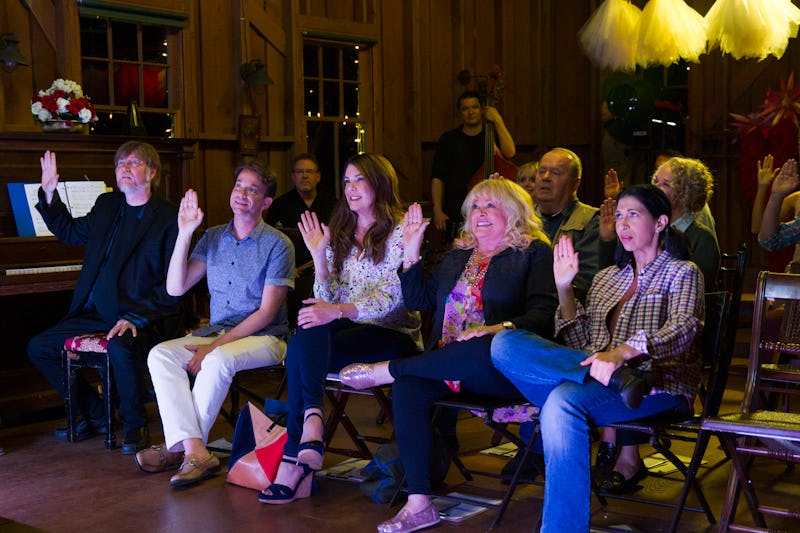 One of the things that has changed since Gilmore Girls was originally on the air is the rise of spoiler culture. Fans care a lot more about either avoiding spoilers or seeking them out. So, it's no surpise that during a preview of Stars Hollow: The Musical, Taylor Doose has everyone recite a spoiler pledge on Gilmore Girls: A Year In The Life . Ironically, there are Gilmore Girls: A Year In The Life spoilers ahead too.
Taylor had everyone in the musical committee recite the pledge together. It emphasized that keeping secrets is respectful to the creators, which was a nice meta reference. Plus, I think that a lot of us forget that keeping spoilers isn't just for us fans. It matters to the people behind the scenes as well. Also, pretty cool that the pledge was so inclusive to many religions! Taylor may not always be the nicest man in Stars Hollow, but he is mindful of beliefs that differ from his. The full pledge goes like this:
"I, Stars Hollow theatre lover, hereby swear that I will not divulge any portion of this show in any way out of respect for the hard-working creators of this musical, so help me God, or Allah, or Buddha, or whatever you pray to."
Now, did Lorelai keep her pledge? I highly doubt it. After her many criticisms of the performance, I have a hard time believing that she didn't spill secrets to Rory and Luke.
Image: Saeed Adyani/Netflix