The "Unbreakable" Lyrics From 'Gilmore Girls'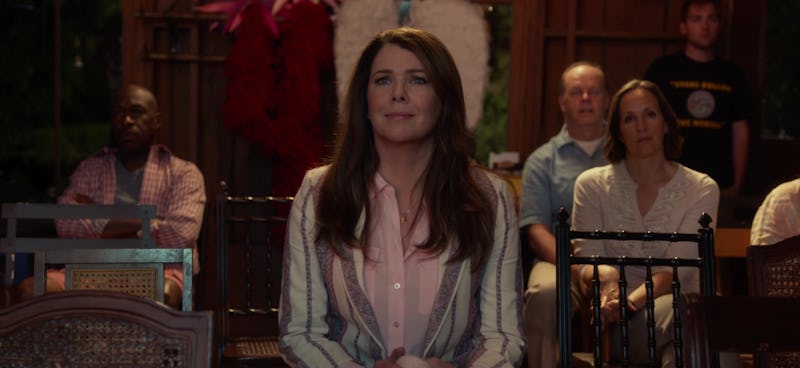 In Gilmore Girls, Taylor Doose seems to never run out of ideas for Stars Hollow festivals or activities — and he comes up with even more fun stuff for the townspeople in Gilmore Girls: A Year in the Life, which premiered on Netflix on Friday. There are SPOILERS ahead for Gilmore Girls: A Year in the Life, so read no further if you wish to remain unspoiled. One of Taylor's big ideas is a town musical — that's right, Stars Hollow: The Musical. It's a piece of theater that is interesting to say the least, but it does eventually include the gorgeous lyrics of the Sutton Foster song "Unbreakable" in the Gilmore Girls revival.
In the episode "Summer," Taylor debuts his town musical, which stars Kinky Boots alum Violet (real-life Tony winner Sutton Foster) and Carl (real-life Tony winner Christian Borle) in a strange stage journey set to music. The musical seem to take influence from the current Broadway smash hit Hamilton (yup, there's rapping), the Amish (yep, there are costumes), and just good ol' community theater. Taylor meets with his advisory committee for feedback on the musical and Lorelai is brutally honest about it. Later in the episode, Taylor calls Lorelai to let her know that he and Nat Compton came up with a new song and he wants her to hear it at Miss Patty's. So Lorelai goes to listen to Violet belt it out and Lorelai is immediately touched by the lyrics, which seem to be echoing exactly what she's feeling at the time.
In the episode, Lorelai has been faced with a number of changes: Michel wants to leave the Dragonfly Inn for the W Hotel, Rory argues with her about to writing a book about their relationship, Emily starts dating Richard's friend Jack, and Luke argues with her about the state of their partnership. At one point during the performance, the spotlight focuses on Violet and Lorelai, so it's like Violet is singing directly to Lorelai, who is tearing up and visibly affected by the song.
Like most of the songs in the Stars Hollow musical, series executive producers Daniel and Amy Sherman-Palladino wrote the lyrics to "Unbreakable" and Jeanine Tesori is credited with the music. Here are the lyrics if you didn't catch them the first time.
I know how everyone else's life
Is supposed to fly by
Then someone turns and says
What about you?
And I stand here
Mouth open
Mind blank
This should have all work itself out by now
The map of my life should be clear and precise
With little red dashes and circles so nice
Showing roadblocks
And landmines
Oh, I am not unbreakable
I am breaking right now
Maybe everyone can't have the dream
Maybe everyone can't kiss the frog
Maybe it'll be me and a dog
And the little stuff dolphins on the floor
And a little dog door
Oh, I am not unbreakable
I am breaking right now
I need to be unbreakable
Somehow, it's never
Or now
And, it's these touching words that inspire Lorelai to take some action and do some soul-searching of her own.
Images: Netflix (3)