Morphe's Gilded Brushes Are Worth The Price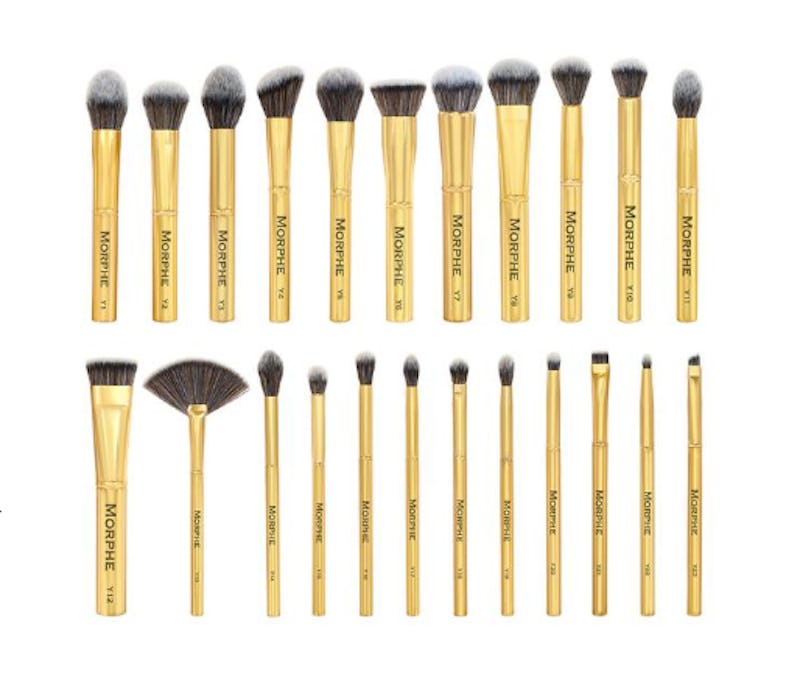 If you're looking for a new brush set for the holidays, then you're in luck. Morphe created their Gilded Brush Set and it's absolutely gorgeous. I'm talking every brush you could possibly need and a color that will look gorgeous on your makeup table. Is the hefty price of Morphe's Gilded Collection worth it? When you break it down, it's clear to see that the line is actually pretty affordable.
This holiday season just got a little more merry and bright thanks to Morphe latest launch. The beauty brand created 23 new brushes that are a gorgeous gold color. Like other Morphe brush lines, The Gilded Collection feature everything from powder and contour tools to tons of every eye makeup option you could possibly need. As far as the price goes, it will cost you though.
If you choose to by the entire Gilded Brush Collection, you'll have to shell out $200. But before you look at that price and freak out, let me break it down for you. With 23 different brushes available, it breaks down to about $8.70 per brush. Considering that some of these brushes go for $12 on their own, this is actually a pretty god beauty deal.
Set 901- The Gilded Set, $199, Morphe Brushes
If you're not looking to commit to the 23-piece collection, there's still another option. Morphe also sells each individual brush on their site. While the best bang for your buck is buying the set, the brushes are just as affordable on their own as well. They range from $3.99 to $13.99.
That's not the only way to save money either. If you're shopping on Black Friday, you can use the code Friday25 to save 25 percent off. That's right! A new brush set and money off all at the same time. It doesn't get much better than that!
The Gilded Set, $8-$13, Morphe Brushes
A few of the brushes are already sold out individually on the site too. So what are you waiting for? Go shop them while you can!
Images: Morphe (2)