Morphe's Gold Brush Collection Is Coming Soon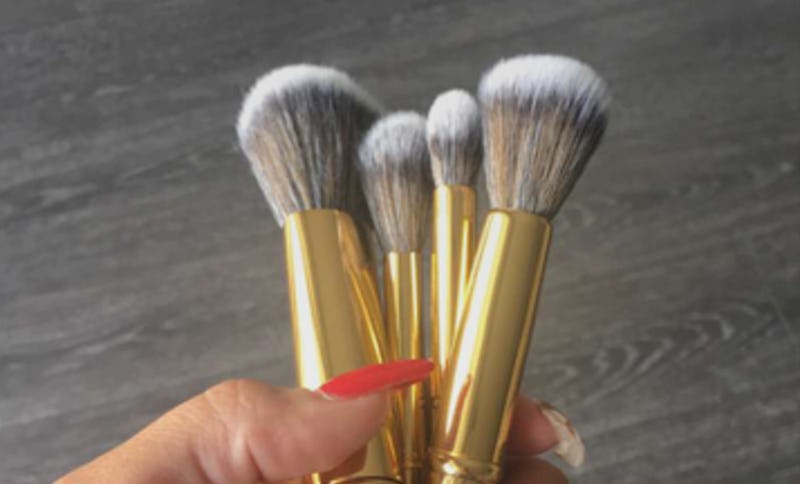 Morphe is basically a brand sent straight from the heavens for most beauty addicts. Not only are the brand's products insanely affordable, but they don't compromise on quality. Now, Morphe's Gilded Collection is coming just in time for the holiday season, and you need them on your holiday wish list. While Morphe may make incredible beauty sponges, eyeshadows, blush palettes, and pressed pigments, it's their brushes that have stolen fans' hearts, and their upcoming Gilded Collection is just further proof why loyalists to the brand swear by their products.
This isn't the first time that Morphe has launched a specialized set of brushes. They've launched multiple including the That Bling collection and the Rose Gold collection. Plus, during the sale of their Elite II collection, the brand kept that set as a permanent edition. Now, the Gilded Collection is joining the family, and it's arriving on Black Friday. Come Nov. 25, you'll be able to snag these beauties at 8 a.m. PT according to popular beauty Instagram TrendMood. If the photos are any indication, these brushes are stunning.
In an image posted to TrendMood, fans got a first first look at the collection, and it's totally perfect for the holiday season. After all, who wouldn't want to get ready for a holiday party with straight up gold brushes?
So far, Morphe has yet to showcase the collection on their own Instagram account, but the handles are undeniably Morphe. Plus, it's totally in line with brand's other sets like their Rose Gold Collection.
Morphe did, however, tease a little something on their Instagram a day ago. Considering the gold lettering and the allusion to something shiny, I'd place bets on it being these gorgeous brushes.
Fans are already stoked about the collection, too.
Thanks to beauty blogger Amanda Ensing, fans got a sneak peek of collection on her Snapchat.
Clearly, these were made for the holidays.
Plus, look at how many there are!
One look at these beauties, you'll be hooked. Thankfully, the Gilded Collection debuts on Black Friday. You'll definitely need to add this item to your list.
Images: Amanda Ensing/Snapchat(3)