The 25 Best Fiction Books of 2016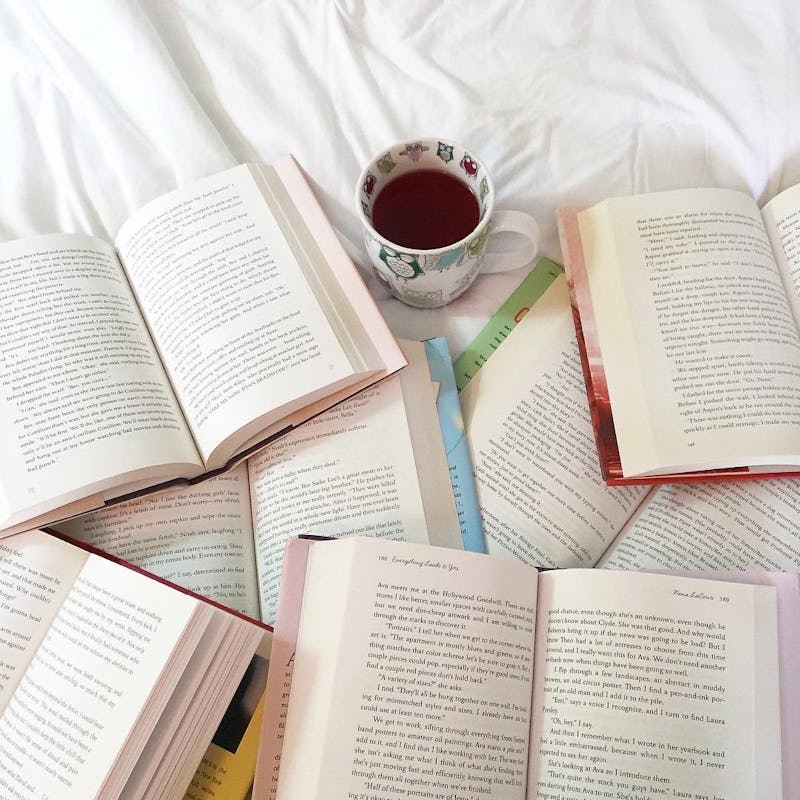 We've almost made it to the finish line of 2016, a year that has truly seemed stranger than fiction. So maybe it's fitting that amid all the IRL chaos, readers were treated to a truly amazing array of fiction books. There were many outstanding novels released in 2016, but these are the 25 best fiction books of the year. It wasn't easy to create this list, because there have seriously been so many stellar titles that came out this year. Debut authors like Jade Chang and Brit Bennett truly made their mark this year, but so did celebrated veterans like Colson Whitehead, Alexander Chee, and Zadie Smith. Race, culture, and immigration status all played an important role in many of this year's best works, and these novels need to be read in the coming years. It's more important than ever that these experiences can be found in literature.
They say that you can live a thousand lives through reading, and by just taking a glance back at one year of remarkable fiction, it's easy to see that that's true. So, before we ring in the new year and begin to prepare for the fantastic reading ahead of us in 2017, let's take a look back at 2016 and celebrate the best of the year:
Winner of the National Book Award and selected for Oprah's Book Club, The Underground Railroad is very much the book of the year. The book follows Cora, an escaped slave, as she embarks on a journey on The Underground Railroad — which Whitehead imagines as a literal railroad. This is an ingenious examination of pre-Civil War America and our nation's shared history.
2. The Wangs vs. The World by Jade Chang
Funny, profound, and absolutely a delight to read, The Wangs vs. The World is one of my personal favorites of 2016. This is the story of a rich Chinese-American family who embark on a cross-country road trip after losing their fortune. But each family member has their own agenda, and these respective goals may interfere with their shared goal: keeping the family together.
This book is an emotional ride unlike anything I've ever read before. At 12 years old, Japanese student Chizuru stabs and kills her school bully and is sent to a mental institution. And that's just the prologue. Years later, Chizuru changes her name to Rio and builds a life in the United States, where she keeps her past a secret from her husband and daughter. But upon the death of her father, Rio must return to Japan for the first time since she was a teenager and confront her dark past.
This exciting book is filled with heaping helpings of glamour and adventure. Set in 1882 Paris, we meet Lilliet Berne, a legendary opera singer, who has just been given the honor of her own libretto. But when Lilliet discovers that one of her personal secrets is in the libretto, she takes readers on a journey through her thrilling past in an attempt to discover who betrayed her confidence.
The novel begins with a secret: Nadia, 17, is pregnant with the child of the pastor's son, Luke Sheppard. The effects of this secret will ripple throughout their lives in this haunting debut. Young love, community scandal, and secrets are mixed brilliantly in this emotionally perceptive read.
The Freemans move to a research institute to participate in an experiment in which they raise a chimpanzee as their own. As the family faces the isolating effects of being one of the only black families in a primarily white community, they discover dark secrets from the institute's past. Greendige's storytelling is exquisite, and this book is certain to draw you in.
A new novel from legendary author Zadie Smith is certainly worth celebrating. This is the story of two ambitious girls who dream of becoming dancers in this vibrant read about music, friendship, and dance.
When California teenager Evie Boyd gets sucked into the circle of a charismatic cult leader, she suddenly finds herself involved in a violent crime. This is a story of obsession, self-identity, and female friendship that will hit you in the core.
Debut author Nicole Dennis-Benn delivers a striking and beautiful novel in Here Comes The Sun . Set in Jamaica, the book follows a family of women as their community is put at risk. At the center is Margot, who works at a Montego Bay resort and is determined to get her prodigal sister, Thandi, through school. She'll do anything — anything — for her sister. Meanwhile, Thandi struggles to figure out her own vision for her life and live up to the expectations of her family.
This remarkable book won the Man Booker Prize for Fiction this year, making Paul Beatty the first American author to win the presitgious international prize. A radical satire, The Sellout is about a teenager who reinstates slavery in his hometown, causing a scandal that eventually makes it way to the Supreme Court. Wickedly smart and necessary, The Sellout is a must-read.
This gut-wrenching book is certain to make you cry. Wavy, whom readers meet at age 8, lives with a destructive, abusive family. But when she strikes up a friendship with one of her father's drug-runners, a beautiful, strange, wonderful, and ugly story emerges.
Winner of this year's Man Booker International Prize, this is an intense and mesmerizing read. Set in South Korea, it follows Yeong-hye, a young woman who decides to become a vegetarian in the midst of a mental break. The story is told from the perspective of three people who surround her — her husband, her brother-in-law, and her sister — and the disconnect between the reader and the subject of the book makes for one terrifying journey.
A finalist for the National Book Award, this brilliant book is one that everyone needs to read. In 1996, a "small" bomb goes off in a Delhi marketplace, killing two brothers and leaving their friend, Mansoor, alive. The effects of that bombing never leave Mansoor, and after a brief stint at an American university, he returns to Delhi. There, he becomes entangled with a passionate and radical activist.
This thrilling science fiction novel combines theoretical physics with heart-pumping suspense. After being abuducted, the protagonist, Jason, wakes up to find himself in an alternate life: His family is not his family, and he is not a physics professor but rather a celebrated genius. But what is real, and what is the fantasy?
This amazing book is an important look at our world's history, the devastating effects of slavery, and how one difference can shape a generation. It starts with two African half-sisters: Effia is married off to a wealthy Englishman, and Esi is imprisioned and sold into slavery. From there, the novel takes us on a journey through their lives, and the lives of their descendents.
An American teacher in Bulgaria pays a young hustler for sex beneath Sofia's National Palace of Culture. As he returns again and again, he confronts his attraction and obsession with this man who is likely treating him as he does his other clients. This is an introspective read that touches on deeply personal insights about the nature of desire.
Julia is 26 years old, and, much to her dismay, a virgin. She decides to take control of her life and her sexuality, so she ditches her unsatisfying job and moves in with her eccentric aunt in North Carolina. But when she discovers that her aunt is a 58-year-old virgin, things get a little more complicated.
Katie Knox's 15-year-old daughter is a gymnastics prodigy, and Katie is completely dedicated to her. When a violent death rocks the tight-knit gymnastics community, rumors and scandal begin to swirl around Katie and her family. But as Katie tries to hold her family together, she finds herself drawn further and further into the crime.
Written with exquisite prose, this novel tells the story of teenage Lucia, whose father is dead and whose mother is in a mental institution. Lucia feels absolutely hopeless — until she discovers that her new school has a secret Arson Club. Desperate to be admitted to the secret society, Lucia pushes her own morals to their breaking point.
This book is comprised of thirteen stories, all focused on one woman, Lizzie, at different moments throughout her life. Lizzie's character is one you'll connect with immediately, but even more striking is the way that Awad pinpoints all the subtleties of how women view ourselves and the world around us. This is a book that will call attention to feelings that you thought only you had, bringing an insightful perspective on womanhood.
The writing style of this book is absolutely unique, drawing you into a sensory world full of art and passion. Set in the bustling art scene of 1980s New York, the book follows two protagonists whose lives collide in fascinating ways. James is an art critic with synesthesia, and Raul is a painter who has come to New York to flee the horrors of Argentina's Dirty War. When tragedy strikes, they're drawn together to rediscover what they've lost.
National Book Award winner (and finalist, for this book) Jacqueline Woodson transports readers to the vibrant world of 1970s Brooklyn, as our main character, August, looks back on her complicated childhood. In the words of Roxane Gay, this book is a "love letter to black girlhood."
The must-read thriller of the fall, the newest book in the Dublin Murder Squad series is not only an edge-of-your-seat mystery, but a clear-eyed look at the challenges for women in the professional world. We follow Detective Antoinette Conway, whose working life is plagued by harassment in all of its forms. Antoinette is sure that she's seen the victim of her latest case before — and she decides to follow her intuition, even as her co-workers attempts to push her off the case.
This outstanding book tells the story of a female friendship so intense it becomes dangerous. In the aftermath of a suicide at their school, Hannah and Lacey unite in their desire to rebel. But Lacey has a secret that could push their friendship into violence.
The Regional Office Is Under Attack! has everything I love: kickass female assassins, inventive details, and a plot that will keep you on your toes. The Regional Office is a corporation that stands between Earth and the horrors of the universe beyond, and Rose is the determined assasin leading an attack on the office. This is a thrilling read that really lives up the promise of its exclamatory title.
Images: booksenchanted/Instagram