Reese Witherspoon Responds To 'GG's 'Wild' Side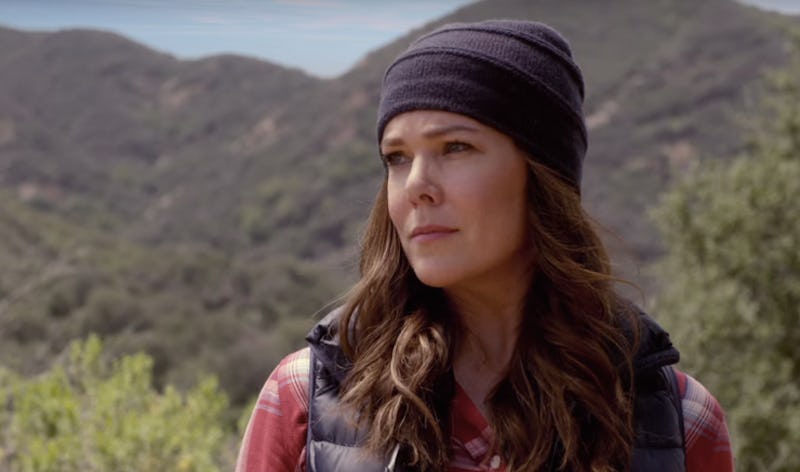 As you well know, Gilmore Girls' dialogue is rife with pop culture references. It's kind of the ladies' thing. But because Lorelai, Rory, and friends' extensive trivial knowledge of all things current and cool is so wide, it's hard to catch every reference that gets made. Despite that, though, there was one shout-out in the Gilmore Girls revival too big to ignore. Lorelai embarked on a trip just like the one in the novel (and movie), Wild, and, it's something both the author and lead actor of the film noted with pride. Both Cheryl Strayed and Reese Witherspoon tweeted about the Gilmore Girls revival's Wild shout-outs, and it's super cool to see them fangirl over the reference.
While both ladies' reactions are great to see, it's Strayed's that is the most important. Witherspoon put on a phenomenal performance in the movie adaptation of the book, but the story of Wild belongs to its author, Strayed. It's her novel, her experiences, and so to see her react so strongly to the Gilmore Girls revival's acknowledgement is all sorts of awesome. While Strayed admitted on Twitter that she only watched the first season of the original Gilmore Girls installment, she skipped to revival because of how much excitement people seemed to have for the show. But when asked if she was aware that Wild played such a big role, Strayed replied saying, "I had no idea! I heard on Twitter that Lorelai was reading the book but I didn't know it was part of the storyline."
In the lengthier and more in-depth Instagram post above, Strayed put all of her feelings into a sentimental caption of two screenshots of Lorelai on the Wild trip. The author explained,
Gobsmacked & honored by the Wild homage in @gilmoregirls Year in the Life. I watched it yesterday with my daughter, Bobbi (who is named after my mother). Like so many people, in Lorelai and Rory, I see pieces of myself, my mother, and my daughter. That scene when Lorelai wanders behind the closed store near the trail and looks out across the wild landscape then calls her mom? Took my breath away and made me cry (after laughing at so many others parts). I reached for my daughter's hand and told her someday she'd understand why I was crying. She said, 'I understand already, Mom.' Amy Sherman-Palladino, Daniel Palladino, Lauren Graham, Alexis Bledel and all the people who made this show: thank you. Y'all touched so many of our hearts. #gilmoregirls #staywild
Life imitating art and vice versa. Now that is meta.
Not to be outdone, though, Witherspoon also shouted out the show, too, despite Lorelai insisting she was going by the book version of Wild rather than the movie one. The revival actually gave Witherspoon two shout-outs: the one about Wild, and also one relating to the actor's lifestyle line. When Lorelai and Rory are at the pool, next to Lorelai is a bag that says, "Totes Y'all." That bag is actually a part of the Draper James collection which is owned by, you guessed it, Witherspoon.
The actor even retweeted the tweet below that shows the adorable and witty tote bag that Lorelai accessorized with.
So, you see, even the most famous and lauded artists among us can appreciate the greatness that is Gilmore Girls and the equally as affecting revival. Fangirling over the Gilmores is most definitely not just something for those of us who watch outside of Hollywood.
Image: Netflix