Lorelai Is On A Journey In The 'GG' Revival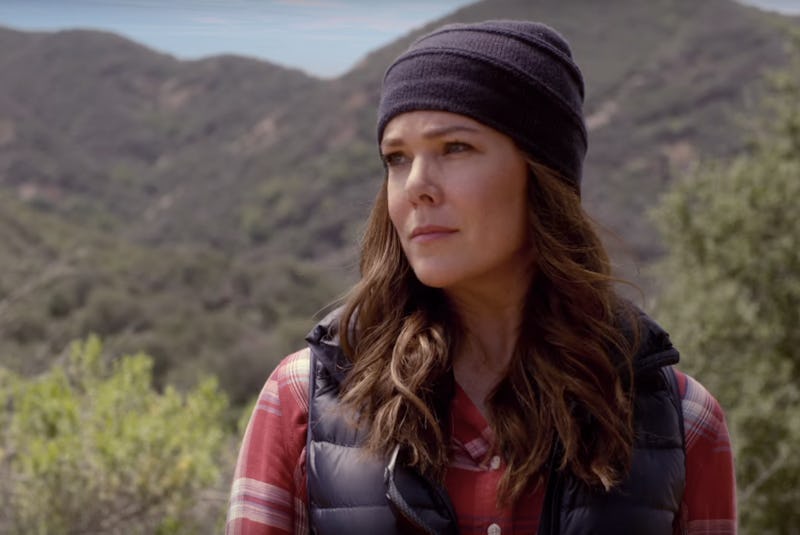 Now that it's November, we can finally get super excited for the release of Gilmore Girls: A Year In The Life, which streams on Netflix from Nov. 25. With only weeks to go, the trailer is under more scrutiny than ever as fans try to work out what's going to happen to all of their favorite characters when the series returns. Perhaps one of the most mysterious aspects of the new episodes is Lorelai's role in the Gilmore Girls revival. In the trailer, it looks as though Lorelai is on a journey of self-discovery, so what does that mean for her relationship with Luke?
With show creator Amy Sherman-Palladino on board, the Gilmore Girls revival is likely to honor the characters in the best way, and stay true to the heart of the show. It's no secret that Richard Gilmore, Lorelai's father and Rory's grandfather, dies in one of the new episodes, and the trailer features a scene at his funeral. This, of course, follows the real life death of Edward Herrmann, and guarantees to have viewers crying profusely. Clearly, this is going to be an important part of the plot of Gilmore Girls: A Year In The Life, and is likely to impact Lorelai in unexpected and devastating ways.
One of the most intriguing moments of the trailer shows Lorelai hiking alone. She doesn't look particularly happy, but she surveys her surrounds, and it feels as though it's an important moment in which the character is assessing her place in this world. Her hike is interspersed with dialogue of what appears to be a conversation between Lorelai and her therapist. And it becomes clear that Lorelai is at a pertinent life juncture, when she says, "I thought I knew exactly what I wanted, and where I was going, but lately, I don't know, things seem hazier."
Dealing with the death of her father, and the subsequent upheaval of her family unit, it seems likely that Lorelai is facing an incredibly difficult time in her life. Losing a parent can cause your life to shift unalterably, and the grief process is never easy or linear. That Lorelai no longer knows what she wants, or where she is heading, is inextricably linked to her huge loss, and watching the character work through her grief could be an important plot point in the Gilmore Girls revival.
However, it's also possible that her father's death isn't the only thing throwing Lorelai's life into disarray and forcing her to go on a journey of self-discovery akin to Cheryl Strayed's Wild or Elizabeth Gilbert's Eat, Pray, Love. Speaking to her therapist, Lorelai says the loaded sentence, "We're happy. Luke and I are happy." Not only does she sound unsure as she says it, her facial expression is less than convincing. It's as if Lorelai is trying to convince herself that her relationship is still working, but maybe it's not anymore.
Lorelai's statement, coupled with the less than enthusiastic response from the therapist, has me more than a little worried for the future of everyone's favorite couple in Stars Hollow. Is it possible that Luke and Lorelai break up in the Gilmore Girls revival? The clip of them walking, hand in hand, hints that there's trouble ahead for the couple, as both Luke and Lorelai look upset, as if they've just had an argument. Say it isn't so.
In an interview with Entertainment Weekly in Sept. 2016, Graham called Gilmore Girls "sneakily feminist" and was adamant that the show was about more than just who Rory and Lorelai end up with. Of the characters, Graham said, "It's always been great for them to have love, but they're also okay when they don't... It's why we sometimes bristle at: What team are you on? It's like: It doesn't matter." This would certainly support the idea that the Gilmore Girls revival follows Lorelai's journey, regardless of the romantic attachments in her life. After all, the series is about Lorelai and her daughter Rory first and foremost, and perhaps the women's character arcs are about much more than romance.
Whether or not Luke and Lorelai stay together, it seems likely that Lorelai has some work to do on herself in the Gilmore Girls revival, to find out who she is and what she wants out of life.
Images: Netflix US & Canada/YouTube (5)