Colbert's Response to Suey Park Falls Short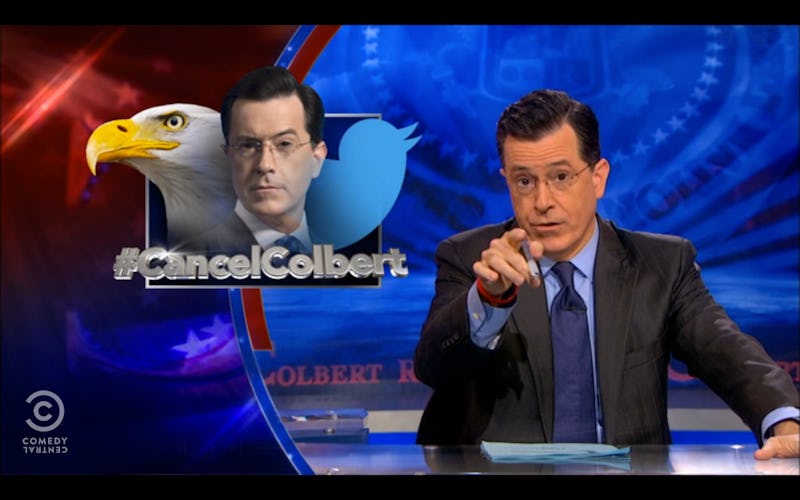 Stephen Colbert responded Tuesday night on The Colbert Report to Suey Park's Twitter trending hashtag, #CancelColbert in true Colbert fashion: he made himself a martyr and compared himself to Jesus Christ. To recap: on Thursday, March 28, the Twitter account @ColbertReport (which has since been deleted) tweeted a joke that was on the show in response to Washington Redskins owner Dan Synder's racial insensitivity, reading "I am willing to show #Asian community I care by introducing the Ching-Chong Ding-Dong Foundation for Sensitivity to Orientals or Whatever." This prompted activist Suey Park to start the hashtag #CancelColbert, her stance being that even though Colbert was using satire, he made an inherently and genuinely racist joke directed at the Asian American community.
On Monday's show, Colbert riffed on the proliferation of news on Twitter: "To recap: A web editor I've never met posts a tweet in my name on an account I don't control, outrages a hashtag activist, and the news media gets 72 hours of content. The system worked."
The conversation (and it's been detailed) surrounding the aftermath of the tweet has been focused on the context of the tweet — that Stephen Colbert himself did not control the @ColbertReport Twitter account, that a joke taken out of context and posted on Twitter cannot be regarded in full, that Colbert is a satirist and thus is absolved from responsibility. Yes, The Colbert Report has given us a unique media critique through the veil of satire, but the hellions that have been rushing to protect Colbert and delegitimize Suey Park as a "hashtag activist" are derailing the conversation into something else, and the Twitter responses to Park themselves have been ugly and racist; she's received misogynist comments, death threats and even rape threats in her Twitter mentions, all because Park can't seem to "take a joke" or "doesn't know what satire is."
Colbert's response last night, as well as Jon Stewart's (in which he made a joke about Chris Christie's female staff members being "crazy bitches" and posting the joke hashtag #CancelStewart on the screen), ignores the real pain that Park was trying to call out. Park unfortunately became a victim of racism in attempting to open a discussion about the legitimacy of satire. Can we hurl slurs at one group while trying to critique someone else's racism? And does Colbert, a white faux-pundit with a primetime show on a major network need defending? The critique of the media should not be that "faux" activism is blowing up on Twitter (or as Colbert himself said, "the twit hit the fan"), but as Park wrote last week in Time:
The logic of those who argue "Get Over It" is set up to privilege reckless behavior by placing the blame on the audience. But if the joke isn't actually racist, then why have so many racist slurs been hurled at those of us promoting #CancelColbert? The outrage surrounding our criticism is about white liberals feeling entitled to engage in hate speech under the guise of "satire." These white liberals are not mad that we pointed out racism, they are mad that they now have to consider the ways in which they may be racist.
It is every person's right to speak out when they feel they have been discriminated against, and it is no surprise that the wide reaction to #CancelColbert was that Suey Park and her supporters were "too sensitive." But this blankets the real issue — that the line between satire and real racism is still tenuous, and that even Stephen Colbert is not infallible.
I wish that Colbert had called Park to come sit at his open table and discuss, rather than blowing off #CancelColbert as a frivolous Twitter fit by a young girl that doesn't know what satire is. The media's treatment of Park in the aftermath has been in itself racist; she was invited to speak on HuffPost Live, where Josh Zepps actually told Park that her legitimate feelings were "a stupid opinion."
Colbert will not be cancelled, but it's a shame that the conversation not only has turned into putting Colbert on a pedestal as an infallible hero of satire, but also that Suey Park has had to suffer and has been made the villain. When will we be able to recognize the voices of women of color when they critique white men in the media without hurling racist and misogynist slurs at them?
The reaction to Park is the perfect example of the silencing she was trying to highlight with #CancelColbert, and Colbert still owes her an apology.
Image: Comedy Central