The 'Riverdale' Trailer Song Will Haunt You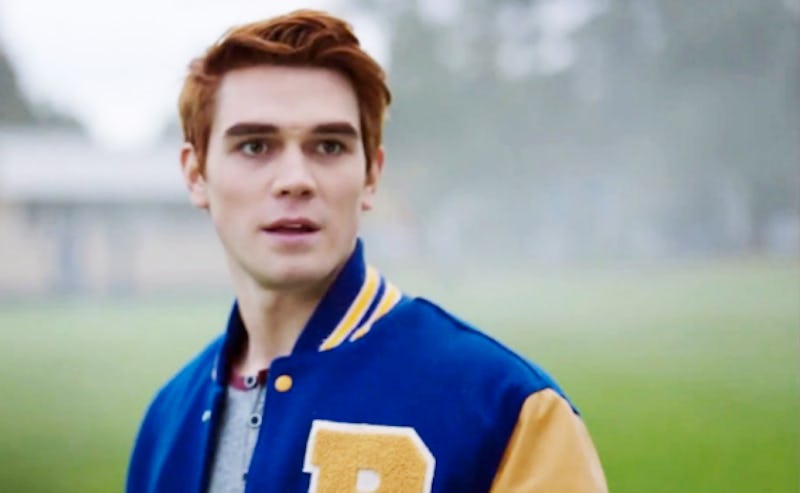 Continuing its surge in comic book spin-offs, the CW will introduce yet another print-to-screen adaption with Riverdale this January. The series features a twisted take on the teen-driven Archie franchise, centering around a group of high school sophomores as they grapple with a looming murder mystery. Its first look promo features a soundtrack as sinister as its premise, and eager viewers may be wondering what song is in the Riverdale trailer.
The clip's ominous visuals are underscored by "Paint the Pictures," a 2012 track from of Verona's debut album The White Apple. It's a perfect match for the show's dark, dangerous plot, weaving haunting vocals and downcast acoustics into a brooding lullaby. It also adds to Riverdale's enigmatic aura, as the trailer doesn't reveal many concrete details. Included are brief flashes of flickering police sirens, bloodied hands, and a hefty bag of cash, plus plenty of smoldering dramatics.
We see glimpses of protagonist Archie Andrews (K.J. Apa) as well as Veronica Lodge (Camila Mendes), a silver-tongued new girl vying for Archie's affections against his wholesome best friend, Betty Cooper (Lily Reinhardt). Yellow police tape teases the demise of "high school golden boy" Jason Blossom, whose tragic death kicks off the series.
It's an enticing first taste of the project, which is said to be a cross between Gossip Girl and Twin Peaks . Like the latter, it delves into the mysteries of a secretive small town, while its steamy love triangle, female villain, and modern setting mirror the drama-fueled pace of Gossip Girl. In fact, Archie serves more as a loose touchstone than a literal interpretation, as Riverdale is decidedly grittier.
As executive-producer Roberto Aguirre-Sacasa told Entertainment Weekly at San Diego Comic Con earlier this year,
"It's definitely Archie, but a little darker, a little more complex, and a little weirder than you might remember from the digest you bought at the supermarket."
We'll have to wait until Riverdale's Jan. 26 premiere to see exactly what that means, but the trailer — and its song — certainly upped the anticipation.
Image: CW