This DIY Harry Potter Christmas Tree Is Perfect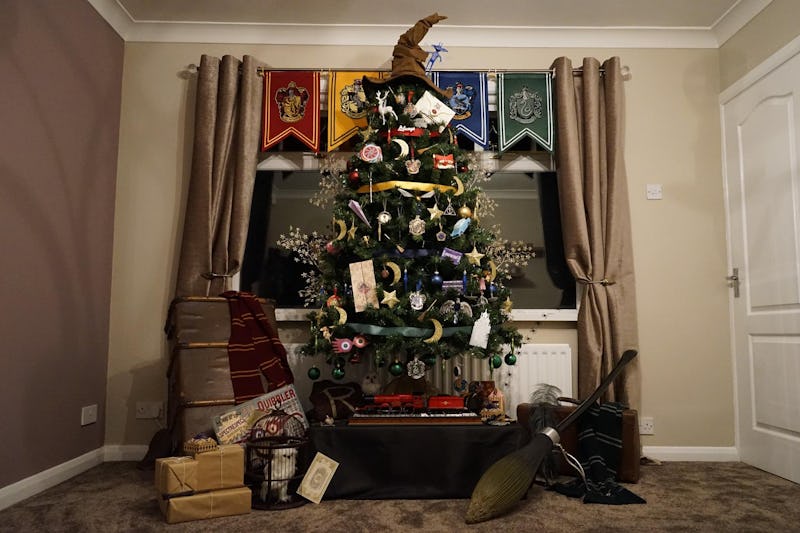 Photos of ornamented, twinkling evergreens are no doubt starting to light up your Facebook feed, but one creative Brit has already won the holiday with her magical Harry Potter Christmas tree. The enchanting tree, draped entirely in Harry Potter paraphernalia, is truly fit for the Wizarding World; in fact, it's sure to get Potterheads into the holiday spirit faster than you can say "Yule Ball."
Kathryn Burnett, a 29-year-old Harry Potter superfan living in the town of Seaham, England created the Christmas homage to her favorite wizard, combining her two biggest passions after a burst of inspiration. "I'm a huge H.P. fan and I also love Christmas and one day I was sitting there and thought wouldn't it be fun to have a H.P. themed Christmas tree," Burnett tells Bustle. "I then started to sketch an idea of what it would look like and then I got really excited about the idea."
Burnett, who has been on the Warner Bros. Studio Tour London 11 times, sourced most of her Harry Potter-themed holiday decorations from the merchandise she purchased on her visits. An artificial tree became the perfect canvas to display her coveted trinkets, most of which were being stored in boxes tucked away in the cupboard. It took eight hours of hard work to perfect the tree, but Burnett's efforts paid off big time. I tell ya, next to the Whomping Willow, this is the most Harry Potter a tree can be.
Potterheads worldwide will recognize the many gems hidden amongst the branches, including the Ravenclaw Diadem, Honeydukes candy, a gleaming winged snitch, and Hermione's Time-Turner. Harry's round bifocals, a letter of acceptance to Hogwarts, and Hedwig. The Sorting Hat adorns the top of the tree's brilliant display.
Of her favorites, Burnett says, "I love the Cornish pixie at the top, and also my Hogwarts Express. The next item I'm looking for is the little Shrunken Head from off the Knight Bus."
And what's more, not even the tree itself can contain the all memorabilia at play here: At the base of the tree lies an artfully displayed Nimbus 2000, a wand, a life-size Hedwig, and more. In less than a weeks time after posting photos of the display on Facebook, Burnett's album went viral and has been shared over 66,000 times. The self-proclaimed Slytherin has inspired Potterheads everywhere to get creative this Christmas, as is evident from the over 25,000 comments.
For Burnett, the excitement is totally unexpected. "I still can't get over the response on my tree and display," Burnett tells Bustle. "When I first told people I was doing a H.P. tree they thought I was crazy. To me it's just my little tree with everything I love on it." Her friends have since come around to the idea, one of whom even posted a picture of the tree on Twitter and got a like from author J.K. Rowling.
So where will Burnett be spending Christmas? At the Warner Bros. Studio Tour of course! "I'm there for my 12th visit next week for Christmas dinner in the Great Hall." Sounds perfect to me!
This post has been updated with additional quotes and information.
Images: Courtesy of Kathryn Burnett (4)