Karmin's Latest Publicity Stunt Is SO Embarrassing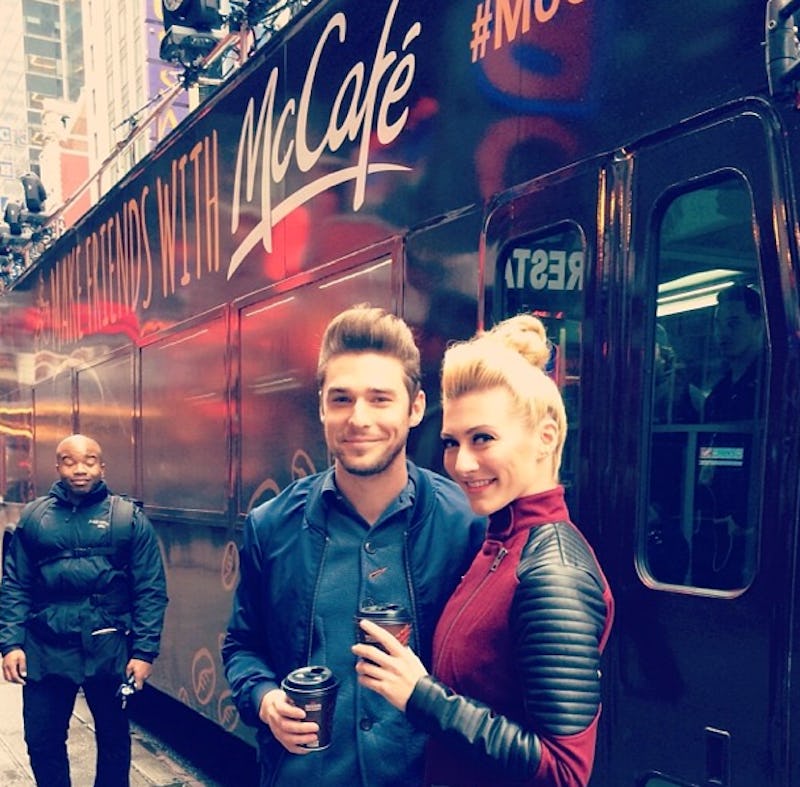 In ridiculously embarrassing news, yesterday morning, pop duo Karmin handed out McDonald's coffee. Yes, the once semi-popular group drove around New York City on top of a giant double-decker bus, serenading random passersby and handing out free McCafé drinks. My, how the mighty have fallen. You may remember Karmin from their last big hit, 2012's "Brokenhearted." Since then, the duo, made up of romantic partners Amy Heidemann and Nick Noonan, has faced a number of disappointing setbacks — the latest McDonald's stunt only adding insult to injury.
Okay, so Karmin's debut LP was originally supposed to come out in November of 2012 — but that didn't happen. Eight months later, the pair finally released the album's lead single, "Acapella," but it failed to make an impact on the charts. Then, at a small concert event on Sept. 17, 2013, Amy and Nick confirmed to fans that they were "fighting" with their record label, Epic Records. They explained that their debut album was called Pulses and that it was finished, but the label wouldn't let them release it. The fans appreciated their candor, but I doubt Epic Records did. Almost six months later, Pulses was released on March 25, 2014, with little to no fanfare.
And that brings us to today! Karmin has been reduced to pawns in McDonald's campaign to outshine Taco Bell's new breakfast menu. For shame. A video of the event posted to McDonald's official Vine account shows Amy and Nick singing to a massive crowd of FOUR people. FOUR.
I can only imagine the bystanders' conversation:
Bystander 1: Who are these people again? Did she say her name was Carmen? I can't understand a word of this.
Bystander 2: No, no, they're both Carmen. Quick, they're giving away free coffee!
It's unclear whether Epic Records was punishing Karmin by forcing them to take part in this ridiculous event, or if they actually thought that it was good exposure. Something tells me it's the former. I guess this is just another lesson in "don't bite the hand that feeds you" — you could be turned from a pop star into a fry cook in the blink of an eye.
Image: karminmusic/Instagram