15 Waterproof Winter Boots To Keep You Dry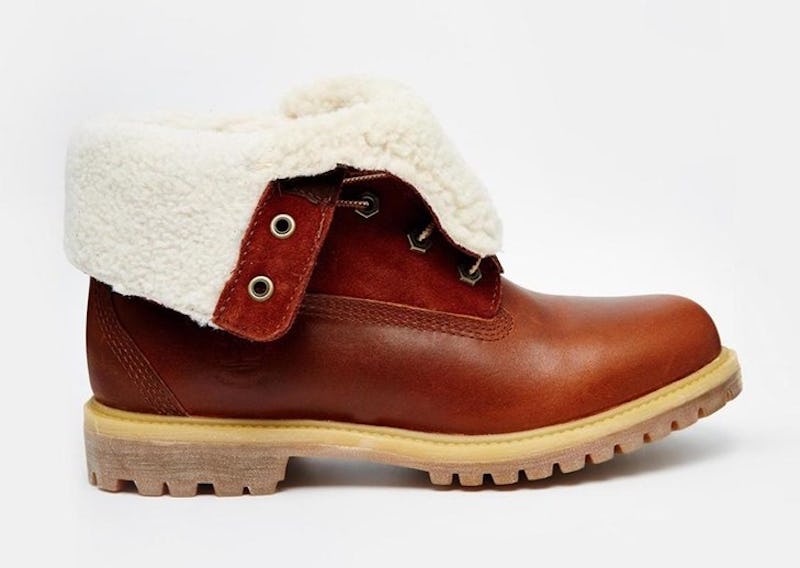 If you woke up to inches of snow recently (I'm in Canada and I totally did), you probably trudged to your shoe rack, sighed, and pulled on your snow-shoveling boots. Waterproof winter boots are definitely useful, but they're not always cute. Never fear, on-trend waterproof boots do exist, and you don't have to sacrifice style to keep your feet toasty, dry, and warm.
If you think about it, braving winter is the ultimate balancing act for practical fashionistas. Winter wear needs to be sturdy yet cute, yet able to withstand blustery winds and the very unfortunate tendency snow has to sneak inside your clothes no matter how many layers you're bundled inside.
With winter temperatures plunging ever lower, it's tempting to trade style for comfort, which, believe me, I totally endorse. All I'm saying is where there's a will to be totally adorable and simultaneously snow-proof, there's a way.
From knee-highs that will protect your legs on those days where you just need to wear a dress to the office, to low-cuts that will keep your yoga pants-clad ankles from turning blue, this list is a total guide to your next uber-cute and extra-protective boot.
UGG Airondack II, $225, Nordstrom
UGG is undeniably ubiquitous with winter. The Airondack II, made with waterproof leather and suede, is lined with fluffy wool, and its cuff is snug around the ankle, preventing the worst part of winter: getting snow in your boots and ending up with wet socks.
Blondo 'Velvet' Waterproof Riding Boot, $200, Nordstrom
There's nothing I love more than a sleek riding boot. Especially one that's waterproof (and comes in wide calf options for us plus-sized folks!), and therefore so practical it would be irresponsible not to buy it. Right? Right.
Merrell Women's Decora Chant Waterproof Winter Boot, $110, Amazon
I love how buckles look on my boots, but not in the winter, when I'm standing in my freezing porch, struggling to get my shoes on in the A.M. Lucky for me, this women's boot may look like it's closed with adorable, doubtlessly finicky buckles, but it's not — it opens and closes with a simple zipper. If that wasn't enough to sell you, it's made with waterproof leather and features a snuggly faux-fur cuff.
Ahnu Women's Chenery Lace Up Boot, $99, Amazon
Made of waterproof leather with a rubber non-marking sole and a synthetic-lined inside, Ahnu's lace-up boots are practical and adorable — perfect for a downtown trek to the office or a walk around the block.
Timberland Authentics Ginger Teddy Fleece Fold Down Lace Up Boot, $93, ASOS
Crafted from beautiful burgundy leather, this boot is fleece-lined and is the perfect complement to your favorite pair of skinny jeans — or that one pair of boot-cuts you save for particularly cold days.
Women's Bean Boots, Shearling-Lined, $219, L.L.Bean
OK, so imagine you get to walk around all day while everyone is complaining of the cold, and you have a miniature campfire hanging out in your boots, keeping your toes perfectly warm. That is these boots.
Women's Sperry For J.Crew Shearwater Buckle Boots In Colorblock, $180, J. Crew
These gorgeous boots are a leather-rubber combo with shearling lining that J. Crew says is "perfect for mucking through slush and snow." And the colorblock style is to die for — this color mix is called champagne pebble.
Sorel Women's Black 1964 Premium Wedge Waterproof Leather And Textile Booties, $230, A mazon
I am entirely incapable of gracefully wearing heels, and yet these boots call to me. There's something amazing about knowing you've got a grippy rubber sole to back up the 3-inch lift these booties give you. Now if only strappy, summery high heels came with a fashion equivalent of training wheels.
COUGAR Plus Vienna 5 Waterproof Pull On Boot, $143, Hudson's Bay
These pull-ons will withstand temps all the way down to minus 11 Fahrenheit, and they're lined with uber-comfy polar plush. If you're one of the few, the brave willing to stick out a cold winter's day in leggings, pair 'em with these sturdy, snuggly boots and get down with your bad self.
Sorel Slimpack Riding Tall II, $162, Amazon
Buttery, seam-sealed waterproof leather, microfleece cuffs, and tough, insulated rubber soles make these a go-to for wading to work through the aftermath of winter's overnight snow surprises.
Kamik Women's Snowvalley Boot, $100, Amazon
Perfect for hiking or casually strolling (I'm definitely in the "always casually strolling" category), Kamik's boots are made with waterproof quilted nylon and suede, with inner insulation and a thick rubber tongue. Also, they come in 16 colors, all of which are amazing. Pictured above is the Teal Blue version.
Spring Step Vanish Snowboot, $70, Amazon
Another hardy option for leggings lovers, these zip-up Spring Step boots have a faux-fur lining that hugs your calves, plus a padded insole — and they come in black and two sleek shades of grey.
Women's Snowpow Tall Print Omni-Heat Pull-On Boot, $75, AmazonThese are perfect for folks on the go — they're made from Neoprene and nonmarking rubber, have a grippy sole for those "oh no, I'm totally walking on black ice" moments, and are super easy to pull on and slip off.
Roxy Women's Bancroft Winter Boot, $91, AmazonThese have a chunky sole and a sweet strappy look that's great for blending the best of both worlds: Showing off your fashion sense, and keeping your toes unfrozen.
Merrell Women's Eventyr Peak Waterproof Boots, $140, AmazonLast but definitely not least: Beautiful suede-leather midlength boots with a colorblock pattern that's to die for. Talk about cozy.While we all hope the promises of a mild winter come true, it never hurts to be prepared. That means you have a completely legit reason to snag a pair — or two, or three, or four — of waterproof boots. You'll be ready for whatever winter throws at you.Images: Courtesy Brands