What 'Jackie' & The Kennedys Share With The Trumps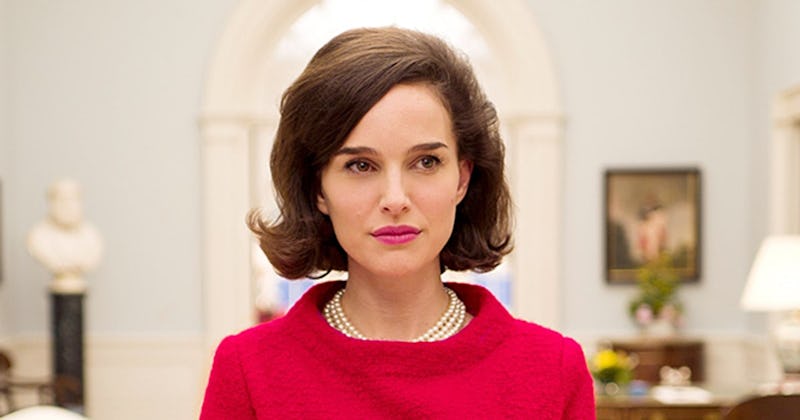 It's a Hollywood given: if a year is filled with political turmoil, then you can bet that the movies that year will be, too. From the Michael Bay-directed Benghazi epic 13 Hours to the gun control thriller Miss Sloane to the NSA drama Snowden, 2016 has offered a number of political films that have resonated strongly, thanks, in great part, to the presidential election. But perhaps none feel quite as timely as Jackie, which places the grief of the first lady over her husband's assassination against the backdrop of 1960s America. On the surface, a film about a family as beloved and esteemed as the Kennedys might seem far removed from the 2016 political cycle, but as Jackie 's star Natalie Portman points out, the film is more relevant than one might think.
"You're looking at the White House and where they live and you're imagining the Trump family living there," Portman tells me, speaking about the Kennedys in Jackie while at New York's Peninsula Hotel. "The Kennedys were also this very wealthy, attractive family and now, to see this aspirational aspect of a lot of people who voted for Trump, what they like about the Trump family, this sort of glamour and excitement of wealth — the aspirational aspect, there's some echo."
For most voters, Trump's luxurious life was not the driving force behind their support for the candidate, according to many exit polls, but still, Portman has a point. As one Trump supporter, Michael Stuart Kelly, told The Washington Post , "Trump is the big time, the bright lights, the fancy everything — and wealth and fame and all things I am not but would like to be." Clearly, the fact that Trump's lifestyle is one of obvious affluence and glamour, and that he has stated his supposed desire to give Americans the same chances at success, has had some effect on voters' support for him.
Portman, a passionate Democrat who campaigned for Hillary Clinton this fall, has been vocal about her opposition for Trump, telling Glamour in October that a presidency led by the Republican president-elect would be "catastrophic." Before the election, the questions Portman was asked with regard to Jackie mostly revolved about the simple idea of a "first lady in the White House," she tells me; afterwards, the focus changed to what the icon's grief over JFK represented, and how she continued to live her life with the country's eyes watching her every move.
Jackie, out Dec. 2, is a powerful story, but it's Portman's performance — one that has critics predicting a second Oscar for the star — that makes it unmissable. The actor's Jackie is a woman struggling with two separate identities: one of an independent, commanding first lady who kept her family afloat following JFK's death; the other of a heartbroken widow unsure of her role without her husband by her side. "She defined herself very much as a wife and through her marriage and through her husband, very traditionally, and conventionally for the time," Portman says of her character. "But she couldn't help but be incredibly independent and strong. I don't think she was trying to be feminist or powerful or anything, but she inevitably was."
Jackie is a rarity among political films; in a recent Business Insider ranking of the 22 best movies about politics, just three — Election, The Contender, and The American President — have female leads, and of those three, only one, The Contender, features its lead woman as an actual political figure. But Jackie is also an anomaly among Hollywood as a whole, telling a woman's story, and letting its lead character be as complicated and flawed as any of the movies' most memorable on-screen male heroes. The fact that the is the film product of men, however, is not lost on Portman.
"It's very rare... for a male screenwriter and a male filmmaker to make a film about a woman and allow her to be so many things," she says. Still, she reveals that she had a hand in shaping the character to be a realized person, neither "an icon" nor "an object." As Portman explains, "Avoiding those two traps really allowed a complete portrait of a human being."
In preparation for the role, Portman didn't view any of the other Jackie Kennedy films that've been made, not because of a purposeful choice to avoid repetition, but, she jokes, just a simple "lack of watching enough things." She researched heavily though, diving into tapes and histories to capture the first lady's look, voice, and personality, the latter an "interesting challenge," she says, due to the figure's famed love of privacy. "Obviously you want to approximate the way she looks because of course you're familiar with that," Portman says. "But the interior life is kind of an open page."
Yet with Portman in the role, Jackie's struggles and triumphs in the wake of a national tragedy feel powerfully vivid. The country may have been drawn to the Kennedy family's wealth and luxury, but, at least according to Portman's depiction, it was their humanity that was the most fascinating of all.
Images: Fox Searchlight