'VEEP' Just Won Twitter, America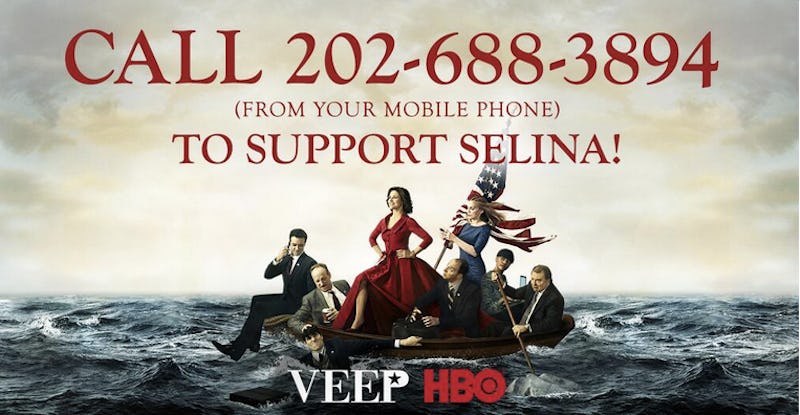 Well if this isn't the freshest marketing campaign since...EVER, I don't know what is. Gearing up for the premiere of VEEP's third season this Sunday on HBO, the show's brilliant social media team have deployed Selina's presidential grassroots campaign all over Twitter. And no, it's not an April Fool's joke. and it totally just won Twitter. Operation Female POTUS is go! And you, yes YOU, get to be a part of it, every step of the way.
When fans call the listed number, they're connected to a recording of the perennial incompetence of one Mike McClintock (Improviser extraordinaire Matt Walsh) who encourages you to support Selina's run for power in our great nation's most-coveted seat…President of the United States. He tells you everything the great Selina Meyer (The endlessly talented Julia Louis-Dreyfus) has done for our red, white in blue including initiatives about obesity...and stuff, or whatever.
The ruffled McClintock then urges you to text "VEEP" to 444-999 to really show your support and get the latest and greatest updates from the campaign trail. Standard texting and data rates apply, and trust me, the results are SO WORTH IT. Not only do you get some hilarious, personalized texts you also receive some killer social media swag. Sure, Game of Thrones and Mad Men are on their way back to Sunday nights, but VEEP isn't just gunning for the Presidency, it's coming for your ratings. And we are SOLD. Ah, "Democracy."
Here's what the campaign looks like:
And these are the glorious results:
Madame Vice President, you have my vote.
Image: VeepHBO/Twitter