What To Get Your Favorite Ravenclaw This Holiday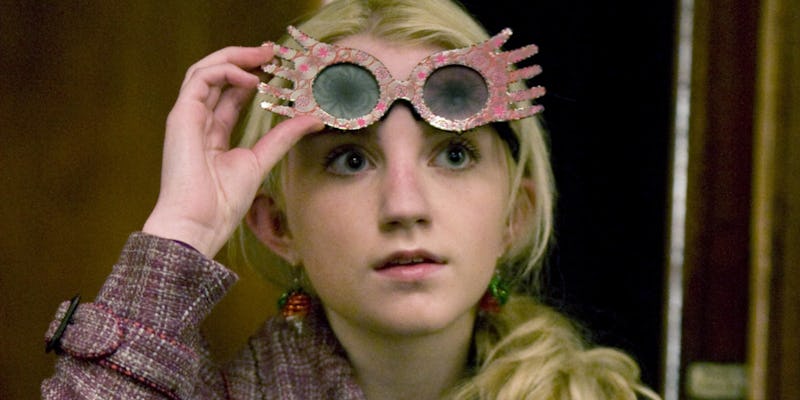 Do you have a friend with wit beyond measure? Do they actively enjoy doing homework? Are they forever trying to convince you to play chess? Do they occasionally call you with philosophical musings on the nature of life itself, and then you have to remind them that it's actually 3 am your time? If so, then you might know a Ravenclaw. Ravenclaws are creative, witty, original, and above all, smart. So what do you give the far-thinking Hogwarts student in your life? Here are a few gifts that will delight even the brainiest of Ravenclaws.
Of course, what every Ravenclaw really wants is a Beauty and the Beast-style private library. But that seems potentially expensive, and it might not be ready by this year's holiday season. So, instead, why not treat your favorite Ravenclaw to a gift that engages their mind or reps their beloved Hogwarts House? From puzzles to books to blue and bronze fashion, there's something out there for every Ravenclaw.
Whether the 'claw on your gift list is a math wiz, an artistic genius, or an absent minded professor, you can find the perfect gift that'll force them to put down their book for a whole two minutes and thank you.
1. Ravenclaw Quote Print
Ravenclaw Quote Print, $6, Etsy
Most Ravenclaws love words, so why not give them some words that also double as art? This quote print reps Ravenclaw blue with the words: "You may belong in wise old Ravenclaw, If you've a ready mind, Where those of wit and learning, Will always find their kind."
2. Transparent Book Weight
Book on Book, $58, Buddy Tools
For the bookish Ravenclaw, a transparent book weight lets you read in peace. No longer do you need to protect your precious book from gusts of wind or drink spillage: this weight keeps your book open, safe, and perfectly readable (it looks cool on its own, too).
3. Great Minds Puzzles: Women in History
Great Minds Puzzles: Women in History, $20, Uncommon Goods
Puzzles and women's history? Your Ravenclaw is going to flip over these adorable, frustrating brain teasers. Each wooden puzzle reflects some aspect of the bad ass historical lady who inspired it: Cleopatra's asp and pyramid, Boadiceas's chariot wheels, Queen Victoria's cross, Marie Curie's asteroid, and Florence Nightingale's lamp.
4. Divination Planner
Divination Planner, $24, Etsy
Most Ravenclaws love to keep meticulous track of their homework, so a planner is the perfect gift (and the scatter-brained Ravenclaws need a planner all the more). This beautiful planner comes in Ravenclaw blue and bronze, and you can actually use it to plan even the non-magical events in your life.
5. Waterproof Notepad
Aqua Notes, $7, My Aqua Notes
Yes, this is a waterproof notepad, for jotting down brilliant ideas in the shower. I can't tell you why inspiration only ever seems to strike in the shower, but I can tell you that this is an absolute must for every hygienic Ravenclaw out there.
6. Ravenclaw Scarf
Ravenclaw House Scarf, $9, Etsy
Truly, a scarf is the most intellectual article of clothing. And what's a Ravenclaw without proper Ravenclaw attire? Keep your friend warm and stylish with a handmade house scarf.
7. Plato and a Platypus Walk Into a Bar: Understanding Philosophy Through Jokes by Thomas Cathcart and Daniel Klein
Plato and a Platypus Walk Into a Bar: Understanding Philosophy Through Jokes, $10, Amazon
If you know a witty Ravenclaw with a flair for philosophy, this is the ultimate joke book for brainiacs. Just be warned: if you give this gift to a Ravenclaw, they'll start analyzing the philosophical implications behind all of your tweets.
8. Ravenclaw Totebag
Ravenclaw Tote Bag, $25, Look Human
Yeah, yeah, I know that the official animal of Ravenclaw is an eagle and not a raven, but the raven design on this Ravenclaw tote is so beautiful that we can all forgive it. Give your Ravenclaw a tote to lug around all their books, because I guarantee they're carrying at least one book on their person at all times.
9. Ravenclaw Mug Jacket
Ravenclaw Crest Mug Hugger, $20, Etsy
Sure, a Ravenclaw mug is all well and good... but what about a mug jacket that turns every mug into a Ravenclaw mug? We all know that Ravenclaws need their coffee to stay up late thinking their thoughts, and this leather mug jacket will turn even the hippest of mason jars into a classic Hogwarts beverage.
10. A Book of Mind Games
Ultimate Mind Games, $4, Amazon
Whether your Ravenclaw prefers word games, logic puzzles, or math problems, they'll find something to make them think in Ultimate Mind Games. With over 400 puzzles, this is a perfect gift for the Ravenclaw on the go, stuffed with everything from sudoku to crosswords to trivia.
11. Spectrespecs
Luna Lovegood Spectrespecs, $20, Harry Potter Shop
Who says Ravenclaws have to be all studious and drab? Put on a fabulous pair of Spectrespecs, as worn by Luna Lovegood, and see the world from a slightly different angle (plus, they function as actual sunglasses, to complete any Potter-inspired ensemble).
12. Wax Seal Kit
Ravenclaw Wax Seal Kit, $30, Amazon
If anyone is going to keep the art of letter writing alive, it's probably a Ravenclaw. With this wax seal kit, they can also kick it old school and seal their letters with a classy Ravenclaw crest.
13. Of Course! The Greatest Collection of Riddles & Brain Teasers For Expanding Your Mind by Zack Guido
Of Course! The Greatest Collection of Riddles & Brain Teasers For Expanding Your Mind, $7, Amazon
Riddles are a Ravenclaw necessity—how else is a Ravenclaw supposed to get into their common room? Every Ravenclaw needs to read up on riddles if they want to make it to bed at night, and this incredible collection of the world's best riddles is just the thing to help them out.
14. Ravenclaw Sticker Pack
Ravenclaw Sticker Pack, $6, Etsy
Most Ravenclaws probably spend a good chunk of their time with journals, folders, notebooks, laptops, and other surfaces that desperately require stickers. This adorable pack of Ravenclaw decals is the perfect stocking stuffer for the creative wizard who needs to tell one notebook from the other.
15. Ravenclaw's Diadem Necklace
Ravenclaw Diadem Necklace, $4, Etsy
This necklace might not actually increase your brain power like Rowena Ravenclaw's fabled diadem, but it'll make any Ravenclaw feel brainy and beautiful all through their late night study sessions. The diadem-inspired necklace is handmade, and contains no pieces of Voldemort's soul whatsoever.
Images: Warner Bros.