The Best Romance Novels Of The Year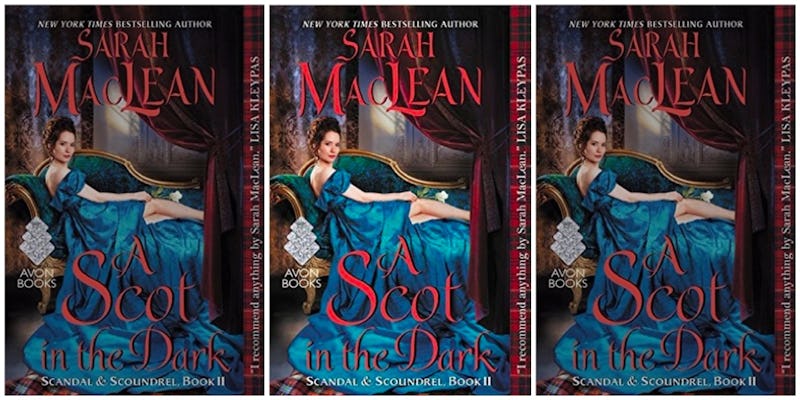 The Romance world had a lot of offer in 2016. Truly, there are few subjects left untackled in this list of the best romance novels of 2016 — Scandalous CEOs, twisted love stories, badass heroines, and forbidden loves that remind us of the prejudices of the past weren't all that long ago.
When I read a romance novel I look for three things: a heroine with a unique voice, a hero with more than physical strength, and chemistry that keeps me turning the pages. When two characters are meant to be together, no one will stop them. What can I say? I'm a romantic and I want to root for the couple from start to finish.
The romance reader can spot a genuine voice from page one, and the following list is full of voices that are unique, sexy, and left my heart feeling full.
Rhine Fontaine is a former Union soldier and a self-made man whose enterprise depends on his ability to pass for White. Eddy Carmichael is the outspoken, lively, amazing free Black woman whom he rescues in the desert. Yearning, relevant, and beautifully written.
Karen Ramirez has basically given up on love. Until she meets sexy CEO, and best man at her sister's wedding, Mark Lansing. Their one-night stand (technically a weekend) in paradise turns into so much more. Super sexy and smart.
3. Never Tear Us Apart by Monica Murphy
C lick Here To Buy.
The subject matter in this novel is difficult to read. It's a cross between an episode of SVU and a tragic romance. Trigger Warning: The heroine was abducted and raped as a child.
Monica Murphy's prose is raw and emotional, never sensationalizing this topic. Katie Watts is trying to put back her life having been abducted. She tells the whole world her story now that the man who hurt her is behind bars. She starts to piece her life back together and starts falling for the caring Ethan. Ethan loves Katie. All he wants is to make sure she's safe. But Ethan is hiding who he really is. He tried to save her from the monster behind bars. His father.
A bodyguard falls for the Hollywood starlet he's sworn to protect. With her life on the line, tensions escalate.
A delightfully sexy take on the "friends to lover" trope. Jamie and Brynn shared an awkward kiss in high school. Now they're on a road trip together, seeking the same thing: happiness.
If you aren't reading this series, add it to your 2017 New Year Resolutions. Molly Harper brings back her signature snark, humor, and sexy vampires. Plus, a rare book expert.
The first few pages feature a bare-chested Scot in a kilt. With a sword. A Scot in the Dark is the historical romance equivalent of a celebrity's nudes released to the public. Still socially relevant and funny. I smiled the entire time I was reading it. Sarah MacLean is everything.
Sexy as puck. (You're welcome.)
An incredible love story set during the Civil Rights Movement between two people from worlds that don't seem all that different.
Erickson and Hassell make an excellent team. Love is love.
A thrilling romantic high fantasy debut with notes of Xena and Game of Thrones.
The book opens with a highway robbery, and the action doesn't stop there. Fast-paced, steamy, and full of murder and mystery. More, please.
A hacker and a conman fall in love. Tessa Bailey writes a raw, gritty, and sexy love story set in Chicago's crime scene.
Grisham was wounded in battle. After months trying to find a way to piece his life back together. Then, he saves Greta Owen from drowning, and she brings light into his dark world. Gripping, full of suspense, and full of snappy dialogue, Diana Gardin is an author to follow.
Lucy Hutton and Joshua Templeman hate each other. When they're both up for the same promotion at their publishing company, the tension skyrockets. Maybe they don't hate each other after all.