This Is What's In Kylie's Lipstick Vault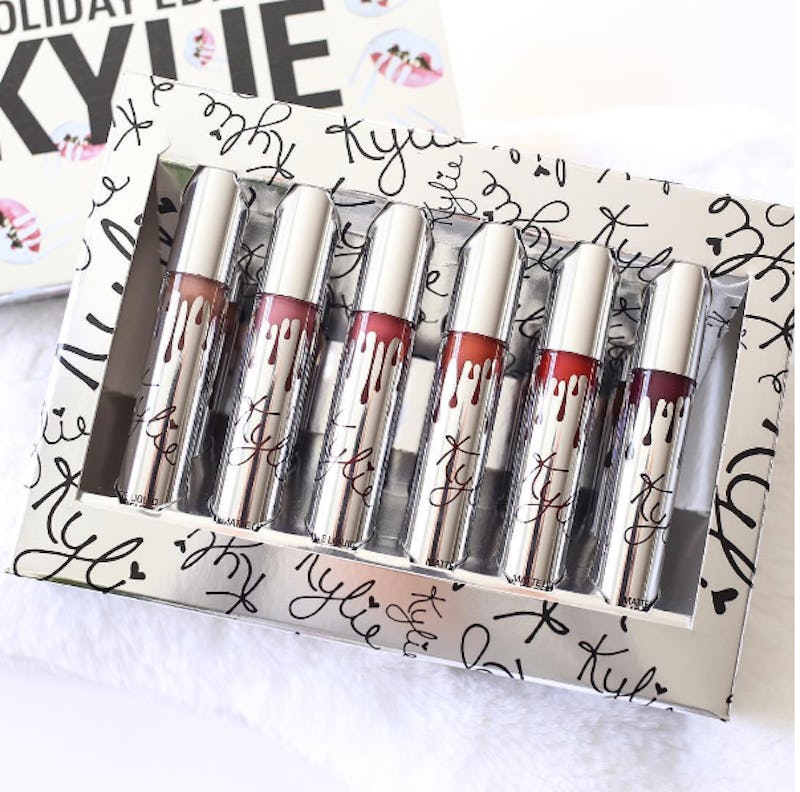 In case you missed it, Kylie Jenner has been pretty much slaying the holiday shopping game with her Kylie Cosmetics holiday edition. In true Jenner fashion, she's not even close to finished yet. So when I heard she'd be releasing a product called the Kylie Lipstick Vault, I was super intrigued. What could possibly be in that vault?
Jenner dropped a holiday surprised today when she announced she'll be releasing a new holiday-related surprise every day for the next 12 days — the surprised officially start dropping Thursday, Dec. 1 and 1 p.m. PT.
Jenner has obviously dubbed her celebration of the holiday edition the 12 Days of Christmas, and she announced what the first holiday surprise would be today on Instagram. She'll be releasing what she calls the Kylie Lipstick Vault on Thursday, and it includes 12 (naturally) of the most popular liquid lipsticks she's sold over the past year of thrilling fans with regular lip kit releases.
So what are the most popular shades among fans? The vault includes a mix of light, dark, warm, cool, pigmented and neutral shades and everything in between. If you've been holding out on buying Kylie products, trust me — this is the one set you want to get.
How gorgeous are all these shades? The rainbow of lip kits is making me want every single one. So, what exactly do you get?
1. Maliboo
The cool-toned nude shade is naturally included in the Kylie Lipstick Vault.
2. Posie K
One of the only true pink Kylie shades, the bright berry pink Posie K is included.
3. Kristen
My personal favorite, the warm brownish berry shade is included.
4. 22
One of Jenner's favorites, the reddish orange 22, is in the vault (just the lipstick, not the liner).
5. Mary Jo
Jenner's true true red, Mary Jo, is a perfect addition to the collection.
6. Kourt K
The deep purple shade is one of the only dark shades in the vault, and I think it's a great one.
7. Exposed
This warm beige shade is a perfect nude shade for olive and medium skin tones.
8. Dolce K
This deep nude shade has just enough pink undertones to be different than Exposed.
9. Candy K
This pink-ish nude shade is the perfect in between if you can't decide on pink or nude.
10. Koko K
There's nothing more classic than pale pink lipstick, and Koko K is a perfect option.
11. Ginger
Ginger, a warm terracotta brown, is the perfect fall (or winter) shade.
12. True Brown K
One of Jenner's most popular shades is the slightly '90s-retro True Brown K, so it had to be included here.
So there you have it, everything that will be in the Kylie Lipstick Vault. Mark those calendars, set those alarms and be ready to purchase it Thursday.
Images: @kyliecosmetics/Instagram; Courtesy of Kylie Cosmetics