Get Excited For The 'Hairspray Live!' Cast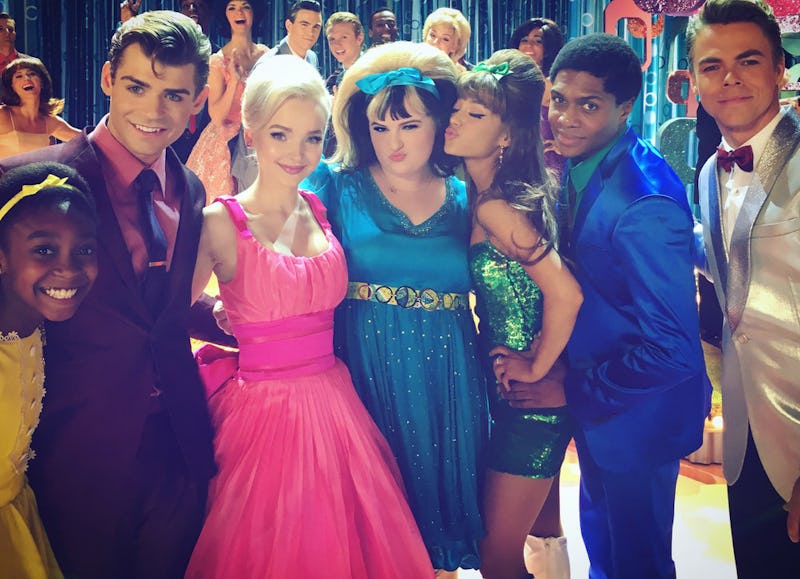 Given the current climate of the country, I think we could all use an infusion of positivity and social consciousness, and luckily, NBC is about to deliver exactly that. On Wednesday, Dec. 7, Hairspray Live! will air on the network to soothe our souls with its' (musical) message of equality, acceptance, and pure campy goodness. This latest adaptation of the Broadway musical, which was in turn based on the 1988 John Waters film of the same name, is definitely going to get you in the holiday spirit with its endless supply of unbelievable dance numbers, tackled by the ultra-talented Hairspray Live! cast.
If you aren't familiar with the original film, musical, or 2007 film adaptation of the musical, Hairspray tells the tale of a teen named Tracy Turnblad who dreams of making it on a local, popular dance show but is often overlooked or criticized purely for her weight. This all happens in 1960s Baltimore, in the midst of a civil rights movement that draws Tracy into the center. The teen becomes an unlikely local celebrity and uses her newfound position of influence as a platform to speak out against segregation on the predominantly white The Corny Collins Show. The characters surrounding Tracy in her journey are vibrant and engaging, so it important that NBC cast the perfect performers. Luckily, they nailed it.
Maddie Baillio as Tracy Turnblad
Tracy is a talented teen who dreams of making it to the Corny Collins Show, but ends up being a powerful voice in the campaign to end racial segregation. The actor taking on the main role, Baillio, is a total newcomer to professional acting and according to her NBC bio, was chosen for the role out of about 1,000 hopefuls.
Dove Cameron as Amber Von Tussle
Amber, the antagonist is a stereotypical "mean girl." She is completely spoiled, and so threatened by Tracy's talent that she cruelly taunts the hopeful dancer for her weight. Cameron, however, is a Disney Channel darling and you might recognize her as the star of Liv and Maddie and Descendants.
Kristin Chenoweth as Velma Von Tussle
Velma is like Amber, except all grown-up and significantly worse. She is both racist and powerful, a dangerous combination. As the producer of The Corny Collins Show, she wants to keep her daughter Amber the star and also tries to create a white-only cast. Playing this villainous character is Chenoweth, a musical goddess who is possibly best known for her role as Glinda in the hit musical, Wicked . She has also won a Tony Award for her part in You're a Good Man, Charlie Brown, has appeared in many movies and TV series, and has actually played Cameron's before in Disney's Descendants.
Garrett Clayton as Link Larkin
Link is basically a perfect human. He is a good-looking, sweet, and kind-hearted guy who begins the show as Amber's boyfriend, but falls for Tracy when he sees her for the amazing person that she really is. He also lends a hand in her quest for racial integration. Clayton has starred in the Disney Channel movies, Teen Beach Movie and Teen Beach Movie 2 and has appeared in regional productions of musicals like High School Musical 2 and Peter Pan.
Jennifer Hudson as "Motormouth" Maybelle
Motormouth, a record producer and the mother of Seaweed and Little Inez, is a force to be reckoned with and the one who makes Edna realize that she is beautiful too. Hudson is another living goddess and has both a Grammy and an Oscar under her belt.
Billy Eichner as Rob Barker
Rob is a local Baltimore newscaster who shares Tracy's amazing story and fight for equality. Eichner is fiercely hilarious and has appeared in many television shows, but is best known for his hilarious, Emmy-nominated show Billy On The Street. He's also currently starring in Hulu's Difficult People.
Harvey Fierstein as Edna Turnblad
Tracy's mother, Edna, starts out very insecure about her weight and appearance, but eventually comes out of her shell as Tracy's agent and supporter. Fierstein is legitimately Hollywood royalty and actually originated the role of Edna in Hairspray on Broadway. He also penned Kinky Boots and Newsies and has appeared in countless roles in films like Mrs. Doubtfire and Independence Day.
Ariana Grande as Penny Pingleton
Penny is a nerdy, socially awkward outcast, who counts Tracy as her only real friend. Though she herself is very kind, Penny's mother is cruel and racist, leading Penny to make a big decision after she falls for Seaweed. As for who plays her in Hairspray Live!, do I really need to tell you who Ariana Grande is? I'm sure you know her as a singer, but maybe you forgot that she has an acting background too, going back to Nickelodeon's Victorious.
Andrea Martin as Prudy Pingleton
Prudy is Penny's overbearing, racist mother who disapproves of her friendship with Tracy. Martin is well known for her acting and has received more Tony and Drama Desk Award nominations than anyone else. She has appeared in countless musicals and television shows, but you may recognize her from My Big Fat Greek Wedding.
Ephraim Sykes as Seaweed J. Stubbs
Seaweed is the son of Motormouth. He ends up meeting and befriending Tracy in detention and teaches her some dances moves, before getting involved with her best friend, Penny. Sykes starred in a little musical called Hamilton from the beginning until recently and has also appeared in Newsies, as well as the TV series Vinyl, Smash, and 30 Rock.
Sean Hayes as Mr. Pinky
Mr. Pinky is the awesome owner of Mr. Pinky's Hefty Hideaway, a boutique that specializes in plus-size women's clothing. He makes Tracy his spokesmodel and supports her efforts for integration on the The Corny Collins Show. Hayes, meanwhile, is certainly an accomplished actor but is probably best known for his role as Jack on Will and Grace, which he played for eight years.
Derek Hough as Corny Collins
Corny Collins is the host of The Corny Collins Show and becomes a close friend of Tracy. Hough is better known for dancing than acting, holding the record as a six-time champion dancer on ABC's Dancing With The Stars. Maybe after Hairspray Live! he'll become just as popular for his acting.
Shahadi Wright Joseph As Little Inez
Little Inez is Motormouth's daughter who dreams of appearing on The Corny Collins Show as a featured dancer. Unfortunately, she is not allowed to be on the show purely because of her race. Luckily, she manages to live out her dream thanks to Tracy's campaign for integration. Wright Joseph has already made history herself — at just 9 years old, she was the youngest actor to play Nala in Broadway's The Lion King.
Martin Short as Wilbur Turnblad
Wilbur is Edna's husband and Tracy's supportive, encouraging father. He'll be played by Short, an iconic comedian and actor who started out on SNL over 30 years ago and has appeared in countless films, television and theater roles ever since.
Though right now, the cast is a mix of established performers and rising stars, by the time Hairspray Live! ends on Dec. 7, I think they'll all be household names.
Images: Maddie Baillio, Brian Bowen Smith (6), Andrew Eccles (5), Chris Haston (3)/NBC