'Hairspray Live!' Has A Positive Message For All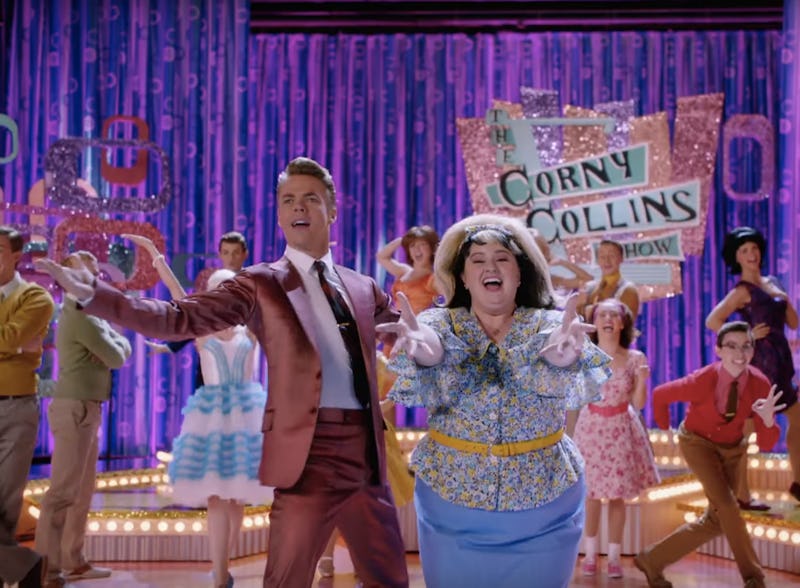 As if there weren't already enough reasons to watch the musical when it airs on Dec. 7 on NBC, the latest sneak peek video of Hairspray Live! is packed with incredible dancing and positive messages galore that will have you tuning in. Starring Jennifer Hudson, Derek Hough, Ariana Grande, Sean Hayes, and Maddie Baillio as Tracy Turnblad, Hairspray Live! is certain to be the pre-Christmas event we all need to help get everybody in the festive spirit. With uplifting music and a super talented cast, the latest version of the 1988 John Waters film looks to be a lot of fun. And as the latest video attests, Hairspray Live! is body-confident and diverse, making it the inclusive musical we need right now.
Oscar winner Hudson is particularly excited about the message that the musical delivers. In the video, she said, "To me, the power in Hairspray is no matter your size, your race, where you're from, what type of lifestyle you live, it celebrates everyone." The plot of Hairspray Live! focuses on Tracy, a plus-size teenager who is determined to dance on a television show, regardless of the hate she garners, often being criticized for her weight. The musical is also very political, as it's set in Baltimore in the '60s, and a civil rights campaign is central to the story.
Garrett Clayton, who plays love interest Link Larkin, said in the video, "Hairspray is about love." Clayton has quite an act follow, as Zac Efron was completely dreamy in the 2007 movie version of the musical. Dancer and performer Derek Hough follows Clayton by saying, "And it's about positive change." In a currently tumultuous political era, nothing seems more prescient than a musical about people overcoming obstacles to achieve their dreams, and events shifting people's lives in a more positive direction. Martin Short is quick to emphasize one of the central themes of Hairspray, that being the "acceptance of people that are a little bit different." Now, more than ever, this is a message the world needs to hear, and the live performance can hopefully influence viewers in a positive way.
Newcomer Baillio is perfectly cast in the lead role, and it's exciting to see a story presented on TV that breaks boundaries, and focuses on a character who refuses to give up on their dreams just because of other people's criticism. As Tracy Turnblad receives a lot of negativity for her appearance, Hairspray is a body-confident story, in which an individual's talent is celebrated, no matter her size. This is so important, particularly as pop culture often seems so obsessed with looking or acting a certain way. Hairspray Live! will remind us all that we can achieve great things without bowing to anyone else's unrealistic standards of what we should be.
Image: NBC/YouTube