11 Gifts For Friends Obsessed With Kylie Cosmetics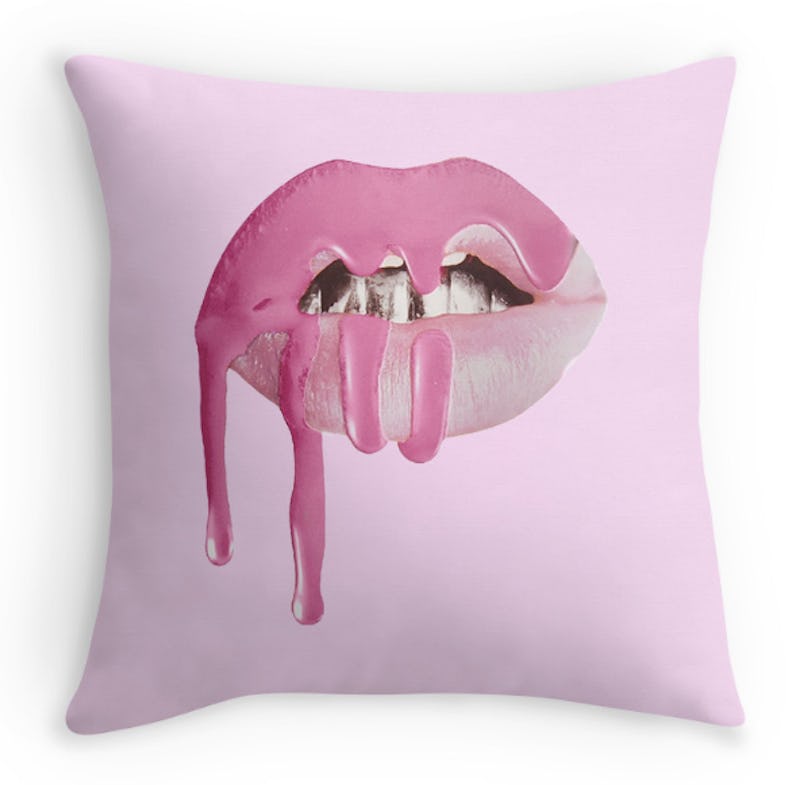 We all have that one friend: The one who sits at her computer refreshing the page each time Kylie restocks her cosmetics, and somehow always manages to get her (probably well-manicured) hands on everything before it sells out. Since she already has every product in the Kylie Cosmetics collection, what present should you get your friend who's obsessed with Kylie Lip Kits?
We all know The Kylie Shop is going to be sold out online within minutes of its launch on Dec. 9, so gifting merch from there is pretty much out of the question (if only your friend could use her clicking skills to help you get her gift through checkout fast enough!). Luckily, though, there is plenty of other lip kit inspired stuff on the internet that any Kylie Jenner lover would be thrilled to see in her stocking come Christmas morning. Between accessories, room decor and and clothing, there are a whole lot of ways to help your friend publicize her obsession.
Here are 11 Kylie Lip Kit inspired products that will make the perfect holiday gift for any of Kylie Cosmetics' biggest fans... Just in case you aren't quite fast enough to get your hands on the real deal (trust me, you aren't).
1. Kylie Lips Throw Pillow
Smile Throw Pillows, $19, Red Bubble
We all have that friend who loves Kylie's lip kits so much that she wants to decorate her room with them. This pillow comes in all different colors and sizes, and is perfect for any human who isn't afraid to sleep with a giant set of silver teeth next to their face.
2. Lip Kit Posters
Kylie Jenner Chanel Art Makeup, $53, Etsy
To match the pillow, of course.
3. Makeup Organizer
Beautician Cosmetic Organization System With Mirror, $24, Target
Because anyone with a gloss-hoarding habit deserves the perfect organization system.
4. Kyshadow Shirt
Kyshadow T-shirt, $24, Red Bubble
For anyone who truly believes that Kyshadow>Lip Kits (after all, you can use them for contouring too!)
5. Lip Kit Phone Case
Kylie Lip Kit Inpsired Phone Case, $16, Ebay
Can you hear me now? Good.
6. I Feel Like Kylie Wall Art
I Feel Like Kylie Chanel Art Makeup Room Decor, $25, Etsy
I feel like Kylie when I put my lip kit on and take pictures of myself in the mirror wearing a sports bra and track pants... HBU?
7. Kylie Crewneck Sweatshirt
How Very Kylie Of You Crewneck Sweater, $18, Etsy
Because we all know The Kylie Shop is going to sell out of its sweatshirts before we can get our hands on them.
8. Lip Kit Stickers
Drip Lip Sticker Pack, $6, Etsy
I'm imaging a laptop covered in Kylie's lips, and I'm pretty into it.
9. Lip Print T-Shirt
Kyle Lip Kit Inspired Collection T-shirt, $25, Red Bubble
This lip-print tee is unisex, which makes it perfect for literally everyone in your life.
10. Lip Kit Makeup Bag
I Don't Give A Lip Kit About Your Feelings Makeup Bag, $13, Etsy
What else would a lip kit obsessee carry her glosses in?
11. Lipstick Vault
NYX Liquid Suede Lip Cream Vault Set, $50, Ulta
Since your friend probably already has every shade that Kylie makes, here are some more options for her to add to her gloss collection.
Images: Courtesy of Brands