'Cursed Child' Is Coming To Broadway!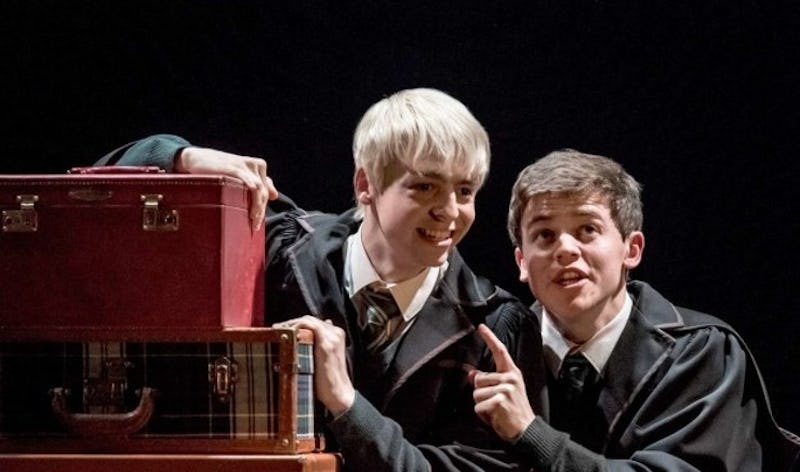 Hold onto your wands, wizards and witches. After months of speculation, it's finally been confirmed: Harry Potter and the Cursed Child is coming to Broadway. The play will open in spring 2018 at the Lyric Theatre in midtown Manhattan.
"I'm delighted we're one step closer in bringing Harry Potter and the Cursed Child to Broadway and very excited by the proposed plan," J.K. Rowling told The New York Post.
The play — the "eighth" installment in J.K. Rowling's Harry Potter series — opened in London's West End earlier this year. The screenplay, written by Jack Thorne and inspired by Rowling's original seven books, was released in conjunction with the play's opening.
Cursed Child follows the adventures of Harry Potter's and Draco Malfoy's sons, Albus and Scorpius — two Slytherins with a penchant for mischief and time travel. When they inadvertently change the course of history, they're forced to confront some dark truths about their families and their own identities. The play was written and is performed in two parts, and viewers must purchase tickets to both separately.
However, buying tickets to the show has proved to be an enormously difficult task, and the process has even been more difficult for American fans, who would be forced to cross the pond for a chance to see the play. Though tickets were reasonably priced at $40 to $176, they sold out quickly.In response to growing demand for tickets, producers introduced "The Friday Forty" — an initiative that makes forty tickets available for £40 each on Fridays.
The Lyric Theatre is the second-largest theatre on Broadway, but it will undergo some dramatic renovations to accommodate Cursed Child. In order to make the space more intimate, the theatre will remove 400 seats, leaving the space with just 1,500 seats available per show.
Despite the fact that there will be literally fewer seats available, it should be easier to get tickets if the play is running in two cities. But I would still anticipate a months-long wait to see the show. In the meantime, let's all speculate on which actors will be tapped to play Albus Potter and Scorpius Malfoy!
Images: Courtesy of Harry Potter the Play