Perfect Gifts For The Romance Reader In Your Life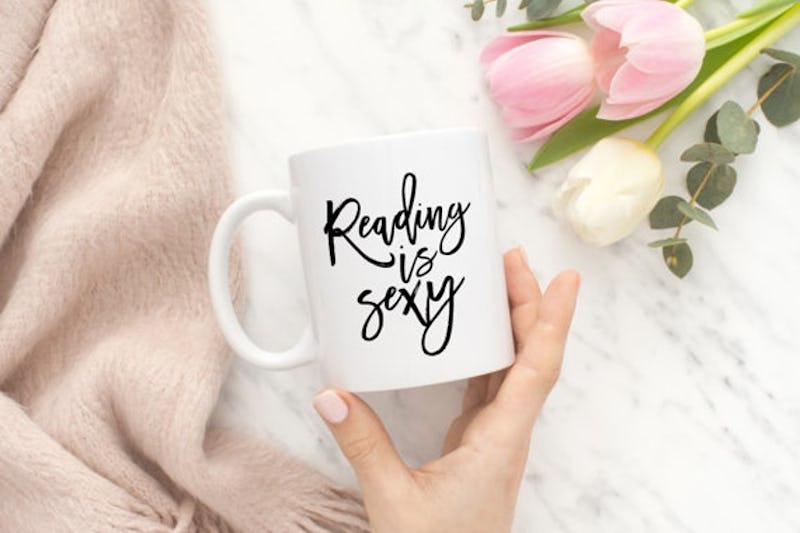 Romance readers are some of the book world's most dedicated fans. Having attended conferences and book festivals across the United States, I'm always in awe at the dedication romance readers give their authors. From personalized t-shirts and tote bags, to waiting in line for hours at a book signing, to dreaming about book boyfriends, romance readers come through. And so this holiday season, it's time to give back a little of that love with these gifts for the romance reader in your life.
Though e-readers have changed the way romance novels are consumed, print is not dead. Whether you're enjoying your book on a tablet or a paperback, the ritual of reading is still the same. Only readers understand what it's like to get lost in a book. That moment your characters are exchanging witty banter, or when the protagonists are finally going to get naked after a perfectly-designed slow burn. Romance novels are decadent. They're fantastical and stimulating, and you know you've found the right novel when you're left tingling all over and feel like there is a little bit of hope left in the world. Indulge the romance reader in your life with these gifts ideas.
1. Quote Blanket
Quotes Chocolate Melange & Ecru 100% Cotton Throw, $40, Barnes and Noble
It starts with a blanket. No, seriously. Though the words on the page will get steamy and ward off the winter cold, a cozy blanket is an excellent back up plan.
2. Lady of Leisure Mini Notebook
Rough Draft Mini Notebook - Lady of Leisure, $12, Bando
Jot down your favorite lines or thoughts as you read along. Maybe that romance reader will even become a romance writer one day.
3. Diamond Pen
Diamond Pen , $20, Paper Source
Who doesn't love a big rock? My favorite books are underlined and full of exclamation points to note my favorite passages. Why not feel a little glam while reading about an equally glamorous heroine?
4. Gold & Champagne Marshmallows
Gold Champagne Marshmallows, $24, Wondermade
Make your book date completely luxe by adding these to your hot chocolate. Remember, we're indulging.
5. Reading is Sexy Mug
Reading is Sexy Mug, $18, Etsy
It is a truth universally acknowledged that reading is sexy. True, that's now exactly how Jane Austen's Pride and Prejudice starts. But it's pretty close.
6. Romance Novel Coloring Book
A Romance Novel Coloring Book , $6, Amazon
I love romance covers. The longing look in their eyes, the hair blowing in the wind, the glistening abs. While romance covers aren't one-size-fits-all in design, this is a fun gift that left you color in your own Happily Ever After. Don't forget the colored pencils.
7. Vintage Romance Pins
It's all about the bare shoulder. These come in a variety of sizes and designs. A perfect stocking stuffer. (Pun not intended)
8 Sexy Romance Novel Book Pins, $11, Etsy
8. Magic Mike XXL
Magic Mike XXL on Blue-Ray, $23, Target
I'm not kidding when I say, Magic Mike XXL was one of the sexiest, ridiculous, oddly feminist (b)romances I watched this year. This is a perfect movie to watch with a group of ladies who appreciate Channing Tatum and his gaggle of male strippers that are right out of a romance novel. Splurge on the Blue Ray.
9. Book Boyfriends Tee
And reader, I married all of them. Most of the time, I have a hard time picking who my favorite book boyfriend is. Tattooed bad boys. Kilt-wearing rogues. Firemen. I love them all.
Book Boyfriends Graphic-T, $18, Etsy
10. Wine Glass Writers
Perfect for get-togethers, holiday parties, or simply to draw your book boyfriend's name surrounded by little hearts. (Guilty)
Wine Glass Writers , $10, Paper Source
11. Under Eye Patch Rescues
"One more chapter," she said at three in the morning. While the book is totally worth it, nix dark circles and tired eyes with Tarte's rescue patches.
Pack Your Bags 911 Undereye Rescue Patches , $22, Sephora
Images: Courtesy of Brands