Here's Your Love Horoscope For The Weekend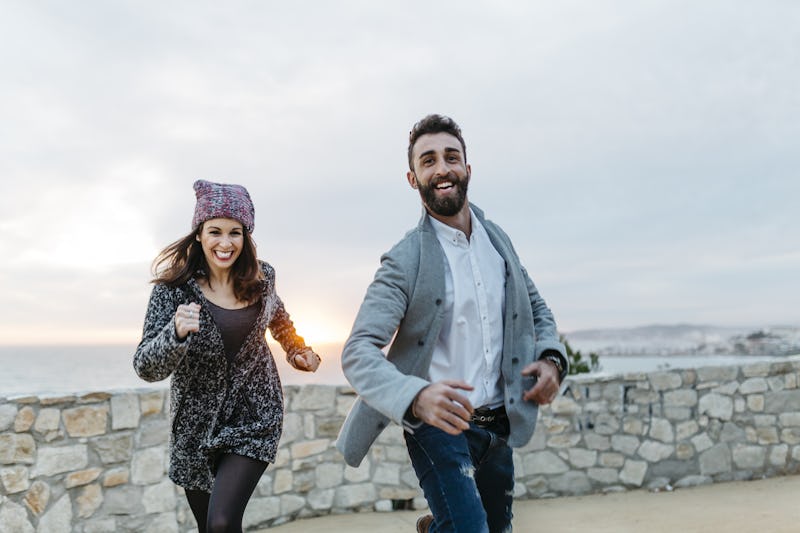 We're constantly fascinated by what our zodiac sign says about our lives, whether it's which signs are most compatible, the best sex positions for each sign, or how each sign handles conflict in relationships. That's why Bustle has enlisted Mecca Woods, a New York City-based astrologer of MyLifeCreated.com, to tell us all about how astrology is affecting our lives each week. This week's topic: your weekend love horoscope for Dec. 3 to 4.
The weekend opens under the Capricorn Moon, which makes a friendly connection with romantic Venus (also in Capricorn), possibly giving even the most casual of dates a commitment-oriented vibe. Add that to Mars (passion) in free-spirited Aquarius' meeting with serious Saturn in Sagittarius, and we could find something or someone special in the unlikeliest of places. By Saturday afternoon, the Moon (feelings) shifts into unconventional yet friendly Aquarius, which could bring an amiable kind energy to mates, dates, and hookups alike. On Sunday afternoon, the Moon meets up with the Sun (confidence) in outgoing Sagittarius for warm exchange followed by cheery moment with Jupiter (abundance, opportunity) in romantic Libra. Together, these aspects bring the lightheartedness, witty conversation, and fun back to romance which could make for some pretty interesting dates (in a good way). When the Moon connects with Saturn by the late evening, it's time to get honest about how we feel.
Read below to find out what this weekend's stars means for your love life.
And remember to tune into Bustle's weekly horoscopes video live on Facebook every other Monday at 4 p.m. ET for a rundown of your weekly horoscope.
Aries (March 21 - April 19)
Romance could come this weekend by way of someone you know; it could happen at a party, social gathering, or even on social media. If you're feeling a little shy or don't have plans to hit the town, ask a buddy to hook you up with a cute friend.
Taurus (April 20 - May 20)
Let's just say I wouldn't be surprised if a workaholic like you met the next love of your life on the job this weekend as the combination of money and sex is not that far out of line for a security-loving earth sign like you. Cha-ching!
Gemini (May 21 - June 20)
There's just something about love that's sweeter when there's a plane ticket or a remote and romantic location involved. Whether you're single or spoken for, you'll want to take your love muffin to go as that is where the fun will be.
Cancer (June 21 - July 22)
It may be time to take the boredom out of the bedroom this weekend as you're encouraged to delve deeper into your pleasure and sexuality. Try an erotic writing workshop, a Tantra workshop, or incorporate some sensual/erotic gameplay.
Leo (July 23 - Aug. 22)
Love is tender and love is kind to you this weekend as your romantic life heats up. If single, it could be time for a good old-fashioned sweaty makeout on the dance floor or making bedroom eyes with a hot stranger. Couples get in on the fun too by getting wild for the night.
Virgo (Aug. 23 - Sept. 22)
Now it's time for one of your favorite pastimes — getting organized. Recruit your boo and make this weekend for handling biz around the house. Later, you could team up to cook a healthy meal for two for a quiet night in. Ain't love delicious?
Libra (Sept. 23 - Oct. 22)
You could create something epic this weekend, whether it's a connection with someone new, sparks with your longtime love or a creative brainchild with your bae. Overall, this weekend is about finding your muse in love again.
Scorpio (Oct. 23 - Nov. 21)
Don't be surprised if you find yourself discussing the future and family plans with someone you just met as it might be just that kind of weekend — the kind of weekend where friendship, depth, and familiarity trump fly by night casualty.
Sagittarius (Nov. 22 - Dec. 21)
You could find love in a local place this weekend, so don't worry about having to travel too far. Whether it's your neighborhood coffee shop, bar, or bookstore, throw on something cute and chat someone up.
Capricorn (Dec. 22 - Jan. 19)
You could exactly what or who you've been wishing for this weekend so make sure to make your wish count. Even if you're not actively looking for love, it could still find you. In a relationship? Make it a behind-the-scenes kind of weekend.
Aquarius (Jan. 20 - Feb. 18)
You've got charm and charisma for days, so don't be surprised if you bring all the boys (and girls) to the yard. If there's someone you've had your eye on but have been waiting for the right chance to say something, this is your chance.
Pisces (Feb. 19 - March 20)
If you've been feeling rundown or like you're unlucky in love, make it your focus to reconnect with your body and your sensuality to help raise your energy level and your attractive power. An orgasm, sensual massage, or a little pampering could bring back your glow.
Images: Fotolia; Caroline Wurtzel/Bustle