Kylie Cosmetics Lip Vault May Or May Not Encore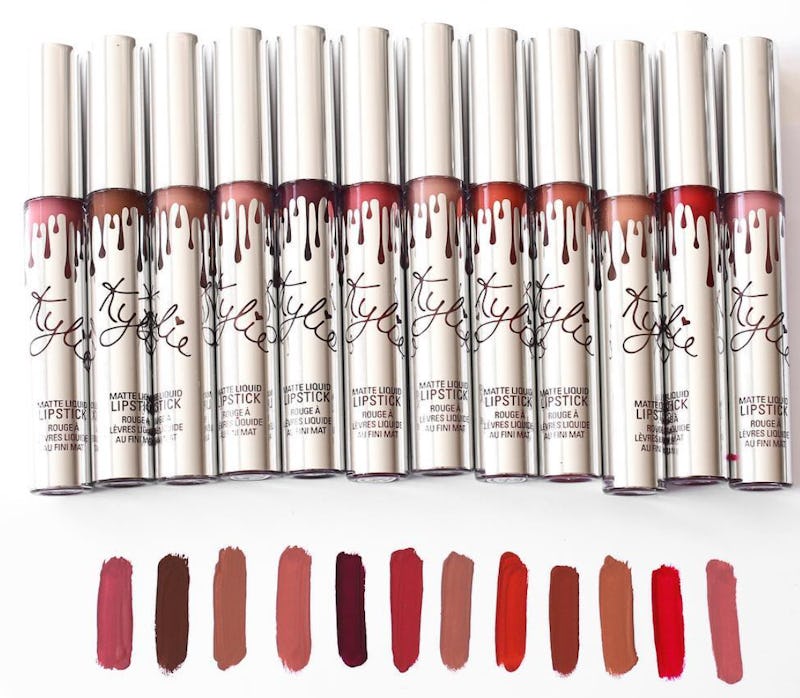 Seven minutes. That's how long it took the Kylie Cosmetics Lipstick Vault to sell out. ICYMI, the KCLV is a lipstick wardrobe featuring 12 shades of Kylie Jenner's hero product — the mega matte, velvety liquid lippie. It's pretty much what put both her pout and her makeup brand on the pop culture radar! The Lipstick Vault went on sale on Thursday, Dec. 1 and was the first item offered as part of the brand's "12 Days of Christmas" online event that will feature a new Kylie Cosmetics surprise almost every day. The Lipstick Vault is also part of the brand's 2016 Holiday Edition Collection, which is limited edition. Given the fact that the holiday collection is extensive and there are even more surprises are on deck, will the Kylie Cosmetics Lipstick Vault be restocked?
Well, Kylie Cosmetics has not confirmed whether or not the Lipstick Vault will enjoy an encore. There is no indication that the brand will replenish the supply of the collection, which consists of 12 full-sized tubes of long-wearing liquid lipstick in a wide variety of colors. There's also been no definitive suggestion that it won't restock, either.
We will just have to wait and see if if the Lipstick Vault is getting a second round in the sales arena.
The brand simply celebrated the sellout and congratulated those who scored theirs.
This screen grab from the Kylie Cosmetics site notes "while supplies last." There is no supply currently. Is more being manufactured? Is there a secret stash? TBD, makeup mavens, TBD.
It's easy to see why the Kylie Cosmetics Lipstick Vault flew off the digital shelves so quickly. It was too awesome NOT to.
The Vault features such a vast amount of shades. It includes Maliboo, Posie K, Kristen, 22, Mary Jo, Kourt K, Exposed, Dolce K, Candy K, Koko K, Ginger, and True Brown K. More specifically, the collection boasts a cool nude, a deep pink, a strawberry red, a burnt orange, a screen siren red, a gothy purple, a true nude, a beige nude, a mauve nude, a pink nude, a terra-cotta brown, and a dark brown.
At $120 for the KCLV, that meant each shade costs $10 per tube. Since single Kylie liquid lippies are $17 a piece, that discount is deep.
The Vault also felt designed to mix and matte, so shoppers could come up with their own custom lip colors by combining two or three. Ombre lips are also an option here.
In the spirit of holiday giving, if you grabbed a Lipstick Vault and there is a shade or two you don't like or use, you could totally gift it to a friend. The silver packaging is also so wintry and pretty.
Here's to hoping the Kylie Cosmetics Lipstick Vault is restocked, though.
Images: Kylie Cosmetics/Instagram (6); Courtesy of Kylie Cosmetics (1)