Too Faced Sweet Peach Palette Is Back At This Time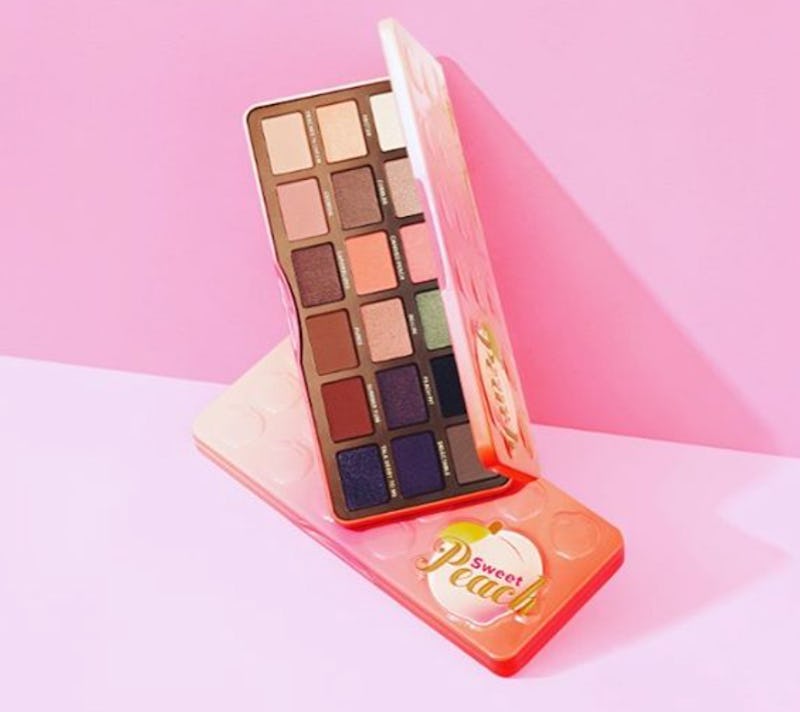 Amidst the chaos and confusion of the holiday season, planning ahead is pretty essential. This is especially true for makeupistas, since so many new launches and collabs are happening during this most wonderful time of year. Like the Too Faced Sweet Peach Collection. The delish Too Faced Sweet Peach eyeshadow palette was a huge, sold-out hit this year. Brand founder and creative guru Jerrod Blandino revealed via his Instagram on Dec. 2 that a limited quantity of the Sweet Peach Palette was being restocked. He also revealed even bigger news — that the full Sweet Peach Collection, which also includes the beloved and elusive palette, is coming on Wednesday, Dec. 14. What time should you be online to shop this yummy-scented palette, along with the new series of products?
According to Blandino's Insta caption that accompanied a video from a peachy launch party, the palette, along with the entire Sweet Peach Collection, which includes a blush, a highlighter, and more, will go on sale at 12 a.m. ET. Yes, it's late, but it's totally worth it. Plus, there is plenty of time to catch up on your sleep during the holidays. You cannot snooze on the grand return of the Sweet Peach Palette.
The palette has proven hard to score, so grabbing it on the relaunch with its sister products is a good idea.
Too Faced Sweet Peach Eyeshadow Palette, $49, Too Faced
You will so be able to get your peach on... on your eyes, lips, cheeks, and more!
But the eyeshadow palette truly is the crown jewel of this collection. The brand cannot keep it in stock since it's so darn good.
Peachy keen, indeed.
Here's another sneak peek to get you even more excited for Dec. 14. You can and will get that peachy glow.
Too Faced Sweet Peach Eyeshadow Palette, $49, Too Faced
Lastly, this is the screen shot of the caption, confirming the date and time.
Images: Jerrod Blandino/Instagram (4)