Starbucks Is Making Snickerdoodle Hot Cocoa, Y'all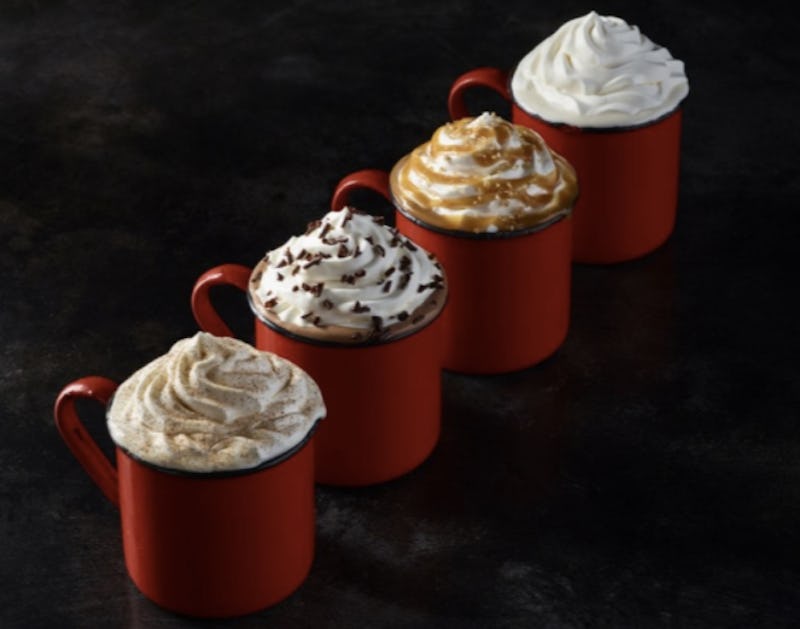 As if the majesty of introducing not one, not two, but 13 holiday cups for us to enjoy this holiday season wasn't enough, it turns out we are all getting #blessed a fourteenth time by Starbucks' Snickerdoodle Hot Cocoa, which just hit the menu on December 2. And there is plenty to get hyped about re: this new beverage. It is compromised of — (pause for a moment, to prepare your taste buds) — steamed milk, white chocolate sauce, and cinnamon dolce syrup, topped with whipped cream and a dusting of cinnamon sugar, according to a Starbucks press release. All of that adds up to a whole lot of yum. (Bustle has reached out to Starbucks for more details about the new addition and will update upon hearing back.)
This new addition to the menu joins its other Starbucks hot chocolate brethren, which at the moment include Hot Chocolate Chile Mocha, Peppermint Hot Chocolate, Peppermint White Hot Chocolate, and Salted Caramel Hot Chocolate. But this one comes with a happy twist: along with the announcement of the new flavor, Starbucks is starting a deal from December 2 through December 5 where any customer who purchases a hot chocolate can also purchase an additional cake pop for the mere price of one dollar in participating stores. Let this be a public service announcement to anyone and everyone within 50 feet of me for the next month: I am gonna get SO HYPED.
Customers will be able to enjoy this new addition in one of Starbucks' 13 new holiday red cups, all of which were selected from designs by artists all over the world. Starbucks was inspired by designs customers were sharing last year of their own doodles on 2015's classy and understated version of the red cup, which was simply red and didn't have a design, similar to the cups year round. And while all of the designs differ greatly, they are similar in their promotion of unity and the enjoyment of the holiday spirit.
"We hope that this year's red holiday cup designs express the shared spirit of the holidays as told by our customers," Sharon Rothstein, Starbucks global chief marketing officer, said of the decision to include 13 designs in this year's holiday cups.
In the meantime, get ye to your nearest Starbucks to try the new Snickerdoodle Hot Cocoa — now you can have your cookie and drink it, too!
Images: Courtesy of Starbucks; Giphy