15 Gifts That Give Back For Holiday 2016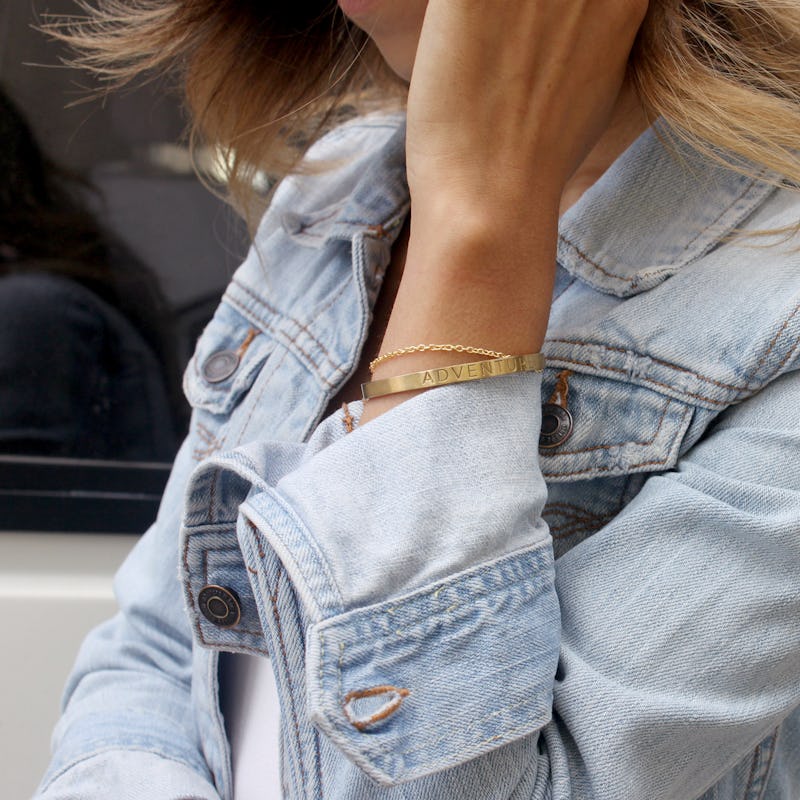 The season of giving is finally here! That means lots of gift exchanges and presents under the tree. But what if I told you that you could give a gift and give to charity all at the same time? Well, you're in luck, because it's possible and it's pretty darn easy too. There are tons of fashion and beauty gifts that give back, so you can feel extra good this holiday season.
Finding the perfect gift can be challenging. Whether it's looking through all the new beauty launches or doing some sartorial searching, the shopping possibilities are pretty much endless. But instead of hitting the mall and picking up the first thing that you find, why not make your money go a little further? There are tons of fashion and beauty items that look great and give a portion of their money to charity. Basically, it's like you're giving two presents in one!
It's important not to forget that this season is also about giving back. With these fashion and beauty items, not only will you feel great about your purchase, but the person getting this gift will as well. Here are some of the best charitable gifts out there, so you can feel a little better about your holiday purchase.
Women's Winter Barton Slip On Slate/White, $83, suavs.com
This shoe brand is teaming up with Souls4Soles and donating one pair for every pair sold in the month of December.
The Adventure Bracelet, $40, shopsoko.com
This gorgeous bracelet is a collaboration with The Adventure Project. Each purchase will allow a farmer in Kenya to feed one person with nutritious food and provide a Soko artisan with a job.
Error 404 Bath Bomb, $6.95, lushusa.com
As if you didn't already love bath bombs enough! All proceeds from this product will be donated to Access Now and grassroots digital activism groups working to protect digital rights in areas at risk of government-enforced shutdowns.
Living Water Charm Bracelet, $28, alexandani.com
This is only one of the many designs that give back. The company has an entire page of bracelets that you can shop, knowing that your money goes to a good cause.
Tap Is Terrific, $12, faucetface.com
For every bottle you buy, a portion goes towards the clean drinking water charity Third Millennium Awakening. The organization makes water filters for people in Third World Countries.
Sanar Healing Bangle, $55, fortunedculture.com
Started by actress Azie Tesfai, the company gives all proceeds to the people of the country that the product was made. For example, this bracelet gives one orphan in Mexico a visit to the dentist, an eye exam, and a vaccine.
Burgundy Pom Beanie, $45, loveyourmelon.com
For every hat sold, 50 percent of proceeds go towards nonprofits fighting pediatric cancer. So you can look and feel great in your accessory.
Eye Essentials Set, $58, thrivebeauty.com
This makeup brand works as a one-for-one service. For every makeup item you buy, one is donated to a women going through cancer treatment.
Balsam Soft Suede Cosmopolitan Tote Bag, $158, toms.com
Although the brand is most well know for their shoes, they also have apparel, bags, sunglasses, and even coffee on their site. Each purchase of this tote helps provide a safe birth for a mother and baby in need.
Handful Of Happiness Set, $19, thebodyshop-usa.com
Through their WILDEST Campaign, each set will help protect endangered creatures and help restore one square foot of rainforest.
Lasting Smiles Passionfruit Mango Chapstick, $3.99, target.com
For every 1,000 chapsticks sold, one child received the gift of a cleft lip or palate surgery.
Vanilla + Hemlock Candle, $55, starlingproject.com
The purchase of one of the company's candles helps provide solar energy to impoverished countries around the world.
Created by Lauren Conrad and Hannah Skvarla, each fair trade purchase goes towards the women artisans who make the products.
I Am That Girl Bralette, $35, lively.com
For every bra purchased, proceeds to go I Am That Girl and a young girl is reminded that she is enough, and helps support our community of peer-led I AM THAT GIRL local chapters.
Soma Bottle, $30, drinksoma.com
These plant-based filters are delivered to your door every month. For every filter purchased, clean water is donated through their partnership with charity: water, which is helping to solve the global water crisis.
Now you can give your gift and donate too!
Images: Courtesy Brands (13)