You Can Wear These NYE Dresses Over & Over Again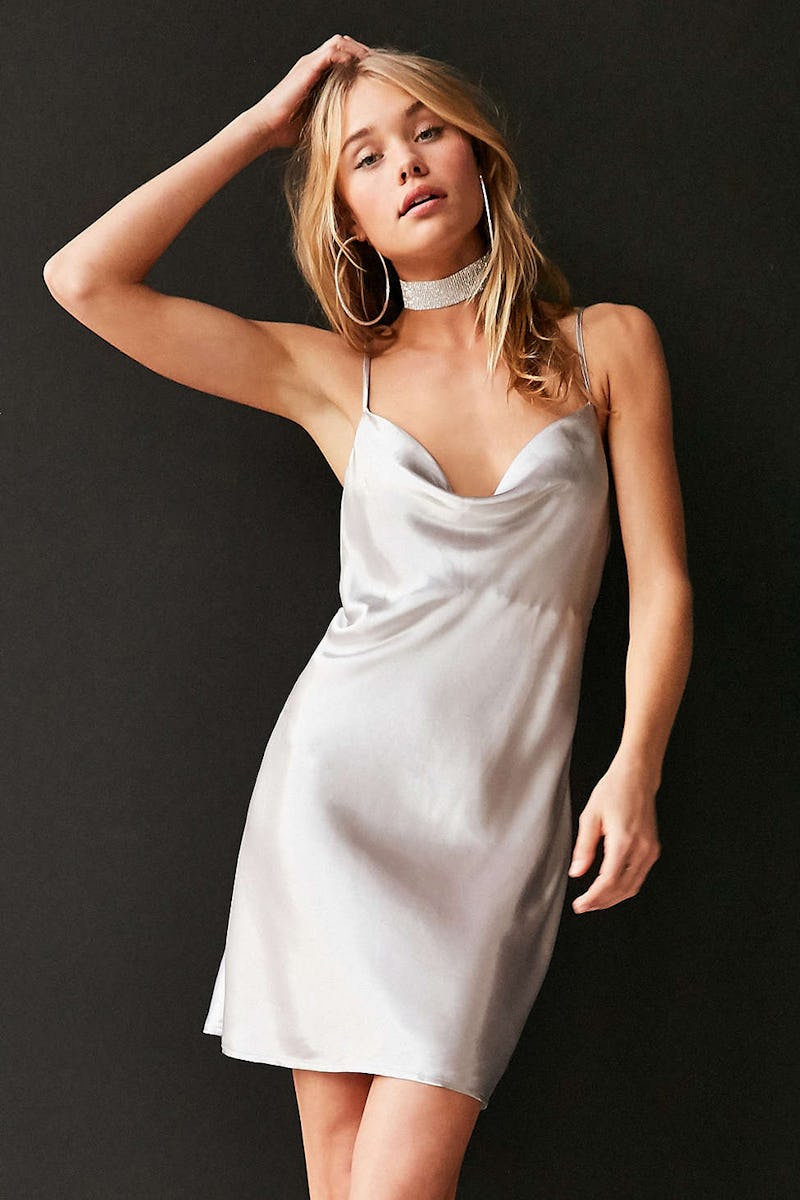 When the clock ticks midnight on Dec. 31, you might find yourself engaging in a midnight kiss, dancing with friends, or already at home watching the ball drop on TV. No matter the case, you'll want to ensure that you are dressed to the nines in glitzy New Year's Eve fashion — sequins, velvet, and all. Especially in terms of shelf life, NYE frocks often have a short and sweet run — worn for a few hours, then laid to rest until the next extravagant function. Don't fret though — there are indeed NYE dresses you can wear more than once.
In my opinion, there is nothing more tragic than spending precious time hunting down the perfect dress, and then only basking in its glory for one night. I mean, at least give it another spin, right? When it comes to NYE wardrobe though, this can be tricky. Everyone is prone to going the glamour-ridden route and embracing the mentality of the flashier, the better.
Resist your temptations. While you may be inclined to splurging on that metallic and glitter concoction, take a step back and ask yourself: how often will I wear this number again? (If your count is higher than three, I'm officially impressed) For most, NYE may be one of the very few times you can have your star moment without feeling too dolled up. That is, unless you want to sport the whole "overdosing on sequin" aesthetic to your nine-to-five — no judgement here.
It's time you ring in the new year with a dress that will stick by your side for the 365 days to come.
ASOS Night High Apex Bonded Mini Prom Dress, $87, Asos
Have your Marilyn Monroe moment any time of the year. Pair with a faux-fur vest for the holidays, then swap with a moto jacket for the rest of the year.
Missguided Bonded Faux Suede Frill Cuff Bodycon Dress, $50, Miss Guided
Suede, flare sleeves, and off-the-shoulder? Count me in. Plus, this number can easily convert from your NYE ensemble to a night-out with friends look.
Free People Secret Origins Pieced Lace Tunic, $128, Free People
Bohemian souls, eat your heart out. This angelic lace tunic is perfect for layering — pair over tights and a pair of killer heels for a combo that can go from NYE and beyond.
The Jetset Diaries Callie Velvet Maxi Dress, $288, Nastygal
Sometimes you just want to strike a leg, Angelina Jolie-style. This red velvet maxi is perfect for just that — while the hue is holiday-approved, you can also rock it year-round by adding a leather jacket.
Miss Selfridge Metallic Beaded Cowl Back Dress, $234, Asos
I call this cowl back number a double whammy — it will not only make a dazzling NYE outfit, but can also be your go-to birthday uniform.
Lovedrobe Luxe Embellished Shift Dress, $83, Asos
One can never go wrong with a shift dress — comfortable, versatile, and oh-so easy to style.
Forever 21 Contemporary Sequined Shift Dress, $35, Forever 21
Perhaps you're craving a dash of flapper flair this NYE — in that case, stick to a subtle design that isn't too flashy or super Great Gatsby.
Bardot Mercury Satin Cowl Neck Mini Slip Dress, $79, Urban Outfitters
As if we needed yet another excuse for a '90s throwback... but I'm all in favor for the sleek and luxe slip dress. The versatility is key — add a faux-fur stole for your NYE festivities, then layer a white tee underneath and pop on a denim jacket for something daytime.
Ecote Burnout Velvet Off-The-Shoulder Mini Dress, $79, Urban Outfitters
Always say yes to velvet. The romantic burnout pattern works just as well in December as it does for any night out in town.
Missguided Green Satin Wrap Mini Dress, $63, Miss Guided
Want a color change? Opt for rich, emerald hues that transition smoothly from the holidays to spring and summer.
Tobi Julia Satin Skater Set, $36, Tobi
Because two is always better than one, and that's not even the best part — you can mix and match this set to your heart's desire.
ASOS Night High Neck Embellished Mini Dress, $105, Asos
I know it looks daunting, but rest assured, you can make this elegant frock work year-round, even after NYE. For something casual, add a shaggy cardigan, or top off with a structured jacket for something polished.
Images: Courtesy Brands