ColourPop's Days Of The Week Lippies Are Gorgeous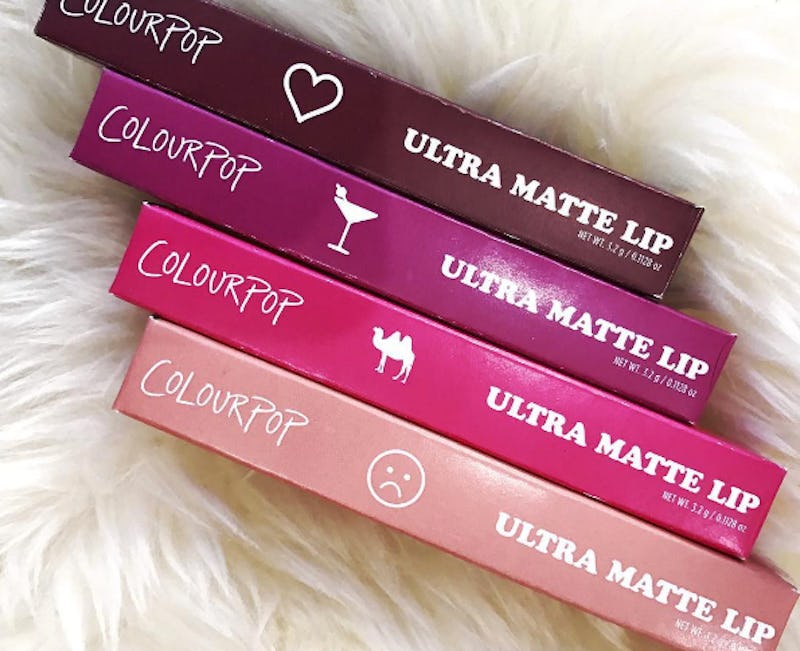 The holidays are in full swing and so is this company's makeup launches. ColourPop created Days Of The Week Lippies, and you can get them for free right now. Believe me when I say that this is one deal that you don't want to pass up. If you're not already excited about this promo, swatches of ColourPop's Days Of The Week Lippies will put you in the shopping mood.
After having a huge Black Friday and Cyber Monday sale and launching four new makeup sets, ColourPop is at it again. They're rolling out new Ultra Matte Lip shades that you can get for free. This isn't a joke, people. There are four liquid lipsticks up for grabs — Monday, Wednesday, Thursday, and Saturday. It's not exactly clear if you'll be able to eventually buy these separately, but If I had to guess, I'd say that they were coming soon.
The shades range from a gorgeous pinky-neutral to a dark vampy red. To get them, all you have to do is spend $10 to get one, $25 to get two, $40 to get three, and $50 to get all four. They'll only be around while supplies last though. After seeing how gorgeous the swatches are, you're going to want every single one.
According to the company's Snapchat, the colors aren't completely new. They're based off of corresponding Lippie Stix shades that are already on the site. Of course, they're a totally different formula though. Even if you already have the lipsticks, there's no reason not to stock up on the matte options too.
Here they are right after they've been swatched. The colors are such a wide range that there's something for everyone. Fingers crossed that they come out with Sunday, Tuesday, and Friday as well. I can only imagine that they'd be just as pretty.
Not to mention how adorable the packaging is. While ColourPop normally just sticks to their white boxes — unless it's their holiday collection — this one is completely different than the others. The colors of the boxes match the shades and they have a different emoji on them to match the day of the week that the shade is named after.
This isn't the first time that the company has done a promo with brand new shades either. ColourPop did the same thing (in mini sizes) right before they launched their Ultra Glossy Lips. That means there's a good chance that you'll be able to eventually buy these shades as well.
As of Dec. 3 at 10am EST, all four shades are still currently available on the site. I wouldn't wait for too long though or you'll miss out on your favorites. Go get to shopping while you still can!
Images: ColourPop/Instagram (1), ColourPopCo/Snapchat (1)