How Can You Get The Kylie Cosmetics Pom Pom?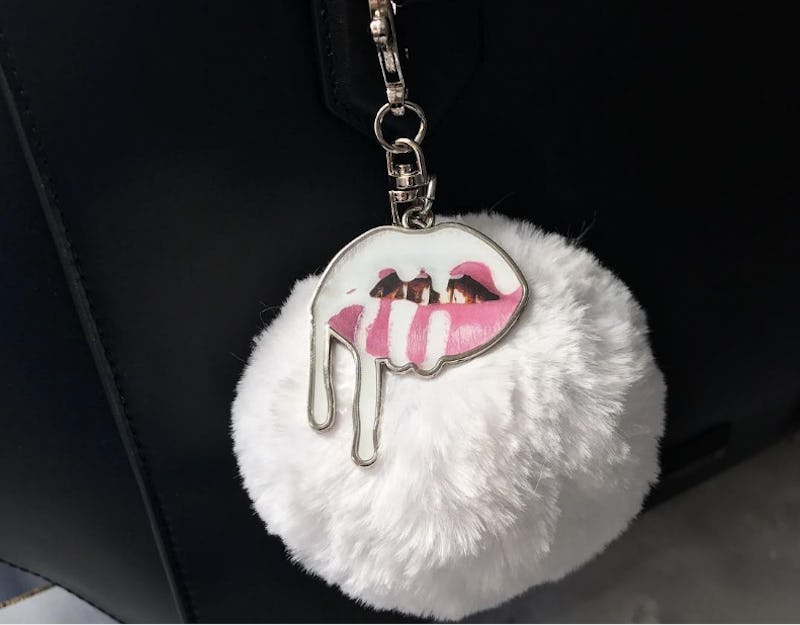 If you've been looking for ways to dress up your old bags, Kylie has you covered. It's day four of Kylie Jenner's 12 Days of Christmas promo, and the freebie she's offering on Dec. 4 is a fun limited-edition holiday pom pom keychain with every order, while supplies last.
The pom is a white fluffy ball that can either pass for a festive snowball or a minimalist accessory, and comes with a melting lips charm, Jenner's trademark. It's a great way to show the world you're a devoted fan to her lip kits and cosmetics, as well as a fun option to dress up the bags and purses you've grown bored of.
Pom pom accessories have been in vogue for a while now, with everyone from Topshop to Forever 21 selling the cute sartorial touches. They come in a riot of colors — from traditional brown and white fur to statement-making acid green and yellow — and also come in all shapes and sizes. For example you can get circle poms, or you can get raccoon-tail shapes. In other words, this freebie is definitely in touch with the winter accessorizing game of this season.
Not to mention the pom itself is huge. It's bigger than a closed fist, which means it will make a dramatic statement when clipped to your cross-body bag or backpack.
If you don't feel like taking your love of Jenner to the public, you can also clip it to your makeup bag. The giant pom will definitely give it some playful flair.
If this isn't your jam, then you still have eight more days of freebies so keep an eye out for. So far the countdown has been exciting, with Jenner giving her fans a generous amount of swag. For day three she hosted a giveaway that gifted five winners the entire Holiday Edition Collection, presenting them with glosses, crème shadows, and brushes. Day two offered shoppers a free Kylie gift bag with a lip kit purchase, and day one offered an epic surprise in the form of a Lipstick Vault, which offered small lippies in fan-favorite shades.
This is only day four so more goodness is definitely to come from Dec. 4 onwards. Keep your eyes peeled, and your credit card at the ready.
Images: @kyliecosmetics/ Instagram