This WOC-Created Doll Has Amazing Natural Curls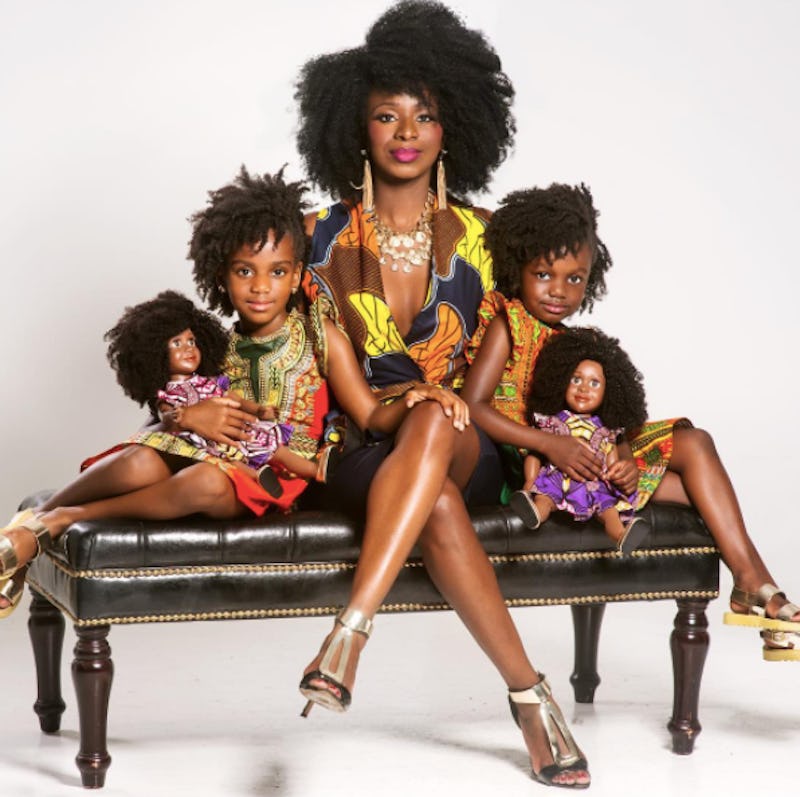 As an African-American child, I was borderline obsessed with my dolls — Barbie, Polly Pocket, Abby from American Girl, you name it. Thinking back, you'd be hard pressed to find a natural-haired doll during the '90s: The one thing that many of these dolls had in common was the smooth, sleek texture of their hair.
I always find it ironic how American Girl doll Addy, a courageous former slave who escaped her past during the Civil War-era to build a new life, would have hair that looked like she got a blowout and roller set at the hair salon. Not to say that Addy's hair isn't laid for the gawds, but it definitely doesn't seem realistic — and I'm not the only one who thinks so.
Sick of scrutinizing the shelves of toy stores for accurate representations of her children, hairstylist and reality star of WETV's Cutting It In the ATL Mushiya Tshikuka decided to simply create her own. The first available doll in the My Natural Doll collection is named Keleshe, a dark-skinned doll sporting an African-inspired print dress, and big, billowy curls.
My Natural Doll, $145, runwaycurls.com
My Natural Doll is a line Tshikuka developed with in her daughter's well-being and self esteem in mind.
"I remember going to the store, MANY stores actually, looking for a black doll because Christmas was approaching & my girls were old enough to say, 'Mommy, I want a doll.' I refused for my little gorgeous black girls to have white dolls because I was not in the mood to confuse their confidence. I had worked so hard on it. But every black doll I saw had yarn, straight hair, long synthetic whitish curls or were just BALD. See, my children were born with a head full of kinks. Where was that doll," she wrote in a post on her Instagram page.
If you're unsure what to gift a child with this holiday season, the My Natural Doll is one of the most beautiful expressions of diversity on the market. Keleshe is a toy with excellent craftmanship that can be appreciated by little girls of all colors.
Images: My Natural Doll/Instagram