Justin Bieber x HM Purpose Tour Merch Is This Much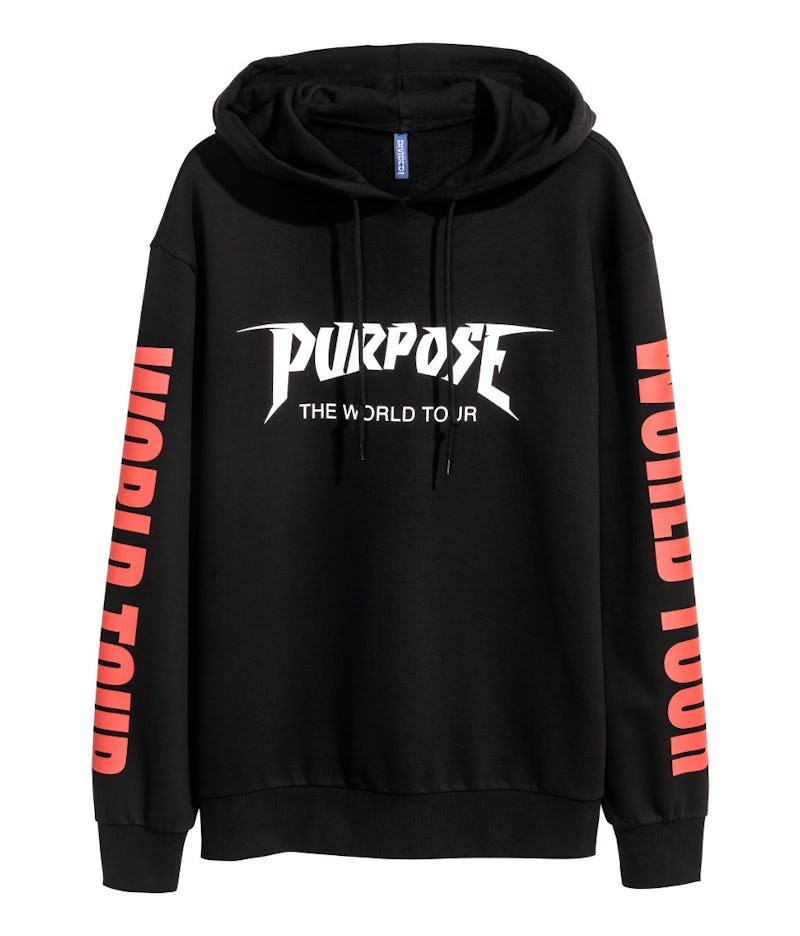 Now that's what I call making the rounds! Justin Bieber's Purpose Tour merch has hit several levels of retail, in terms of location and pricing, over the past few months, from high-end stores like Barneys to the "All Access" capsule collection at mall retailer PacSun to fast-fashion mecca Forever 21. There is another discount retailer selling Bieber-branded, Purpose Tour merch at super affordable and attractive prices and it's —drum roll, please— H&M! How much is Justin Bieber Purpose Tour merch at H&M?
Oh, it's crazy affordable. Go ahead and do a happy dance over this fashion good news. There are 10 pieces in the collection — there are five cozy hoodies and five tees. There are two black, one grey, one cream, and one white hoodie. There are three black and two cream-colored tees. The hoodies cost $34.99, while the shirts are just $17.99. They come in men's sizes and boast the baggy, loose look that is s o in style and that anyone can wear this season.
The H&M x Bieber Purpose Tour merch is totally accessible for Beliebers of all ages and from every walk of life. If you couldn't make it out to the singer's tour or if you didn't nab anything from the prior collections, you still have a chance to stock up and thus proudly display your Bieber fandom.
The Purpose Tour was as epic as its merch offerings.
It's hoodie heaven! You have plenty of choices, in terms of color and design.
And you won't go into major debt, either.
You can show off your Belieber status with The Biebs' mug or with more simple, Purpose-specific graphics.
Dream job, right?
If you plan to do some holiday shopping for the Belieber in your life or want to add some cool, Bieber-branded hoodies or shirts to your own wardrobe, you can do super affordably, thanks to the H&M capsule.
Images Courtesy of H&M (6)