11 Plus Size Christmas Leggings & Tights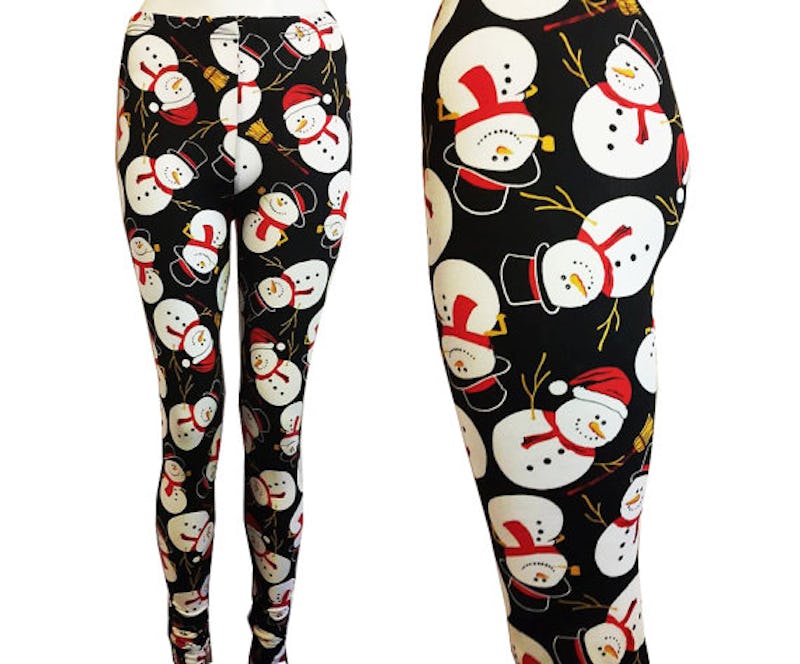 Dressing up for the holidays is an integral part of getting into the spirit of things. From ugly Christmas sweaters to plus size festive leggings, there's a Christmas themed garment out there for you. If you're feeling particularly festive, you can get all Christmas everything and really get in touch with the holiday spirit. For some though, a patterned pair of leggings are much more suited to the season than a plus size Christmas sweater.
Whether it's because you prefer a bold bottom half or you just want to mix things up a bit, there are plenty of leggings and tights options for those who want to add a little excitement to their leg-life. It's a fun way to dress up for the holidays without running the risk of buying the same sweater as someone else.
From the quirky, the festive, and the purposefully tacky, these leggings cover all the bases In fact, some of them go that one step further than your average ugly Christmas sweater to create a kitschiness all of their own. Go forth and feel festive with leg wear's answer to the holiday season: Christmas printed leggings and tights.
1. Snowman Leggings
Snowman Print Leggings, $26, Etsy
A festive print legging that isn't specifically directed towards Christmas, because everyone loves snowmen.
2. Snowflake Leggings
Snowflake Leggings, $15, Rue 21
Take walking in a winter wonderland literally with these snow inspired leggings.
3. Purple Jack Skellington Leggings
Purple Jack Skellington Leggings, $39, Torrid
The perfect answer to the holidays for any gothy Christmas lovers.
4. Red Christmas Pudding Tights
Red Christmas Pudding Tights, $13, Yours
The ultimate in campy Christmas wear for any wardrobe.
5. Gingerbread Leggings
Gingerbread Leggings, $30, Etsy
Or a more simple approach to festive legwear, if you prefer.
6. Santa Decor Leggings
Santa Decor Leggings, $15, Rue 21
Swap your regular black leggings for these Santa patterned ones without having to change anything else about your look.
7. Fair Isle Tights
Fair Isle Tights, $17, Modcloth
These tights will look especially cozy under a sweater dress this season.
8. Christmas Pattern Leggings
Christmas Pattern Leggings, $15, Rue 21
A bright pair of leggings for anyone wanting a bold look during the holidays.
9. Nightmare Before Christmas Leggings
Nightmare Before Christmas Leggings, $39, Torrid
Another option for lovers of all things Tim Burton.
10. Christmas Leggings
Christmas Leggings, $20, Etsy
These leggings come in a more traditional print for holiday purists.
11. Red Tights
Red Tights, $19, Torrid
If you're into color blocking, these red tights are just on the right side of festive to pass for a holiday themed look.
After buying all these, your 12th day of Christmas look can consist of letting those legs breathe in a suitable set of holiday-themed pajamas. Has any plus size Christmas trend ever been so cozy?
Images: Courtesy Brands