Here's Your Daily Horoscope For December 5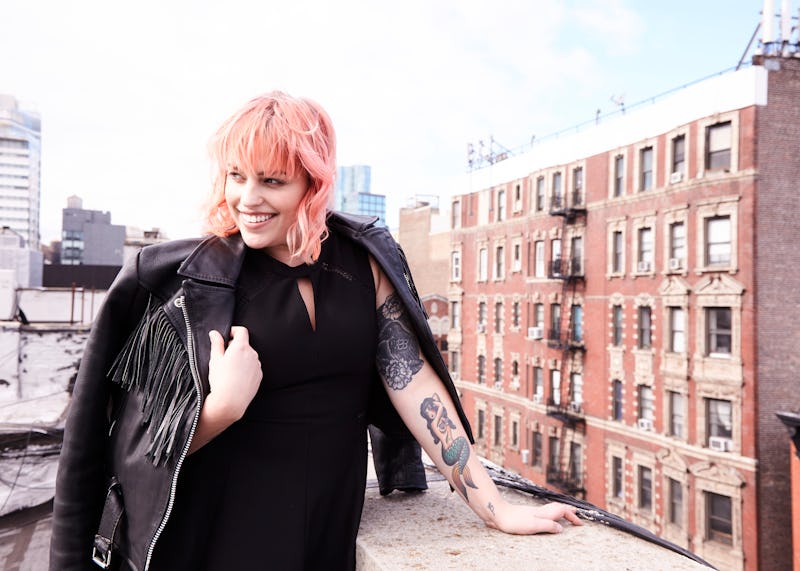 We're constantly fascinated by what our zodiac sign says about our lives, whether it's which signs are most compatible, the best sex positions for each sign, or how each sign handles conflict in relationships. That's why Bustle has enlisted Mecca Woods, a New York City-based Astrologer of MyLifeCreated.com to tell us all about how astrology is affecting our lives each day. Today's topic: your daily horoscope for December 5, 2016.
The Moon (feelings) finishes up her transit through free-spirited and quirky Aquarius today but spends most of her time void of course, aka when the moon stops "talking" other planets and is moving between signs. As a result, today is largely for rest and reflection, finishing up work and assignments, or doing some behind the scenes prep on something that allows us to give back to a good cause or buck the status quo. Late tonight, the Moon shifts into sensitive and romantic Pisces, which should bring some sweet dreams. Overall, easy does it.
Read below to see what today's stars mean for your sign.
And remember to tune into Bustle's weekly horoscopes video live on Facebook every other Monday at 4 p.m. ET for a rundown of your weekly horoscope.
Aries (March 21 - April 19)
Today's one of those days where giving back or contributing to others in some way could yield you more than just a feel-good moment. When you do your part to make the world a better place, the Universe responds to you in kind by making your world better. Pitch in.
Taurus (April 20 - May 20)
Now's the time to look back at your career and tune in to how you feel about where you are. Are you happy doing what you do? Does your work nourish you? Are you getting the freedom you need right now? If the answer is no to any of the above, do something about it.
Gemini (May 21 - June 20)
You could find yourself ready to up and leave at a moment's notice today, and to be honest that wouldn't be such a bad thing for you right now. With all the work you've been doing lately, it would be nice to take a break. Give yourself a little freedom today. The world can wait.
Cancer (June 21 - July 22)
Surface interactions and conversations just won't cut it today as you find yourself craving experiences with others that run skin deep. Use this time to connect and confide in someone you trust or gain some emotional clarity on a close relationship. No need to force what doesn't work.
Leo (July 23 - Aug. 22)
Your significant other may need your attention today, which could be the perfect time to snuggle up at home or spend hours talking about everything under the sun. If you're single, consider today a good time to reflect on the power of friendship in intimate relationships. You need someone who's truly on your team.
Virgo (Aug. 23 - Sept. 22)
Things may seem more urgent than they really are so try not sweat anything that pops up at the last minute. Instead look to getting any outstanding tasks off your plate and indulging in a little self-care, even if that means turning off your phone for little or not jumping to answer every email or inquiry that comes through.
Libra (Sept. 23 - Oct. 22)
You love them, you love them not. Have you been having a little trouble trying to decide how you feel about a romantic relationship? Know that it's OK to be a little undecided because more will be revealed to you later. When it comes to fun, call up some of your best gals and chill.
Scorpio (Oct. 23 - Nov. 21)
Your home and family life is spotlighted today as you may feel homebound or in the mood to shut out the world. Recognize that spending time at home or with your family is just what you need now to help recharge your batteries. Take a time out for you. It'll all be there when you get back.
Sagittarius (Nov. 22 - Dec. 21)
You may need to lean on a friend or two for support today, which isn't a bad thing, even for an independent sign like you. Know that even though your in the adult chair now, it shouldn't stop you from asking for help when you need it. Plus, if you've been in low spirits, your friends can cheer you up.
Capricorn (Dec. 22 - Jan. 19)
It's time to reflect on your values and finances. Have you been working at something you dislike for the sake of a few dollars? While the bills definitely need to get paid, it may be time for you to focus on what you can do that nourishes your belly and your spirit. You have much to offer, make sure you're getting much in return.
Aquarius (Jan. 20 - Feb. 18)
It's time to focus on you today, which might feel like a welcome change. Think about what you can do to take care of you which could include honestly speaking your mind (to someone who needs to hear it), pampering your body, or getting in some needed solitude. Do what you do best and go your own way.
Pisces (February 19 - March 20)
The need for rest and relaxation is high today, so don't be surprised if you barely have the energy to speak. Incidently, feeling low energy could be a signal that you're not giving yourself enough rest as you need to. It's OK, take two naps and call in the morning. Your dreams could reveal answers you've been seeking.
Images: Hannah Burton/Bustle; Caroline Wurtzel/Bustle