'Jackie' Takes Few Liberties With History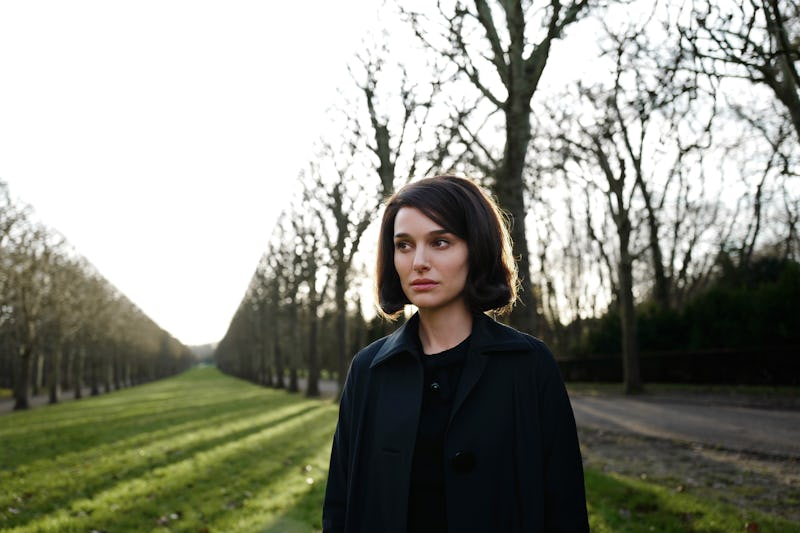 As 2016 comes to a close, the Oscar race is coming into focus. And one clear frontrunner appears to be Natalie Portman for her work in Jackie . She's receiving raves for her tour-de-force performance in the Jackie Kennedy biopic, which opened Dec. 2. Portman portrays the former First Lady in grief; the movie stares into the life of one of the most famous women in the world immediately after the assassination of her husband, President John F. Kennedy. The Kennedy clan are an American institution. This particular marriage is almost legendary in meaning, and Kennedy's assassination has been a topic of fascination for historians and conspiracy theorists alike. This film aims to gain insight into Jackie Kennedy's character and how her poised and meticulous self was changed by this event. But how accurate is Jackie to history?
Jackie's director isn't an individual who grew up surrounded by the Kennedy mythos. Pablo Larraín is Chilean, and while he knew who Kennedy was, he told Film Comment he thought of her as "an American queen." To learn more about Kennedy the person, he started with YouTube. The footage that influenced him the most was that of Kennedy's 1961 televised White House tour. She explained to the public how she'd spearheaded a campaign to bring original furniture that had ended up all over the country back to the residence. "I had this idea about this superficial woman who was mainly concerned with fabrics and fashion, but in this show I found the woman who captured my imagination," Larraín said. "I was so moved by the way she would express herself, try to smile."
The White House tour is recreated in the movie, with original footage intercut with Portman's performance. Larraín told The New York Times that the actual White House documentary was playing on monitors while they shot. He did this so that he and the crew could accurately recreate shots with framing and placement. The filmmaker also insisted on accuracy in the movie's portrayal of the actual assassination. In an interview with Yahoo, Portman said that having history to account for added another layer to playing that scene. "It was also difficult on an acting level to feel that level of trauma and also have this very specific idea of what you need to do," she said. In other cases, actors might have more freedom with their movement.
Billy Crudup plays Time reporter Theodore H. White in the movie, though he is only credited as "The Journalist." White famously interviewed Kennedy at her family home in Hyannis Port after the assassination. He asked her about sitting next to her husband when the bullets hit him, the frantic aftermath of the shooting, and her treasured memories of "Jack." You can read White's original profile here, and see that it's a clever and natural framing device for Jackie.
Accuracy can be measured in both plot and performance, though, and Portman did her homework on how to look, sound, and carry herself like Kennedy. She told Vanity Fair that she watched the White House tour "sort of obsessively" to nail Kennedy's way of speaking. "The accent is almost like a diagram of her background," Portman said. "She has this very New York side. That's her Grey Gardens world of the eccentric Bouviers. And then there's this very sort of proper, finishing school accent. And it's this odd combination of the two, which helped sort of form her." Compare any clip of Portman as Kennedy to a recording of the former First Lady's voice, and it's almost impossible to tell them apart.
Of course, not every scene in Jackie is going to be totally accurate, but the film doesn't pretend to be a documentary. All biopics deviate from history in some way or another, and since Kennedy passed away in 2004, there's no way to fact check Jackie with the woman who inspired it. But it's evident that the creative forces behind it did the extra legwork necessary to pay respects to history. Now, about those Oscars...
Image: Fox Searchlight Pictures