Don't Forget About This 7-Year-Old Girl In Syria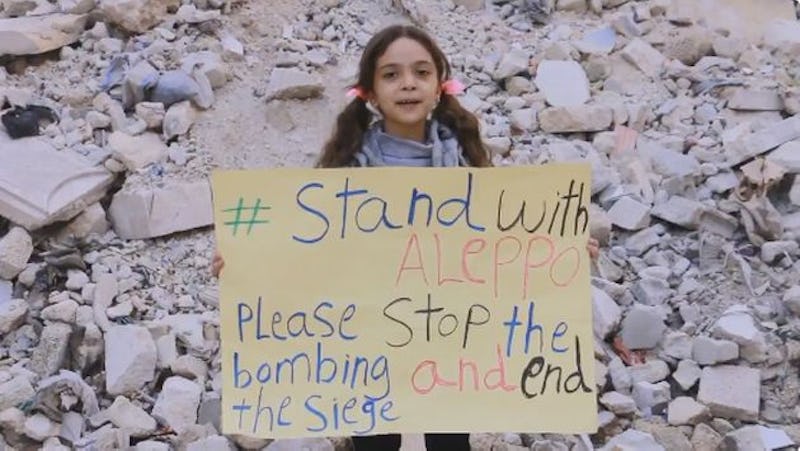 In the midst of all the post-election madness, too many problems around the world have been neglected by the media, as Donald Trump continues to occupy the spotlight. One of those problems is the current crisis in Syria. Now a farewell message posted on Bana al-Abed's Twitter account — the seven-year-old girl has been documenting her life in war-torn Aleppo — served as a chilling reminder of the world's lack of action in helping the Syrian people. While BBC News later confirmed al-Abed's safety and a new tweet was then posted to her account, the concern that broke out following her apparent demise should encourage a continuous sense of urgency — one that doesn't arrive only in the face of the girl's death.
"We are sure the army is capturing us now," reads the final message posted on al-Abed's profile. "We will see each other another day dear world. Bye." The tweet was written and published by Bana's mother, Fatemah al-Abed. Her Twitter account was deactivated shortly after, prompting the hashtag #WhereIsBana to trend.
The Syrian Center for Policy Research reported in February that an estimated 470,000 Syrians have been killed in the war. The United Nations High Commissioner for Refugees puts the number of Syrians who've fled to other countries in the Middle East at an estimated 4.8 million, with 6.6 million displaced within Syria and one million making efforts to gain asylum in Europe.
Bana's tweets have described the horrors of daily life in Aleppo for months now, and she quickly became the symbol of innocent Syrian victims for many across the world. "The one thing I love most about sleeping the night is it makes me forget the day's bombing," she wrote on one occasion. On one October morning, she tweeted her reaction after arriving at school to find that it had been bombed and her classmates killed. "Went to school this morning and just now is killed by falling bombs in Idlib. Look his school bag OMG! I'm crying."
Her profile provides an insight into the deterioration of the situation in Aleppo. In October, despite the tragedy around her, a message on her profile encouraged people to donate to victims in other areas. "Please send food to people outside camps in Syria, Iraq," the tweet reads. "Please there are millions who have bigger problems than us. Reach to them now." By Nov. 13, their own supply food was almost gone. "We are really running out of food. There's no food in town even if you want to buy it," her mother wrote. On Nov. 25, the description of people in Aleppo changed to starving. Bana's mother pleaded, "Allow in food. Just allow, just.... Please allow it for the thousands starving here. Why is it a problem?"
In 2016, the United States reached President Obama's goal of allowing in 10,000 refugees into the country. Considering the millions still seeking asylum and the amount of refugees being taken in by other countries — 1.1 million by Europe, and even 25,000 by Canada, a country with a much smaller population than the U.S. — 10,000 is a very low number.
Trump's views on refugees and his insistence that many are in league with ISIS, as well as his promise to implement "extreme vetting," don't look promising for Syrians seeking asylum in the U.S. However there are still many concrete actions supporters of these people in need can take, not just when Bana and her family seem to be gone, but at any time until the crisis has ended.
Images: Bana al-Abed/Twitter (1)