Bravo's 'Timber Creek Lodge' Cast Is Interesting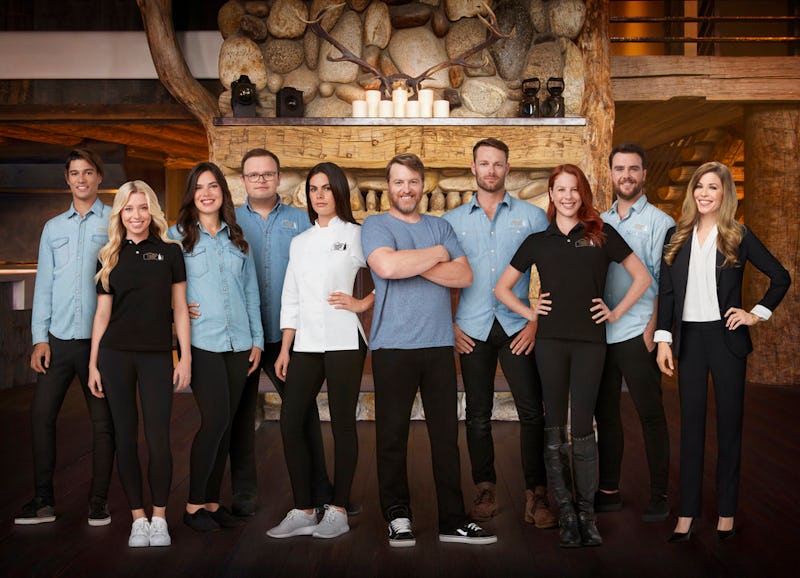 Don't you just love to watch extraordinarily wealthy human beings live their lives? It's like going to a very fancy zoo and I can't get enough. Well, luckily Bravo knows my weakness and has gifted myself (and other fans) a new reality show that fits the bill just perfectly. Timber Creek Lodge will follow the crew of the supremely fancy-pants ski lodge of the same name that promises to cater to rich peoples' every need and whim. In the spirit of fellow shows like Below Deck, the cast of Timber Creek Lodge is gorgeous and sure to bring epic drama.
But, honestly, if you are working in a restaurant, manning a chartered yacht, or taking care of rich peoples' requests at a swanky ski resort in the Candian winderness, I am going to tune in and watch you do it. It always helps when you are fun to look at. Let's be clear here, the cast of Timber Creek Lodge are more than just their looks, but they also just happen to be gorgeous as a whole, too. On top of their physical gifts, they are all pretty amazing humans in their off time as well. Most of them volunteer their time for various organizations or work with those in need. Talk about a well-rounded group.
Blake Dubler
Blake is the lodgehand and comes from Australia. According to his Bravo profile, he is an avid surfer and snowboarder. In his off time, he is a pretty awesome human, working with underpriveliged youth with Life Without Barriers and sponsoring children for Compassion Australia. He also has a beautiful girlfriend, and they are a perfectly adorable couple.
Colston Vb
Colston is a VIP mountain host and happens to be a professional big-mountain free-skier. He has plenty of titles and has appeared on magazines covers for his amazing talents. According to his Bravo profile, he is into all sorts of extreme sports and activities in his off time. One look at his Instagram and it is clear that he lives an eviable life filled with parties, sports, and travel.
Cynthia Barker
Cynthia is a VIP mountain host and is into all thing adventurous. According to her Bravo profile, she also has a B.A. in cultural anthropology and also received a diploma in marketing with a PR focus, which has led to her to a variety of jobs including working as an events manager, a flight attendant, and a photographer.
Jamie Murphy
Jamie is the assistant lodge manager and according to his Bravo profile, also acts as a personal assistant to influential people in Vancouver. He has hosted diplomats, chartered planes for people's puppies, and that is just the tip of the iceburg of his assistant duties. One look at his Instagram will show you how Jamie lives his life. He is constantly surrounded by groups of friends and seems to always be on the go. Also... he is friends with Queen Lisa Vanderpump.
Jenna Gillund
Jenna works in housekeeping and also as a server at the lodge. She comes from Chicago and was actually a Dallas Mavericks cheerleader for three years before heading into her current business. Her Instagram shows off her full social circle, her adorable pup, and her talents as a model.
Katy Ann Boyd
Katy Ann is the lodge manager. She comes all the way from Kansas and was modeling/acting from a young age. According to her Bravo profile she started a small dance company in 2006 named The Southern Belles that eventually turned into a company called Southern Belle Event Planning. Her Instagram shows off a lot of modeling she has done, and, like a lot of her fellow cast members, she has an amazingly adorable pup.
Louise Robinson
Louise is Australian and is the head of housekeeping at Timber Creek Lodge. She started out as a model and trained to be a drama and arts teacher before making her way to Whistler for her current position. According to her Bravo profile, she has currently been developing drama programs for various sports teams, writing sketch comedy, and acting to boot.
Mark Milburn
Mark is the senior VIP mountain host. He is athletic, adventurous, and, according to his Instagram account, he loves his pup. He is essentially perfect. His job is to take the guests on any magical, dangerous adventure that they can dream of. He lives life in his off time in the same adreniline-pumping vein as his work life. According to his Bravo profile, he also makes his living as a program coordinator for outdoor education at a school in Switzerland and has opened two gyms in Victoria, Canada.
Nikita Williams
Nikita is the chef at Timber Creek Lodge and according to her Bravo profile, she started cooking at a super young age. When she was only 15 years old, she landed a job cooking in a Mexican restaurant and then went on to culinary school. One look at her Instragram will show you her jetsetting style and love of all things food. Just to add some fuel to the drama for this season, she happened to post a pic with fellow castmate Mark and her caption is certainly sassy.
Basically, this cast is packed to the brim with awesome people. Check them out when their shenanigans officially begin on Dec. 5 on Bravo.
Images: Eike Shroter/Bravo (10); Virginia Sherwood/Bravo