The Saddest 'Real Housewives' Episodes Ever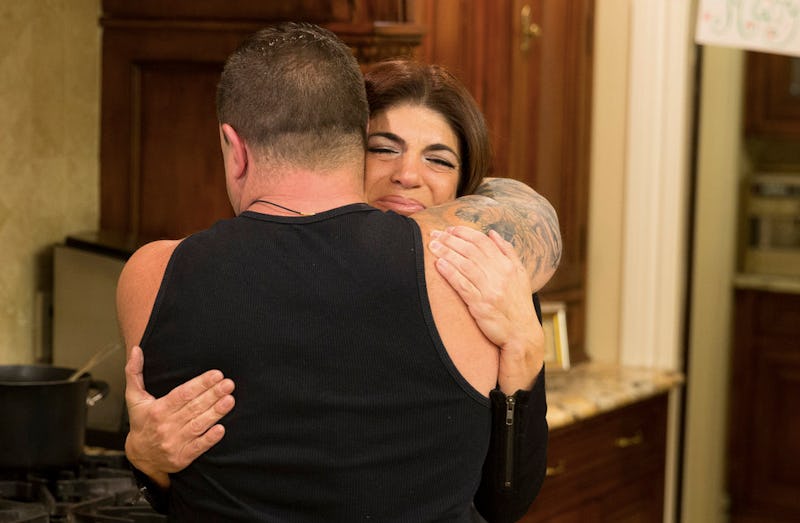 At this point, I think it's safe to say that I watch Real Housewives almost every day. There are so many shows in different cities and the franchise has been going strong for years, so it's on all the time. There is pretty much nothing that I enjoy more than watching this show, but I have to admit that I can't help getting emotional at times. That's because there really are a lot of really sad Real Housewives episodes.
As lame as I probably seem right now, I just can't help getting emotionally invested in the lives of the shows' cast members. No, I haven't actually cried while watching any Real Housewives episode, but I have definitely come close to it on many occasions. Judge me if you want, but I have to assume that if you're reading this you are emotionally invested in Real Housewives, too, so hopefully you get me on this.
I don't think anyone would want to force sadness by watching all of these upsetting episodes in a marathon, but it is nice to know that we are all addicted to a TV franchise that has more substance beyond the yelling during reunion episodes, the shopping without looking at price tags, and the feuding during luxurious vacations. These less frivolous episodes are reminders that these women are real people and not TV characters. They show us that no matter how rich or famous the Real Housewives cast members may be, they are human beings who struggle just like the rest of us.
1. When Vicki Found Out That Her Mom Died
Vicki Gunvalson has really been through a lot on Real Housewives of Orange County. It was so tough seeing her get the phone call with the news of her mother's passing. The emotion was palpable. Whether you're a Vicki fan or not, pretty much every viewer wanted to reach through the screen to hug the OG of the OC.
2. When Joe Said Goodbye To His Family Before Going To Jail
Watching this Real Housewives of New Jersey episode was beyond emotional for me. At this point, I am so invested in the Giudice family that I couldn't help feeling despondent watching Teresa and her girls start this new chapter of their lives while Joe is in prison. I will never forget seeing Milania crying in the window, and the scene with the whole family praying in the bed just breaks my heart.
3. When Camille's Marriage Ended
Camille Grammer was the undisputed villain during the first season of Real Housewives of Beverly Hills, but every viewer felt so sad for Camille when she found out her marriage was over and she still had to go as a couple to the Tony Awards and pretend everything was fine. She was trying so hard to save her marriage at the final hour and she had zero chance of making it work. We all joined #TeamCamille after watching this one.
4. When Carole & Dorinda Honored Their Late Husbands During Their Trip To London
When Carole Radziwill asked Dorinda Medley to take a trip to London to retrieve her dead husband's ashes, I knew we were in for a super sad episode of Real Housewives of New York City. Not only did this episode focus on Carole's late husband, but it also was very heavy on Dorinda's memories with hers. They both ended up getting a lot of closure in the end, but this was definitely a heavy one to watch.
5. When Kyle Revealed Kim's Sobriety Issues In The Back Of The Limo
The first RHOBH finale was way too real. Kim Richards' issues with sobriety finally came to the surface when her sister Kyle Richards called her out in the back of the limo after a night of arguing. I had no idea who to sympathize with in this moment. Pretty much everyone was right and wrong at the same time and it was just a really rough situation.
6. When Gia Sang About Family Drama At Melania's Party
I will never get over this RHONJ episode. My girl Melania Giudice had a pizza party for her birthday, which was going pretty well until her older sister Gia decided to sing an original song that she wrote. Don't get me wrong, Gia was super cute, but I felt so upset and uncomfortable when I heard the lyrics about her family fighting. The Giudice/Gorga feud was really going strong at the time and I just wanted to comfort Gia. It was so clear that she was truly hurting from the family drama. That song was honestly one of the saddest things I've ever heard.
7. When Meghan & Jim Learned That One Of Their Embryos Didn't Survive
Watching Meghan Edmonds go through her fertility issues really made RHOC viewers feel like they were a part of her pregnancy journey. Meghan was so excited to be pregnant with twins on the way, but during an episode when Meghan went in for an ultrasound, she and her husband, Jim, found out that one of her embryos didn't make it and they both could not help crying. We've seen Meghan tear up on the show before, but seeing the normally stoic Jim cry and comfort Meghan was a lot to handle.
8. When Joe Giudice Raised The Girls While Teresa Was In Jail
There's just something about watching the Giudice family that really stirs up my emotions. Needless to say, I was an emotional wreck watching the three-part Teresa Checks in Special that showed how Joe and her daughters were coping without her while she tried to parent them via speaker phone. It was so hard watching Gia go to her dance and graduation without her mom, Joe try to do his daughters' hair, and listening to the girls talk about how much they missed their mom.
9. When Tamra Spoke About Her Suicide Attempt
Up until this episode Tamra Judge always gave us the comic relief on RHOC. The viewers learned a lot about Tamra when she spoke at an event and shared that she attempted suicide. It was a heavy episode, for sure.
10. When Phaedra & Her Sons Visited Apollo In Prison
Watching Phaedra Parks and her sons live with Apollo Nida's legal issues has been tough. The already difficult situation was elevated when Phaedra took her sons to visit Apollo in jail. This was another one of those times when I wished that I could leap through my TV screen to dole out some hugs. Phaedra and her sons really needed the extra support throughout this whole episode.
11. When Teresa & Joe Got Sentenced
The Season 6 finale of RHONJ was when everything got way too real for Teresa and Joe. The viewers saw them walking in and out of court on the day when they found out that they would both be serving lengthy jail sentences. Not only that but the episode also showed the sad reactions from their fellow cast members. This was definitely a turning point for the Giudices and the show as a whole.
12. When Lynne's Family Got Evicted
It was hard watching Lynne Curtin struggle to raise her rebellious teenage daughters. It seemed like every day of her life was full of drama. Things got even worse for my beloved Lynne when the cameras caught the family getting served with an eviction notice, as if the Curtins hadn't already been through enough on RHOC. Lynne and her family were beyond vulnerable during this episode.
Just talking about these episodes got me feeling sad. They really put the "real" in Real Housewives. These women opened up their lives to the cameras and shared some truly upsetting moments with the viewers. By no means do I recommend marathon watching these episodes, but if you want to, make sure you have a box of tissues on hand. You're going to need it.
Images: Greg Endries/Bravo; Bravo (10)