Yolanda Leaving Changed 'RHOBH' For Erika Girardi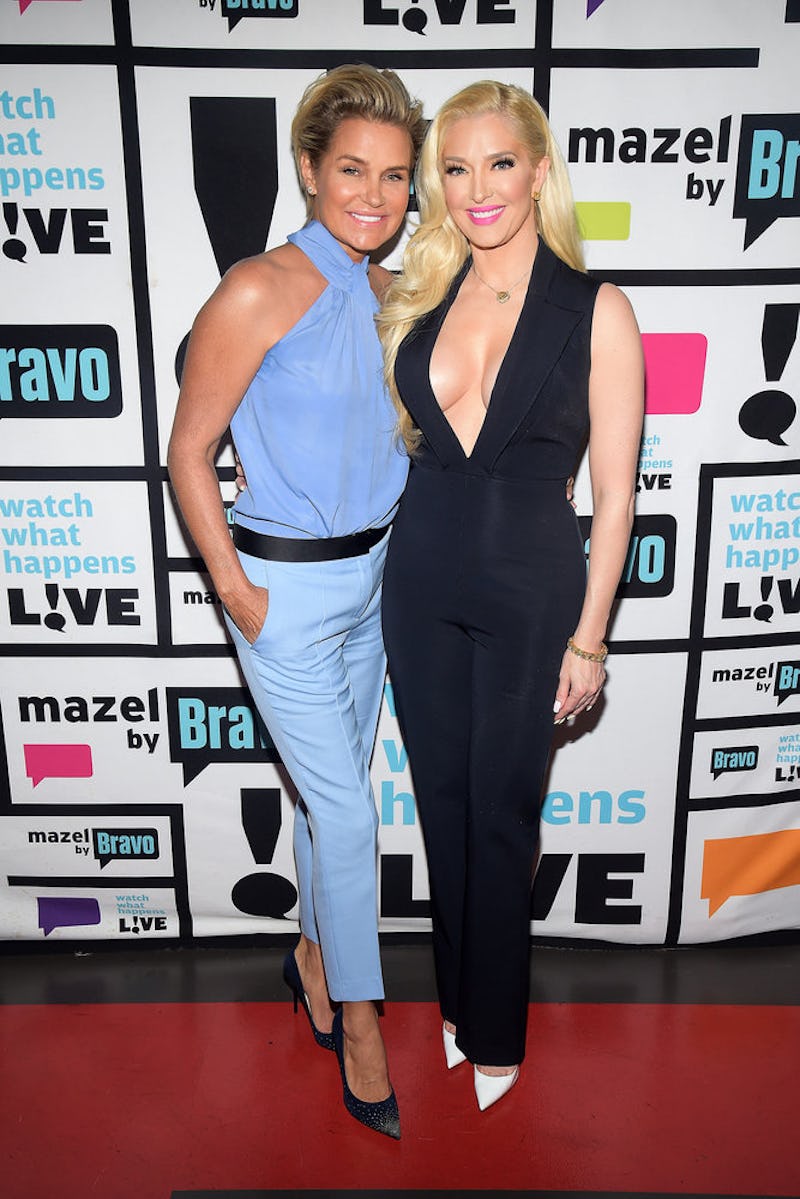 In Sesaon 3, Yolanda Hadid made her debut on The Real Housewives of Beverly Hills. She immediately became a fan-favorite (just like her refirgerator and lemon trees) and also quickly found her footing alongside the other women. So, it was a sad day when she announced in June that Season 6 would be her last. It's understandable, especially based on all of the hardships she faced throughout the season, including her battle with Lyme disease and her divorce from David Foster. But, it was still hard to say goodbye. Her exit wasn't just difficult for fans, but also one of her co-stars and good friends. Yolanda Hadid leaving changed RHOBH for Erika Girardi, as the woman also known as Erika Jayne tells Bustle.
Upon learning of her friend's departure, Girardi says while laughing that her reaction pretty much went as follows: "Dammit. How could you leave me here, right here right now? Why are you leaving me?" The "Pretty Mess" singer first joined Real Housewives in Season 6 and it's never an easy transition as the new Housewife. Of course, she would be somewhat heartbroken in learning that her BFF would no longer be part of the franchise nor be there as a support system for her.
"It's true," she says of at first reacting strongly to Hadid's news. "You know, I lost my buddy, which was scary for a second, because I thought, 'Wow.'" However, it also turned out to be something positive for Girardi. "But, at the same time, too, it also opened me up to be friendly with everyone a little bit more," the reality star says of her fellow RHOBH castmates. "I really got to know everyone else a little bit deeper."
Fans will even get to learn more about Girardi, including her personal life. Yes, those who watched Season 6 definitely got to know her, but this time around it seems she's opening up further. "You get to see where I come from, you know my personal life," she notes. "You get to meet my mom and see that whole relationship. I think you get to know me, Erika, a little bit more intimately."
If you're wondering about Hadid and Girardi's current status, yes they are still very much friends, even though Hadid left the series. "Well, of course. Are you kidding?" the 45-year-old singer proclaims. Would you expect anything less? These two were thick as thieves in Season 6 and probably will be forever.
The good news doesn't stop there. Seeing as Hadid will techinically always be a Housewife, there's a chance she could appear in Season 7, right? To that, Girardi teases, "I can't tell ya." Here's hoping that if she makes an appearance, Girardi is also invovled, because they truly are the greatest together.
RHOBH returns with Season 7 Tuesday, Dec. 6 at 9 p.m. EST on Bravo.
Image: Charles Sykes/Bravo