Why 'Below Deck' Deserves A Fifth Season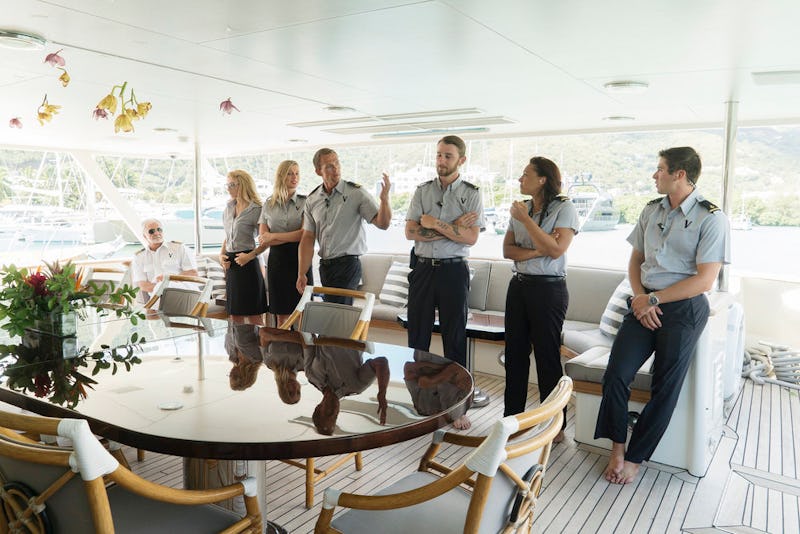 Below Deck Season 4 has shown new sides to the cast members and made for another entertaining season filled with high seas adventure. The fourth season is coming to an end, so will Below Deck return for Season 5? Bravo has yet to announce whether or not (and if so, when) the series will return, but I wouldn't worry. The series isn't usually renewed until after its finale, and if spinoff Below Deck Mediterranean was already granted a second season, I don't see why the original would be left behind. And throughout the season, Below Deck has also proven that even four full years into the series, fans are still tuning in to watch the crew of a super yacht deal with demanding, wealthy charter guests.
While the fourth season focused on its cast changes, including replacing Chef Ben briefly with the far less popular Chef Leon, who never quite fit in, the fifth season has been all about Kate Chastain, Ben, Captain Lee, and Kelley Johnson, the cast members who have been in several seasons now, and how they balance their private live (particularly romance), with their highly demanding jobs as the heads of the four key departments on a charter yacht (the stewards, crew, kitchen, and, of course, the Captain). Here are just a few of the ways that Below Deck has shown that it deserves to stick around for a fifth season.
The Cast
This series is all about the different kinds of people who are drawn to the yachting industry, and while they range from professional and experienced to total newbies, it's always fun to meet the crew members taking a chance on it.
The Romance
I'm so curious to find out if Ben finds true love with Emily, and learn more about why Kate's relationship with her ex-girlfriend goes wrong. In such close, unforgiving quarters, romance blooms and dies in equal measure, and the process is fascinating.
The Clients
I hope a few wealthy, privileged people have looked at Below Deck and realized exactly how badly they come across whenever they don't tip, are deeply demanding, or take advantage of the people working for them.
Captain Lee
He's the stud of the sea and an inspiration to managers and supervisors everywhere. Who else could make firing people via delivering plane tickets an entertaining and sought after outcome?
The Fighting & Feuding
Sometimes, people just can't get along. Most of the time, they aren't forced to live on a boat together for months at a time. However, of course, Below Deck does force its crew into close quarters, and because of that, sparks often fly between a few of its crew members. This season, it's Kelley and Sierra, and it seems like these two will never be able to make up.
The Wish Fulfillment
While the crew is always the audience's POV into Below Deck, they're not the only reason to watch. The experience of being a charter guest is likely out of reach of most viewers, so this series might be the only place to see what it's like to be waited on hand and foot for a week before dropping several hundred thousand dollars for the privilege .
In its time on Bravo, Below Deck has handily proven why a show like this one deserves to stick around on the reality-centered network. It provides an interesting look at a little-seen industry, and, because of these particular qualities, is especially entertaining every Tuesday night.
Images: Virginia Sherwood/Bravo (2); Giphy (3)