'Below Deck' Season 4 Needs A Reunion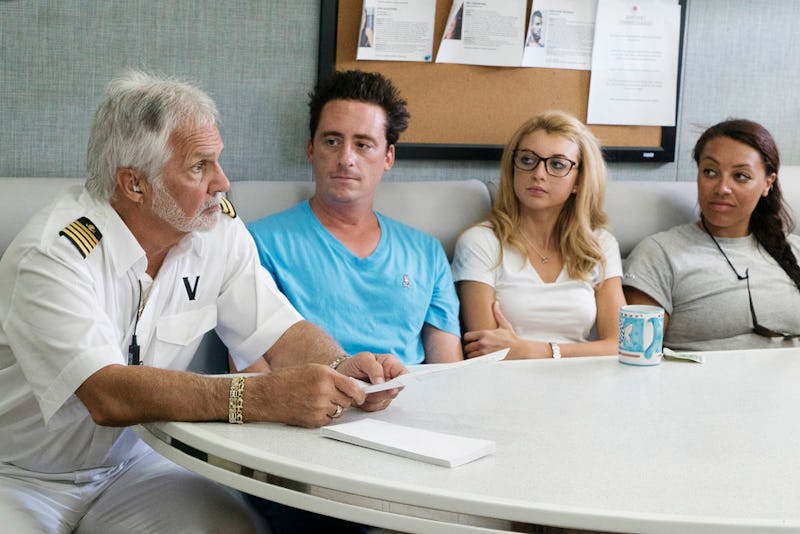 The fourth season of Below Deck has proven that even after several years, this crew still has some surprises on board. There have been some revelations about different crew members' sexuality, new relationships, and, as always, drama about who's working hard and who's hardly working. On most seasons of Bravo reality shows, these conflicts don't come to a head until the season is over — but will Below Deck Season 4 have a reunion? Normally, I'd be quick to tell you that it's a sure thing, but after the first season of Below Deck Mediterranean didn't warrant its own reunion, it seems like the special is no longer guaranteed. Bustle reached out to Bravo for comment on whether Season 4 will have a reunion and has not yet received a response.
Unfortunately, neither Bravo's schedule of upcoming episodes, nor any other schedules like TV Guide, have any information about a possible reunion. And since none of the Below Deck cast members have been seen posting about filming the reunion, it seems like if there will be one, it hasn't been filmed yet. Each season of Below Deck has had a few more episodes than the year prior, which means that Season 4 of the series could have over 15 episodes. If that's the case, the finale wouldn't air until early December, so there's still time for a reunion to be announced and filmed. And though Below Deck Med didn't have a reunion, there are enough differences between the series to raise the chances that after an eventful season, Below Deck Season 4 will warrant its own reunion.
The Past 3 Years
First of all, Seasons 1-3 all had reunions, even if some of them have been on Watch What Happens Live rather than their own Housewives-esque set. Seasons 2 and 3 also had multiple-part reunion and "Crew Tell All" specials.
The Cast
At this point, the series has developed some recurring cast members that fans love, like Ben, Kate, and even Captain Lee, whose commentary on the events of the season is always hilarious. Those cast members have appeared on Watch What Happens Live this season and have fan followings on social media, as opposed to the Below Deck Mediterranean cast, who, aside from Ben, were all unknown.
The Ratings
This season of Below Deck has been doing pretty well, holding solid with a 1.0 rating in the 18-49 demographic per episode, according to TV By the Numbers. For comparison, Below Deck Med was pulling in .6 in the same demo. More viewers means more potential success for a reunion episode.
The Fan Demand
Even if Bravo was thinking about putting an end to Below Deck reunions, the outrage at the lack of a Mediterranean reunion may be enough to change that.
The Potential Drama
Think back to Season 3's reunion, when Rocky and Eddie met up again. There's also all of the times when Captain Lee was confronted by crew members that he'd fired in the past. The drama is always more delicious than Chef Leon's beef cheek recipe.
After the events of this season, I, along with all other Below Deck fans, will be wondering what's going to happen between this cast after it comes to an end and the best way to find out is through a reunion special.
Images: Virginia Sherwood/Bravo; Giphy (3)