James Deals With More Rumors On 'Pump Rules'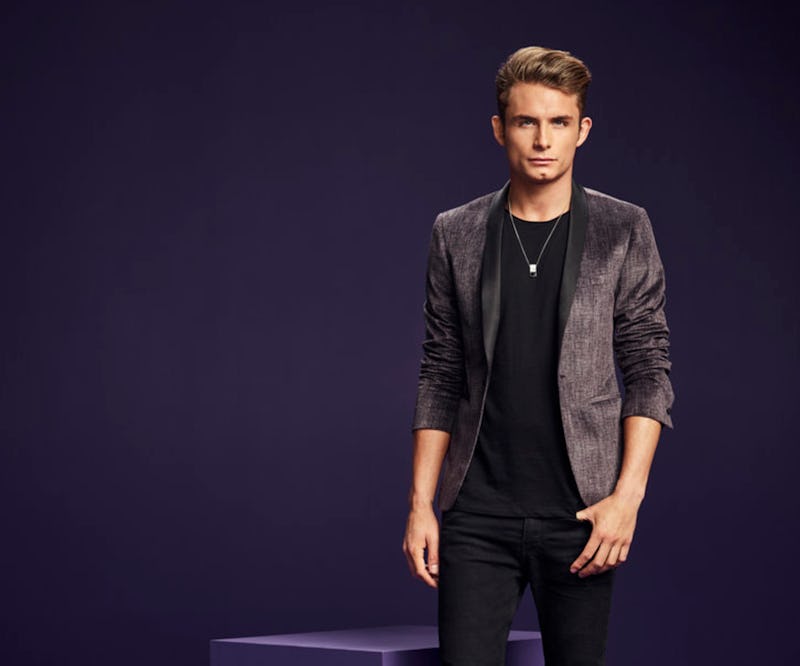 Though the young DJ was only in, like, two seconds of Monday's episode of Vanderpump Rules , James and his rumored antics sure ran away with the hour, eh? We watched his ex-coworkers find out he got fired from SUR, we saw Kristen yell at Ariana for being friends with him, and we heard someone else accuse him of cheating on his girlfriend, Raquel. Oh, and that someone else apparently took a pic of James while he was nestled in his bed just in case she ever needed to prove the liaison was real. Just when I thought I was riveted by GG pulling aside every member of the SUR staff to chat about her alleged tryst with James, this week's chapter in the Season 5 story sure did take the thrilling gossip-o-rama to another level. And it is all thanks to a brand new person named Ellie.
Well, she is not a brand new person — she's not, like, a baby — she is just brand new to me; Ellie is a SUR/PUMP/Villa Blanca server who has been friends with the Pump Rules cast for some time, but I don't know if we've seen her on the show before. If we have, I do not remember her. But thanks to her phenomenal performance on Monday's ep, she is now forever in my heart.
Ready for all of the goss Ellie pelted us with? Here we go: She apparently dated James for a few months? And claims they were still sleeping together after James started dating Raquel? And he apparently said some rude and hurtful things to her while they were hooking up for the last time? And she took a picture of him while he was snoozing in his partitioned bed nook because she wanted proof of their situation just in case he called her a liar one day? And according to the timestamp on the photo, she allegedly snapped it months after James and Raquel's relationship began?
When Ellie shared all of this information with Lala in the middle of their hike, my face did this:
She has photographic evidence? Oh, my Giggy. That means the case is as closed as a Chick-fil-A on a Sunday, right?
Wrong. Later on, Lala asked James about the Ellie development. And just like he did when confronted with the GG rumor, James said Ellie's affair story was complete bunk. He swore that he and Ellie called it off before he and Raquel became an item, insisting that she must've altered the date on the picture. He said people are desperate to take his sparkle away and will do whatever it takes to mess with him. Even doctor a timestamp on a photo.
Image: Tommy Garcia/Bravo; bricesander/tumblr