Lisa, Ken & James Have It Out On 'Pump Rules'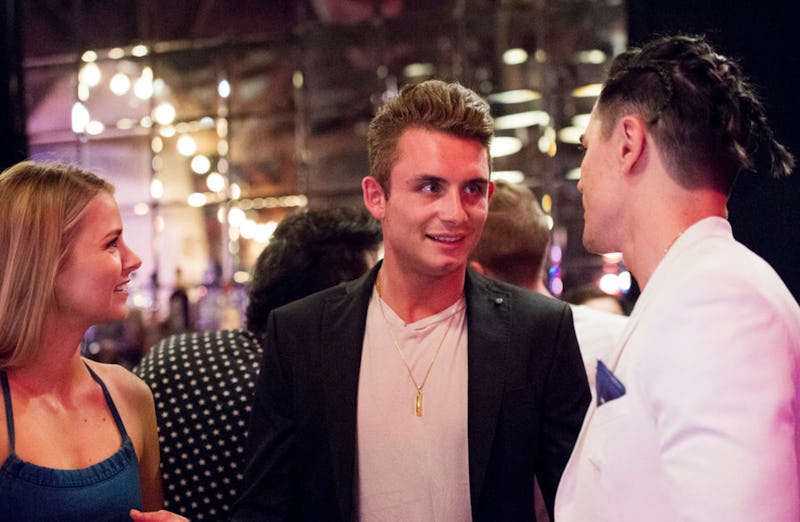 Oh, James. James, James, James. Just when I thought you and were indestructible, James, Monday's episode of Vanderpump Rules sure did prove me wrong. As Diana barreled into the SUR lounge and broke up your lemon drop-fueled screaming match with GG, I thought, "Sure, this looks bad, but James will be fine. He's always fine. This will blow over." And as you argued with Lisa Vanderpump about the "thirsty, thirsty girls that need a drink" and not being able to "provide water for them," I thought, "Oh, this too shall pass. Yes, this conversation is rough, but Lisa will not give him the ax. Not this time. Not our James."
But then, you decided to go over to Tom Sandoval's post at the SUR bar and demand a shot before you made your way back to your DJ booth. And Lisa spotted you. Right after she told you, for the zillionth time, to not drink on the job. At the top of the episode, she said she would need concrete proof that you had been secretly knocking it back while on the clock before she could give you the boot. And here was her proof. Oh, and it did not help that Lisa was there with Ken and their Pomeranians.
When I saw that quartet together, I knew the cards would not fall in your favor, James. Before you could get back to your DJ booth, you, Lisa, Ken, and the Poms took things outside. Though we viewers could only see the confrontation through those gauzy drapes hanging from the restaurant windows, we could still hear Ken's voice lower to a growl as he told you that he wouldn't let you get in the way of his business or disrespect his wife. As you pleaded with Lisa and Ken, Ken only grew angrier. You were understandably scared. No one messes with Ken.
The night ended with you being sent home, and the next day, you met Lisa at Villa Rosa for a brief chat. Lisa fired you, banned you from her restaurants, and advised that you stop drinking. You were understandably upset. And so was I, James. So was I. I know you'll still be part of Pump Rules, but it won't be the same without you spinning records and wreaking havoc in the SUR lounge.
Here's an actual video of my reaction to the news:
I miss you and everything you bring to SUR already, DJ PUMP Sessions.
Images: Nicole Weingart/Bravo; Bravo (2); bricesander/tumblr