21 Deliciously Vegan Hanukkah Recipes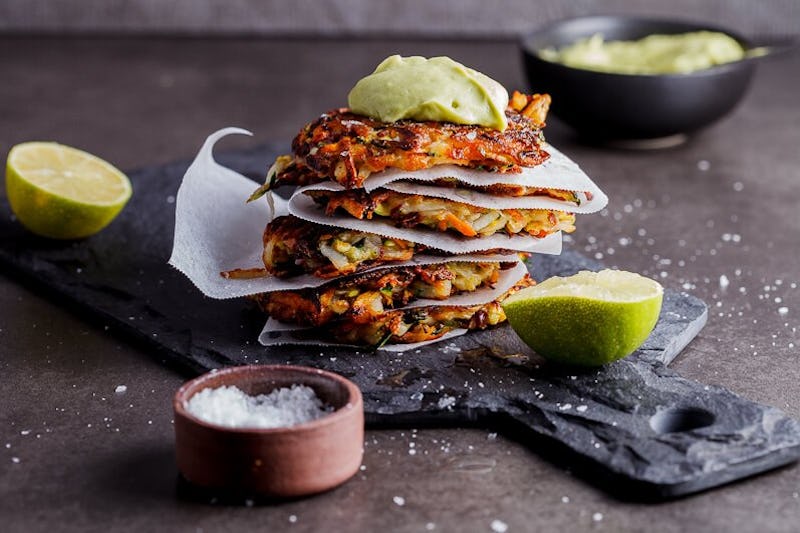 As far as Jewish holidays go, I'd argue that Hanukkah is one of the better ones for food. I mean, the only real guidelines are to eat lots of things fried in oil to celebrate the blessed magical oil that kept the candles lit for eight days when the Maccabees were fighting for the temple. Unlike Passover, another great food holiday, you also don't have to worry about eating c hametz , aka bread. Of course, if you're a vegan celebrating Hanukkah, you have some other food rules you always abide by: no animal products. Luckily, that's a pretty easy constraint when it comes to making delicious vegan Hanukkah recipes this 2016.
While traditional latkes generally do call for eggs, there are plenty of vegan latke recipes out there that have the added bonus of being more creative than their standard counterparts (or at least, the ones I included here are). All the other Hanukkah food classics, like sufganiyot , applesauce, sour cream, and chocolate gelt, can also be made vegan.
So, without further ado, here are 21 vegan Hanukkah recipes that will spin your dreidel right round this 2016.
Samosa Potato Cakes With Green Chutney
Go beyond traditional latkes by making these amazing samosa potato pancakes by Minimalist Baker. I mean, everyone knows samosas are the best appetizer, so why not make them into latkes?
Espresso-Glazed Donuts
Instead of making classic vegan sufganiyot (the Hanukkah donut holes with jam inside), I'd prefer these espresso-glazed donuts by Minimalist Baker for dessert. Jam is just a waste of donut space, if you ask me. #SorryNotSorry
PB & J Graham Cracker Thumbprints
If you must make a nod to sufganiyot and have jam in the center of one of your desserts, these PB & J graham cracker cookies by Minimalist Baker are festive AF.
Gluten-Free Onion Rings
Remember, pretty much your only food obligation on Hanukkah is to fry things in oil. Tough, I know. So why just stick to latkes? These gluten-free onion rings by Minimalist Baker totally celebrate the magic that is frying things in oil.
Crispy Hash Brown Haystacks
Another more original take on traditional latkes, these haystacks by Minimalist Baker use corn in addition to potatoes. Starch+starch+oil? Yes, please.
Apple, Ginger, Cardamom Compote
A more original take on classic applesauce, this compote by Green Kitchen Stories will be delicious with any of the latkes on this list and is very seasonal.
Lemon Rosemary Olive Oil Shortbread
It's all about celebrating that oil on Hanukkah, and this shortbread from Cookie And Kate looks like just the way to place it at the center of your dessert.
Sweet Potato Lasagna
Ditch the normal noodle kugel and go for this sweet potato lasagna by Minimalist Baker instead. With pesto and tofu cheese, this will have all the sweetness and creaminess of kugel or a blintz — with the added bonus of being much healthier.
Deep-Fried Mushrooms
Fried food encrusted in oil — it's your Jewish obligation! These deep-fried mushrooms by What Jew Wanna Eat look delicious. Hey, you're eating your vegetables.
Maple Cinnamon Applesauce
Another festive applesauce for your latkes, you really can't go wrong with this combo from Cookie And Kate.
Crispy Smashed Potatoes With Avocado Garlic Aioli
These smashed baked potatoes by Oh She Glows look like partially-reconstructed latkes and fully-assembled deliciousness.
Vegan Blue Corn Muffins
Rep the white-and-blue colors of Hanukkah with these blue corn muffins by Fo Reals Life as a side, complete with some vegan butter of course.
Dark Chocolate Macaroons
Macaroons are more of a Passover classic, but for that reason, they are one of the ultimate Jewish dessert staples. These macaroons by Minimalist Baker are dipped in chocolate for extra-special presentation. If you're really fancy, I'm sure you could even find a way to dye your chocolate blue.
Vegetable Latkes With Avocado Cream
These colorful latkes by Simply Delicious incorporate not only potatoes but also carrots, parsnips, and zucchini. Finished with an avocado cream, they look like something you will definitely not have any leftovers of.
Kale And Potato Soup
Hanukkah is all about the potatoes, but that doesn't mean you can't eat your veggies too! This kale and potato soup from Kellie's Food To Glow is a delicious way to warm up.
Raw Cashew Sour Cream
While there are lots of recipes for vegan sour cream out there, this one from The Healthy Foodie stood out for using a cashew base, which in general I find is the creamiest cheese or cream substitute. I'd like these on my latkes, that's for sure.
(Potentially Spiked) Tahini Date Shake
Forget eggnog. Tahini is a classic Israeli staple, so celebrate its Jewish potential with this tahini date shake by Cookie And Kate. She doesn't suggest (or discourage) adding booze, but I personally don't see why you couldn't mix some rum into it quite nicely.
White Bean Kale Salad With Tahini Dressing
Honoring tahini once again, this salad by Minimalist Baker will serve as a good side to the latkes, without sacrificing anything in the night's theme of oily richness.
Vegan Blueberry Pancakes
Repping the blue once again, you could have these Minimalist Baker pancakes as a Hanukkah breakfast treat. Or, if you're really a rebel, serve them along latkes for dinner. There are no rules in fried warfare.
Superfood Sweet Potato Dessert Fries
On a holiday that's all about frying food, why not make fries for dessert? These dessert fries by Minimalist Baker use pomegranate (another Jewish favorite), chocolate, and coconut whipped cream. Drooling.
Dark Chocolate Sea Gelt
You're going to have to look around for vegan dark chocolate gelt, so why not be really ambitious and try making your own? This vegan gelt from What Jew Wanna Eat will ensure the dreidel matches get dirty. As it should be.
Images: Minimalist Baker; What Jew Wanna Eat; Cookie And Kate; Fo Reals Life; The Healthy Foodie; Kellie's Food To Glow; Green Kitchen Stories; Oh She Glows; Simply Delicious